The New Face Of The Stem Player Is Ghostface
+ reviews of Big GLTAOW, Bloo Azul & The Standouts, and Jeff Markey. This is CABBAGES #125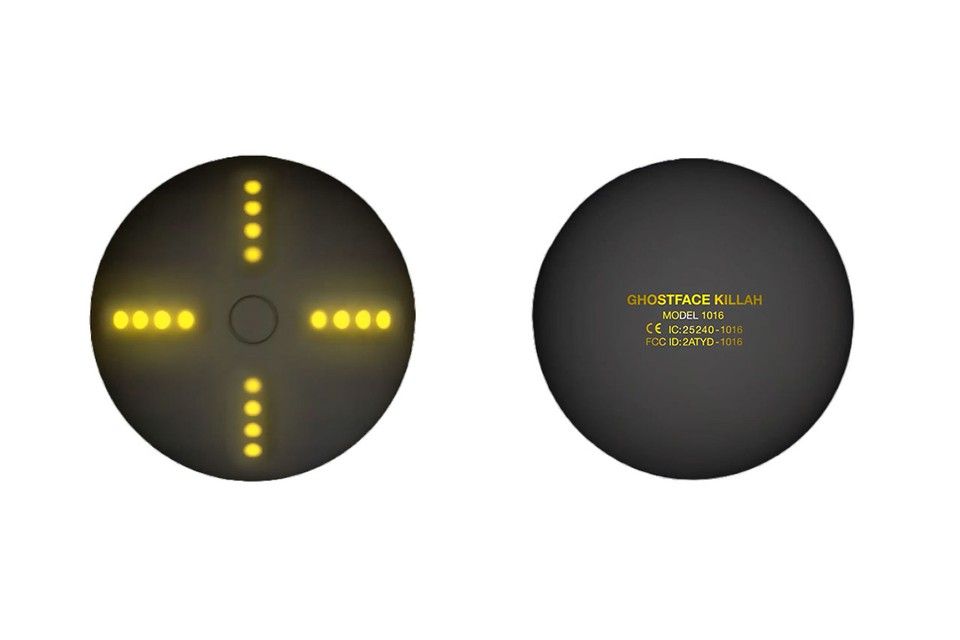 After publicly severing ties with Ye amid his antisemitic outbursts and ongoing public image crisis, one might have assumed we'd heard the last from the Stem Player. Yet Kano, the company behind the curious little sound toy that once siloed Donda 2, has apparently turned to a new collaborator in the hip-hop world in the hopes of granting the once-coveted device a second life–Ghostface Killah:
Much as 'Donda 2' sold fans on the original Stem Player, we'll see a unique album by Ghostface Killah released on custom white and black Ghostface Stems, which will run $240 and $360, respectively. If you want access to the album, you will need to either buy a player or subscribe to Coles's feed on Kano's website for $20/month. As Coles explains on a call, he sees this as an opportunity to cut through the oversaturation of online streaming—all while splitting revenue with Kano equally, instead of relying on the fraction of a cent he gets per stream on other services. "This is music for these people who care about me," says Coles. "I'm not saying people don't care about me, but when you've got dedicated Ghostface or Wu-Tang fans—these are hardcore fans for life."
Whether you see the Stem Player as the future of music consumption (not likely) or a weird gimmick (way more likely) that we'll look back on with all the fondness we give the Zune or the Enhanced CD, nobody should fault the 52-year-old Wu-Tang Clan star for taking the payday. The compensation flaws inherent in the industry standard streaming model–particularly for legacy artists who once relied on back catalog album royalties as a meaningful revenue stream–make exclusive content deals naturally appealing. Indeed, Shaolin superfans with disposable income may seize upon the Stem opportunity, especially given the prospect of greater access to Ghostface and his music. Apart from paying upfront for the physical device, Kano is also employing a subscription model akin to what OnlyFans and Substack have already done successfully with dirty pictures and dirty pundits, respectively. And the Stem Player itself serves a purpose similar to buying an NFT (*gags*), thanks to promises of events and perks here in the corporeal world down the road.
Admittedly, Ghostface doesn't have the selling power today that Ye had prior to last year's comments and consequences. Performing live solo or with the Wu (see: the NY State of Mind co-headlining tour with Nas, the 3 Chambers tour with GZA and Raekwon) assuredly earns him more money nowadays than a new album release would. His post-Def Jam projects largely charted in the bottom half of the Billboard 200 (or, in some cases, missed the chart entirely), which in fairness is actually better than the norm for still-active rappers of his generation. And that feature placements from him on Kendrick Lamar's 2022 album certainly hasn't harmed his image. Furthermore, the Kano move shines a spotlight on new music from the artist even if access is ultimately limited, albeit in a manner far less extreme than the restrictions that made Once Upon a Time in Shaolin a coveted piece.
In practice, the $20/month option reminds less of that onetime Martin Shkreli collectible and more of Talib Kweli and Yasiin Bey's somewhat vexing decision to hide 2022's long-awaited and Madlib-produced Black Star album behind the Luminary podcast paywall. (I still haven't heard it. I have my reasons.) Based on that subscription model, we have less transparency about the numbers generated by the duo's No Fear Of Time than we do with the artists' prior releases, but we should assume it fared better for the creators' wallets than if it were released on a conventional streaming service like Spotify or Tidal. Some people likely signed up short-term to hear the record, while others stuck around for more chit chat from artists they love.
Could such an approach as Black Star's have worked for Danger Mouse and Black Thought's Cheat Codes, which only peaked at No. 43 on the Billboard 200? Or perhaps the better question is, will it work even better for Ghostface? Ultimately, a revenue share-based collaboration with Kano is a relatively low-risk experiment for the rapper, whose reputation and experience may even draw in an older prospective consumer, or a more discerning one, than the Ye version did.
---

---

Bloo Azul & The Standouts, Troo Bloo (buy it / stream it)
Complacency is dangerous in music, both for the artist as well as the listener. As much as one might admire his repeat collaborations with the focused Spanish Ran, it's refreshing to hear Bronx native Bloo Azul rapping over someone else's productions for a change. Fort Wayne, TX duo The Standouts handle the beats on Troo Bloo, a short yet pristine set of bars-heavy fare from the sharply locquatious lyricist. Beginning with the slowed soul of "Maskeruade," he drops references, memories, and wisdom in twin consciousness streams that never once meander. He snarls through the piano bap of "BXcellence" and beats his chest proudly amid the repurposed syrupy pop of "Golden Slumber."
Closely affiliated with Shawny Binladen's Yellow Tape Boys, rapper Big GLTAOW stands out from his talented Queens crew as well as the grossly oversaturated sample drill scene at large with this creative solo effort. Though his name pronunciation continues to elude me like some inscrutable black metal band logo, the scintillating spitter does not disappoint with his lyrical yet toughened-up street talk stoicism. Over the course of 16 songs that scarcely cross the two minute mark, he goes hard amid throbbing bass booms and airy clips on cuts like "The Greatest LeGltaow" and "Opp In Da Air." His skills save Latin music reworks "Busta" and "Matta Fire" from descending into novelty, and features by GrinchSet faves Big YAYA and Binladen lend support while providing some vocal variety.
You don't have to be an avid ESPN viewer to appreciate what Jeff Markey does with Sports & Leisure. Following earlier work for Armand Hammer and billy woods, erstwhile Backwoodz Studioz producer returns to the label as an artist in his own right with this loosely thematic project. Though his sample-speckled instrumentals will perhaps resonate more with those who get the collegiate / professional athletic references, the woozy boom bap variations like "Mo Lava" and "Quick Realignment" hit regardless. The half dozen or so emcees involved either riff on the titular sentiments or don't, from the nudging inside ball of woods' "Floaters" to Fatboi Sharif's shambling space jam "Six Armed Scriptures." (The closing Googie feature leaves me pleading for a whole project with Markey.)
---

---