"I exhale and ash the blunt, inhale a hundred times / Not even hundred one couldn't bring back how it was / When a brick was seventeen and you ain't have to rob your plug / When rapping was an art, now this shit a juug"
Earlier this year, I read Rick Ross' autobiography, a speedy but altogether enjoyable read. Having interviewed him in-person in 2019 for a Vice profile, I'd found him so much more interesting than his rap persona let on, and the tales of his childhood and come-up outlined in the first half of Hurricanes. (He even addressed the Officer Ricky photo in a way that made me rethink some of my own criticism of him at the time of the initial revelation.) But as a music writer who spent a good part of the last decade following the Maybach Music Group with intense interest, I was dismayed to see so little about Gunplay in the book. His "Bible On The Dash" stands out as one of the best tracks to ever come from the greater MMG catalog, but anyone who read the blog coverage of the Carol City rapper over the years surely hoped Rozay might tell a few more tales about him. Hopefully some adventurous publisher commissions a Gunplay memoir while he's still here to tell what no doubt must be wild tales.
This newsletter marks the fifteenth installment of Irregular Vegetables, a weekly series of CABBAGES emails where I share links to recent writings from other hip-hop/rap journos and critics, squeezing in my own work as I see fit. These midweek editions hit inboxes every Thursday. Enjoy this week's reads and keep scrolling to read an interview with rapper Andre Martel of the L.A. duo known as Shadowrunners.
---

The moment requires a different kind of protest song. Rappers are putting in work; there's a new one out almost every day, from sources both expected and unexpected. Indiana rhymer Freddie Gibbs's "Scottie Beam" recounts an unnecessary police stop; Albany's Conway addresses cops using deadly force against innocent Black citizens in the scathing "Front Lines." Compton rapper YG (whose "FDT" was one of the defining anthems of our election anxiety in 2016) released "FTP," the latest in a long line of powerfully rude songs about LAPD mistreatment; L.A. transplant Jay Cue's new "Fuck Racists" seethes with retaliatory outrage. (Read more at Vulture)
Freddie Gibbs' Name Holds Weight
"It was motivation. Motherf*ckers be talking sh*t about me, saying, 'Oh man, you ain't sh*t without Madlib beats.' Y'all got me f*cked up first and foremost," Freddie said. "I love Madlib and I love Alchemist, both of these guys are my favorite producers. Both of those guys will sing my praises and tell you the high caliber rapper that I am in the same way that I would tell you the high caliber, legendary hall of fame producers that they are. I don't make them and they don't make me." (Read more at Hypebeast)
A Brief History Of The Policing Of Black Music
Jazz begat hip hop, and we learned that our most militant sound was also our most commodifiable. The militancy was quickly overshadowed by criminalization, open-secret wars between Black rappers, public awareness of their rap sheets, of the personal business, all of that given to listeners who felt entitled, still do. Criminality became the vogue and Black criminality a fetish within hip hop, the parading of the rap sheet increasing desirability among white audiences who conflated crime with authenticity and realness, trouble glamorized and traded for clout. (When jazz musicians were criminalized it was more devastating, costing them their right to play.) (Read more at Literary Hub)
"It's Time to Go to Work": Noname's Necessary Truth on "Song 33"
We assume Cole is tone policing Noname. Tone policing, a vehicle of misogynoir—misogyny directed towards black women where race and gender both play roles in bias a term created by black feminist moya bailey—is about asking for liberation at a softer volume. At its core, tone policing is about dismissing ideas when they are perceived to be delivered in an angry, frustrated, or otherwise emotionally charged manner often by a person with a marginalized identity. This action is often taken against black women, more specifically dark-skinned black women, as a means to question their lived-realities.(Read more at DJBooth)
Yung Lean Is Fulfilling His Prophecy
He's the first to admit that his early lo-fi cloud raps were far from a gimmick. Rather, they were a byproduct of growing up on the Internet, where Glo Gang deep cuts and Lou Reed albums were both just a search bar away. Once his myriad of influences were paired with the atmospheric, electronic-meets-trap production of his go-to producers Gud, Yung Sherm, and whitearmor, the young artists were able to carve out their own genre-shrugging niche within rap. "We were just fooling around, putting [our songs] up on YouTube," Lean explains, "And then something clicked, like, Okay we're actually doing some shit, we're onto something." (Read more at Paper)
42 Dugg: Young & Turnt 2 (Deluxe)
Dugg is by far at his best when he's making traditional Detroit rap songs with a little bit of big-money polish. On "Habit," Dugg reps his city hard: The track has bass-heavy production from local legend Helluva, and Dugg, spits the rich, boundary-pushing stories that are the norm in Detroit: "Prolly serve fentanyl to five thousand fiends." He's even sharper when he's reflective. "Fell out with my best friend over six grams/Now I ain't got a best man but I got fans," he raps over the soulful vocal sample and jittery bassline of "It Get Deeper." (Read more at Pitchfork)
Welcome To Jurassic Park, Georgia
2 Chainz is from College Park and Waka Flocka Flame is from Riverdale. However, outside of those two artists you would be hard pressed to find a rapper from Clayton County who has found success in the industry. Slim Dunkin, Waka's protege, was on the cusp in 2010-2011, but died in a tragic shooting. Given the surplus of thriving rappers in metro Atlanta, you'd think that there would be more success stories from a place so geographically close. But unlike Atlanta, ClayCo has a lack of resources to promote and sustain the growth of artists. The network of studios, A&Rs, and influencers that supports the music industry in Atlanta, isn't present in Clayton County.  (Read more at Passion Of The Weiss)
The Revolution Is Being Streamed
This isn't novel in rap, of course. Artists from Public Enemy and N.W.A to Kendrick Lamar and 21 Savage have long included messages about race and politics in their work. Still, at a time when celebrities and brands are under increased scrutiny to say the right things about systemic racism and police brutality, there's been an ongoing discussion about the role and effectiveness of celebrity activism. The scrutiny is heightened for Black celebrities who sometimes feel an immense pressure to illuminate the plight of an entire race. (Read more at Los Angeles Times)
On 'The Album,' Teyana Taylor Reframes Marriage And Motherhood
True to style, 'The Album' brims with '90s references — Guy, Blaque, Mase, Aaliyah and Musiq among them — shaping it into more than just Taylor's musings but a playful homage and an exercise in imagination. "Lowkey," which nods to Erykah Badu's "Next Lifetime" (and features a rare verse from Badu herself), comes off like a sensual sequel. Elsewhere, Juvenile's iconic "Back That Azz Up" cadence is repurposed as the hook of uplifting bounce anthem "Made It." Each one incorporates pieces of its inspiration like a puzzle piece rather than relying on the DNA of an old hit to automatically yield a new one. (Read more at Entertainment Weekly)
Backxwash's Brilliant, Explosive New Record is A Harrowing Journey Inward
"Before you write, you ask yourself 'Are people ready to listen to this? Are people ready to receive these lyrics the way they are? Am I ready for people to listen to these lyrics?'," she says. But she found affirmation in albums like Danny Brown's 'Atrocity Exhibition' and JPEGMAFIA's 'Veteran,' both of which feature unconventional song structures, and center on narrators wrestling with personal and political demons. "The more that I was releasing songs, the more that I was rejecting everything that was imposed on me, essentially," she says. (Read more at Bandcamp)
10 Dominican Producers Shaking Up El Movimiento
Rooted in the influx of Dominican immigration in the late 1980s and '90s, the diaspora found itself highly concentrated in New York City barrios like Washington Heights-Inwood and the South Bronx. As a result, a bicultural generation raised on American music and Dominican homegrown sounds like bachata and merengue contributed to the uproar in El Movimiento's infancy, creating music that mirrored their "ni de aqui, ni de alla" reality and embraced all sounds. The city's melting pot initiated the transcultural exchange that birthed merenhouse, reggaeton, and rap en Español. (Read more at Remezcla)
Lord Finesse Reflects On Working With Big L And Explores His 'Motown State Of Mind'
"Working with L, coming up and discovering L, and being a part of helping shape his early years, it's still a blessing and it's still priceless to me knowing that I was able to be a part of somebody's life that's iconic right now. Did I know he was going to be legendary? No. I felt like he reminded me of myself. I had a tremendous upside, because of the age he was at at that time versus where I was at at his age. I wasn't nice like L at that age. It was something that I worked at, becoming better." (Read more at Forbes)
---

Three questions. Three answers. That's a wrap.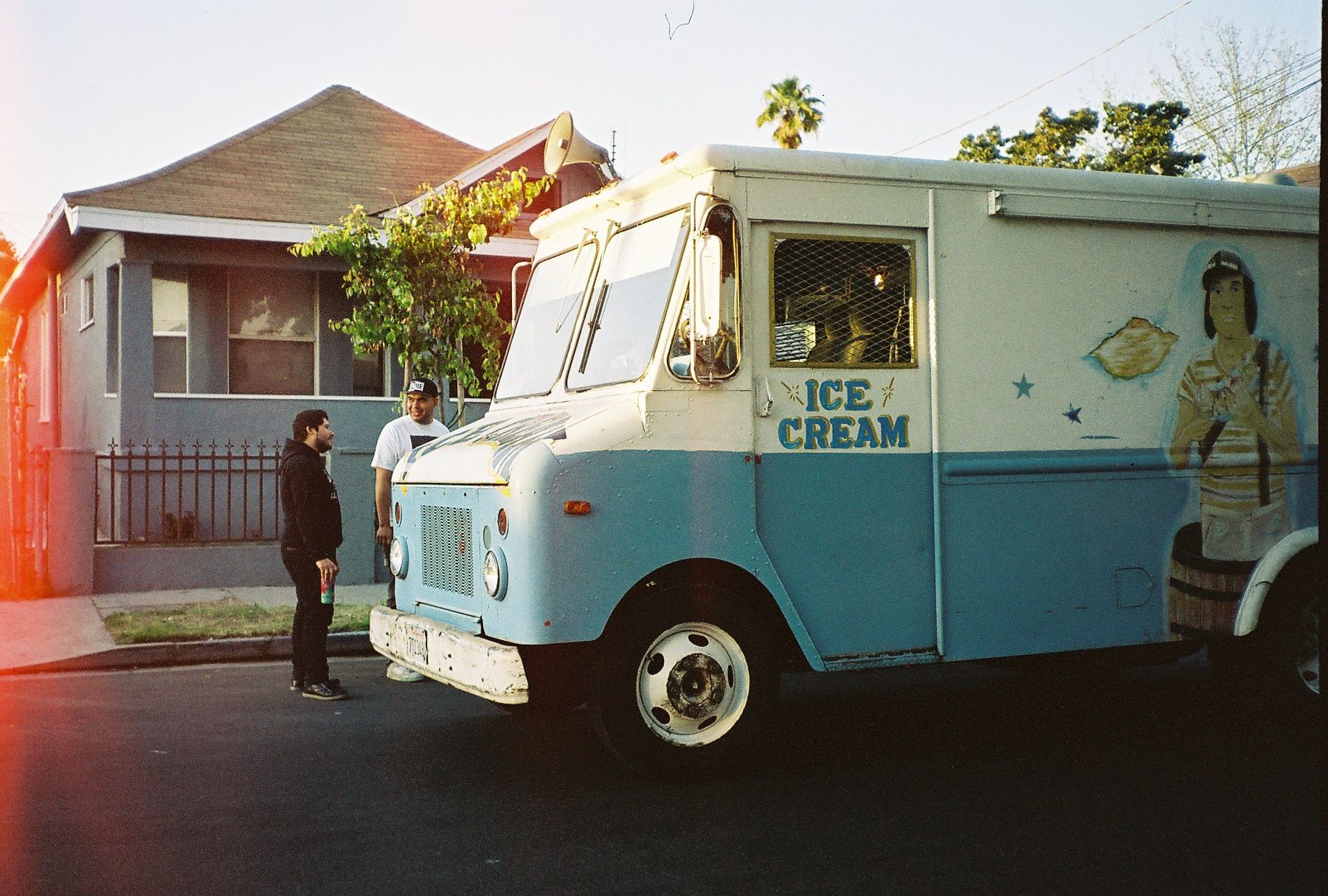 Photo credit: Alvin Carillo
When Shadowrunners dropped their eponymous album in 2013, it hit differently than a lot of the rap music coming out of Los Angeles at the time. Indebted to 8-bit video games, classic anime, and Power Rangers lore, among other retro pursuits, producer Froskees and rapper Andre Martel embraced their seeming strangeness and, sure enough, drew in likeminded listeners who matched their interests. Nowadays, the emblems and icons of Japanese pop culture are much more prevalent in hip-hop, which makes the duo's long-awaited album Goldar a welcome new arrival. Streetwear heads will also note Martel's role as founder and director of the Nature World brand, which he discusses in our conversation below.
It took over six years for Shadowrunners to follow-up the eponymous project with Goldar. Why the long wait?
Initially, we took a hiatus to focus on solo endeavors and around this time the Nature World clothing brand started taking off so I fell back from music to focus on that. We did continue to make and record music separately and collectively but it wasn't until recently that we finally decided to put the project out. It went through two different transformations. We actually reworked the entire production for it and found the vibe that I think has elevated it.
From classic video games to children's television and wrestling, so much Shadowrunners music seems to draw upon 80s/90s pop culture. Why is this bygone era so influential or inspirational to you?
This is going to get a little deep but—I've come to realize that a lot of it has to do with having grown up poor with parents who were constantly working. I was left to my own devices and to escape from a lot of the traumatic things I experienced I dove deep into a lot of this stuff to escape reality. X-Men comics, video games, pro wrestling, etc. The 80s/90s references come from my uncles and older cousins who would expose me to music and movies of that time. Especially action movies like Commando and Robocop. My uncles being immigrants were big fans of these type of American movies. When I met Froskees we had a lot of the same connections and interests so we gelled hella easy. I've come to learn that a lot of dudes who have similar backgrounds to mine and Fro get a lot of these references so there might be something to that hahaha.
The track "Depressed" takes a pretty direct approach lyrically to issues of depression and suicidal thoughts. Did you find writing in that manner therapeutic or cathartic in any way?
I have been lowkey struggling with depression since I was a little boy. I used to get sent to psychologists by my school because of behavioral issues and issues with my mood. I feel like for me it is very natural to speak about depression and suicidal thoughts since it's so constant in my life. But I would say that it's definitely cathartic and I wish that other artists would make songs like this and touch on that darkness we all have a bit more—especially young men. I feel like a lot of young men are suffering mentally and don't ever speak on it and it leads them to lash out at the world.
Stream Goldar here.
---
See you on Sunday.
Follow me on Twitter at @noyokono and on Instagram at @noyokono too.