Ras G left this plane of existence last July, having lived but 40 years on this planet while unlocking eons worth of interstellar knowledge. An adherent of Sun Ra and an L.A. record store fixture, the producer spent over a decade attempting to transmit a supreme nature through largely instrumental compositions of Afro-futurist, jazz-n-reggae-inflected hip-hop. In that time, he recorded for a handful of noteworthy labels including Flying Lotus' Brainfeeder and MatthewDavid's Leaving Records, all the while demonstrating a clear preference for the cassette format as befitting his city's crucial beat scene.
Ras G's death came just shy of a year after the final Low End Theory, a long-running series of club nights that showcased artists like himself. In a way, the two events, while unrelated, represent twin tragedies faced by the same community in relatively short succession. Yet it became clear as media outlets announced his passing just how under-appreciated his work had been during his lifetime, with many of these same publications having previously ignored or scarcely covered one of the most prolific producers of the decade. He'd obviously had some high profile boosters like disc jockey Gilles Peterson, and was clearly beloved and respected by his peers, but the lack of critical engagement with his catalog stuck out.
Almost 11 months later, we're seeing the first of what I hope will be, at minimum, a steady trickle of releases from what could be a vast archive of unreleased material. Raw Fruit Vol. 5 & 6 collects an hour's worth of music, with most tracks clocking in somewhere around two-and-a-half minutes apiece. The tricky thing about posthumous projects is not necessarily knowing how—or even whether—they fit into the artist's intent, their absence leaving leeway even among the best-intentioned of caretakers. But from this listeners' perspective these 26 cuts suitably match the psychedelic vibes, echo chamber dub, SPACEBASE ad libs, and OH RAAAS drops from the prior four volumes in the series.
Starting with the elevating choral noise of "De La Soul" and then swiftly transitioning to the looped classic bap of "Cardigan Sweater" and "Beanie Sigel," the tape exemplifies so much of what makes Ras G's style so engaging. His clear affection for hip-hop and a bold chemistry of mixing familiar techniques with dissonant textures created alien bangers like "Dip" and "Highland Park Hipsters" and really just about every damn song on here. He evokes "Sentimental Horror" as per its title, and leaves you a little worried about the "Doberman In The Cadillac."
So much Ras G music was released without outside influence, without someone else's bars mucking up his works. Still, one could easily imagine an inventive emcee like Westside Gunn or having a field day over the distorted claps and soul snippets of "Hump Day." Known R&B lover Ghostface Killah would certainly do some damage to the "Love Was…" and "There Are…" beats for sure. And when he does pair vocal with beats here on the Roc Marciano x Sean Price "Snow" remix, the results do not miss.
Again, it's not clear how much is left in Ras G's proverbial vaults. As we've seen with the catalogs of J Dilla and Muslimgauze, two sonically different but similarly prodigious artists during their lifetimes, quantity has hardly been an issue. At some point in any program that carries on well past a passing, there's bound to be changes to the so-called hit ratio, not so much a decline in the quality but in the value beyond that of completist collectors. So many great musicians leave a great deal behind, in life and in death, that's better left unheard for any number of reasons. Nonetheless, Ras G is due for the kind of exalted assessment afforded to his fellow hip-hop production legends, and outstanding records like Raw Fruit Vol. 5 & 6 make it easier for that to happen.
---

Meyhem Lauren & Harry Fraud, Glass 2.0
Years before he achieved notoriety in Action Bronson's televised coterie, Meyhem Lauren was repping Queens with high quality projects like the Buckwild-produced Silk Pyramids. This unexpected sequel to 2018's Glass tape with Harry Fraud revisits those sessions and returns with a sitcom episode's worth of exceedingly dope cuts. Over the celebratory "Bail Money" and the vaguely Eastern groove of "Yucca," the rapper reaffirms his street roots while enjoying those Viceland travel perks. A new lusher beat for the previously released "Steamed Monkfish" gives it more than a mere second life as it supersedes the original.
The Koreatown Oddity, Little Dominiques Nosebleed
With headspinning records by Steve Arrington, Knxwledge, and Prophet, Stones Throw hasn't missed all year. But this refreshing and conceptual set from longtime label associate The Koreatown Oddity might be 2020's best yet. He sheds the wolf mask he often dons to reveal personal truths and complicated emotions about his life and home. The self-produced Little Dominiques Nosebleed documents the overlooked diversity of his Los Angeles nabe through the lens of his experiences. Car accidents and comedy routines guide this autobiographical audio journey into his singular world, with highlights including "Kimchi," "No Llores," and the decarceral jam "Weed In LA."
Slayter, World Got Me Fucked Up Vol. 1
Cinematic's secret weapon, Slayter follows up last year's underrated Cold At Night with the first volume of what I hope proves a lengthy series. Adaptable to just about any type of beat, the Dyckman disciple glides over Statik Selektah's scratchtastic "Location" and the piano-driven mea culpa "Who Gone Love You." Collabs largely come from outer boro talents like Princess Nokia and Jay Critch, but his reach goes across city and state lines too. Benny The Butcher, Retchy P, and Smoke DZA deliver on the posse cut "Diabolical," while the unconventional yet effective pairing of 22Gz and Maxo Kream (!!!) on "Up The Score" expands drill's boundaries further outward.
---

Three questions. Three answers. That's a wrap.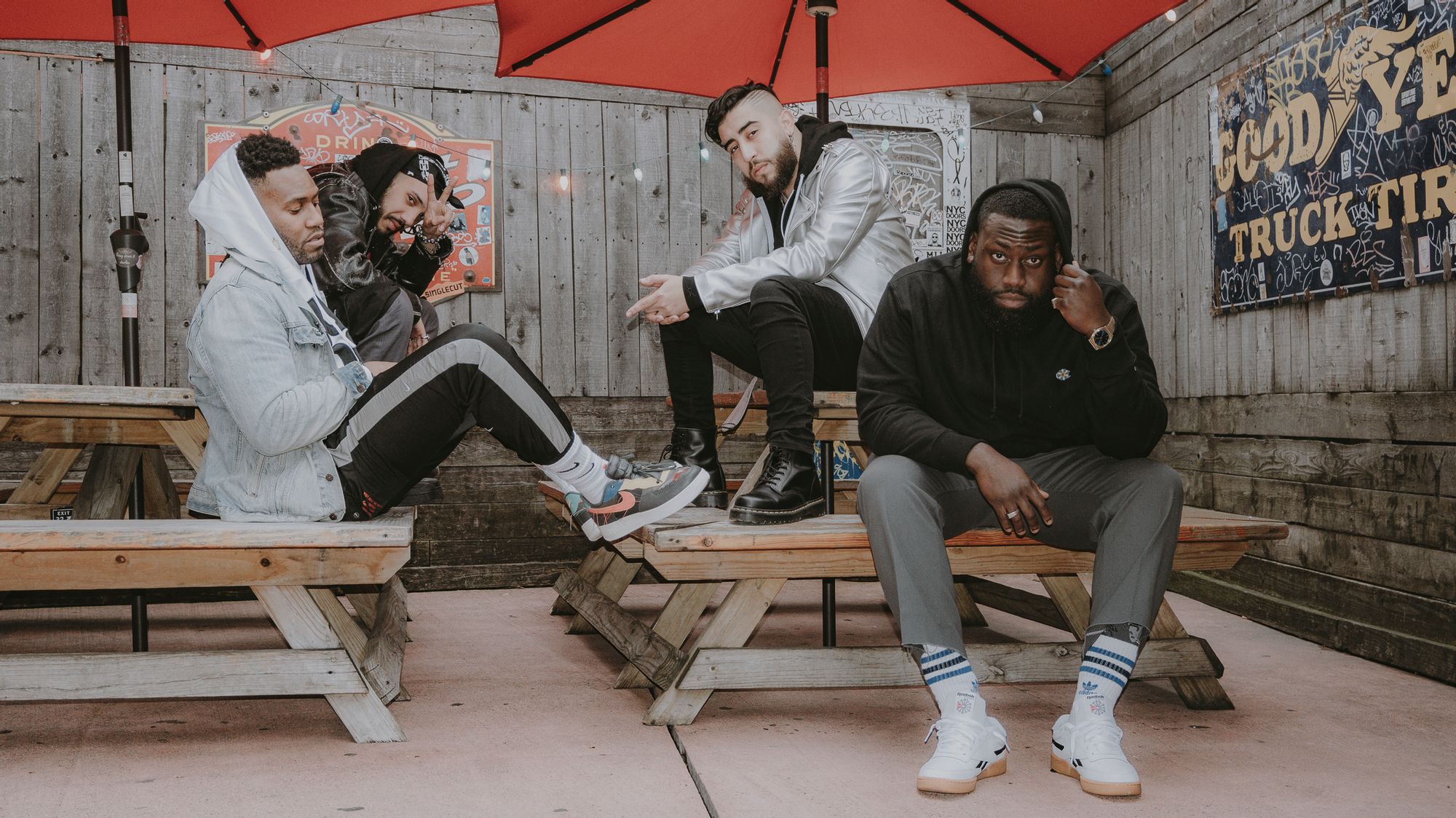 Photo credit: Vee Sanders
Coming from Queens, the birthplace of countless rock and rap icons, Oxymorrons have unapologetically bridged genres as they saw fit from the jump. After years of making a name for themselves, they recently linked with the likeminded Jason Aalon Butler (letlive., Fever 333). The first taste of this union is "Justice," a timely track teeming with revolutionary sentiments. One of two siblings in the quartet's vocal half, Dee breaks down the song below.
How did you end up connecting with 333 Wreckords and why did you see it as a good fit for your work?
Honestly, it started from a DM to Jason from Fever 333. Just appreciating the art and the message and having a mutual respect for each other's activism and what it meant to be black in the rock space. From there it really just evolved organically. Just more talk and realizing that Jason really understood the impact we were trying to make through our music and how we were happy to be different. We took a trip down to L.A. in February to put pen to paper and just write for a week with him and his people and it really just clicked. It was very rare for us to find someone who understood our struggle being a POC rock band, loved the music, and really wanted to use his connections to help us succeed and make change in the music world.
Your new single "Justice" taps into so much of what is being expressed in the wake of the murders of George Floyd and Breonna Taylor. Have you been able to get out into the streets to protest or otherwise show solidarity?
Ironically, we wrote the song "Justice" before either of those murders happened. We have been fed up with police brutality towards black people our whole lives and we constantly discuss it as a band. While in L.A., we had a very loud talk about it in our AirBnB one night (sorry neighbors) about our frustrations and disadvantages not only in the music industry, but in our everyday lives. The next day we just went in to write and "Justice" came out of it. As a band we have always been activists and will continue to march these streets. It's a lifestyle for us. Although the situations of Breonna Taylor and George Floyd are horrific, our people have been murdered for decades, so it's not just about marching. It's about continuously making an effort to inform, discuss, donate, and build back up the community.
An increasing number of young artists including Fever 333 and Vic Mensa's 93Punx are merging rap and rock nowadays, in ways that are distinct from and more diverse than the maligned nü-metal era's predominantly white acts. Why do you think this current generation is getting the genre balance right at the moment?
First of all, great question. It's funny to us that we need to fight to take back the music that our people initially created. Rock and roll and punk is black. The roots are Chuck Berry, Sister Rosetta Tharpe, Little Richard, and Death to name a few. I think right now in this day and age, people have more options and the ability to think for themselves. In the 2000s, mash up music that was shoved in your face was label driven and was all you could hold on to. Don't get us wrong, we are HUGE fans of bands from that era like Korn and Linkin Park. However, as our generation becomes more diverse as people, we want to seek out new music that fits what we want to hear, looks like us, and is sending a message that inspires us directly. Genre bending bands that are POC or black have been around forever, but I think now we are finally being shed a light on.
Listen to "Justice" here.
---

This weekend marks the third anniversary of Prodigy's passing, and as a Queens native and a fan of the Mobb Deep spitter I feel compelled to mark the loss here. His debut solo album H.N.I.C. was one of those albums that felt both of its time and prescient simultaneously. Late 2000 was an incredible time for New York hip-hop, with Jay-Z's label showcase The Dynasty: Roc A Familia, Memphis Bleek's The Understanding, and Capone-N-Noreaga's The Reunion, among others, nudging the city forward in the new century. Released that November, H.N.I.C. shared many of the same producers as those records, including The Alchemist who did the beat for its seminal single "Keep It Thoro."
---
See you next Sunday.
Follow me on Twitter at @noyokono and on Instagram at @noyokono too.