"The ice so cold, blind your third eyes' optics / American pie a la mode and every bite's rotten / They shot him on his couch while he was eaten Haagen Dazs / They even shot her in her sleep and she was out there saving lives"
The pandemic has compelled a lot of rappers to get creative, especially when it comes to making music videos. While some continue to operate more or less as usual with willing directors, generally flouting social distancing guidelines in the process, many others have turned to more of a D.I.Y. model. With the ongoing and nationwide #BLACKLIVESMATTER protests prompting countless artists to record new material that speaks to these tumultuous times, several artists including Kemba and Mr. MFN eXquire are relying on remixing video clips from the news and elsewhere to go along with their raised-fist anthems. These roughly cut, copyright-bucking visuals mark a welcome departure from the glossy/flossy promos shot before the pandemic for thematically lighter fare which, while pleasantly diverting in our fragmented states of emergency, can feel inauthentic or even alien right now. It's ugly out there, and it's better not to pretend otherwise.
This newsletter marks the sixteenth installment of Irregular Vegetables, a weekly series of CABBAGES emails where I share links to recent writings from other hip-hop/rap journos and critics, squeezing in my own work as I see fit. These midweek editions hit inboxes every Thursday. Enjoy this week's reads and keep scrolling to read an interview with Chicago rapper Vic Spencer, whose dope trio Iron Wigs just dropped a new album with Mello Music Group.
---

How Lil Wayne Remixed The Mixtape
By 2008, rap was enchanted by Wayne's insanity. All of rap, whether it be a coke rap, materialist rap, skateboard rap, East Coast, West Coast, Southern, Kanye West, etc. opened itself up to how bizarre, specific and far afield it could go in its metaphor and reference. His stream of conscious house of mirrors was practically the sound of lyricism, particularly with his most obvious heir apparent, Gucci Mane, who took all Wayne's excess and injected it in the heart with adrenaline. Gucci also took Wayne's penchant for bulk releasing and upped the stakes, most notably with his 2009 'Cold War' triple mixtape series, released over the course of one day. (Read more at Passion Of The Weiss)
In short order, he strung together a wild run of breakout singles ("Welcome to the Party," "Dior," "Gatti," "Christopher Walking") that accelerated him toward hip-hop's upper tier. The songs were menacing but surprisingly fleet, a crucial balance that satisfies both ground-level fans and those peering in from outside. The speed with which hip-hop superstars like Travis Scott and Nicki Minaj were gravitating toward him for collaborations portended great things, suggesting that the king of New York might someday become the king of everywhere else, too. (Read more at the New York Times)
How No Limit Records Became Hip-Hop's Iconic Challenger Brand
In New Orleans, P needed all the help he could get, since the city was packed with local brands all dominating the niche market. The obvious biggest competitor was Cash Money Records, but other lesser-remembered labels like Big Boy, Tombstone, and Parkway Pumpin' provided significant competition. Miller used his business knowledge to leverage local talent to abandon their current label affiliations and sign up with No Limit. Parkway Pumpin' alone featured a roster that included future No Limit acts like Fiend, Mac, Mystikal, Mr. Serv-On, and Magnolia Slim b.k.a Soulja Slim, as well as the most critical hire in No Limit history: Parkway Pumpin's in-house producer, KLC. If you're wondering how a label with that much talent could get raided, consider that the Parkway label operated without contracts. (Read more at Trapital)
Cakes Da Killa: We Should Celebrate Black Artists All the Time
Cakes, an indie rap darling and nightlife maven for almost a decade, recently accessed an entirely new audience as a contestant on Netflix's Rhythm + Flow. But in the wake of that mainstream attention he's doubled down on the sound that first captivated his original audience: House beats, relentless momentum, wickedly sharp lyrics and an effortless swagger. With an EP, second album and a book of short stories on the way, he's got no plans to slow down anytime soon. (Read more at Paper)
How Women Have Led The Way For LGBTQ Acceptance In Hip-Hop
In the ensuing years, the stan communities that have grown around artists like Nicki Minaj, Cardi B, Megan Thee Stallion, Azealia Banks, Doja Cat, and Iggy Azalea are frequently home to many LGBTQ rap fans. Even now-openly gay male rapper Lil Nas X recently revealed that he was previously ashamed to admit he was behind a Nicki Minaj stan account as a teenager because of the strong association with the LGBTQ community. "People will assume if you had an entire fan page dedicated to Nicki u are gay," he wrote on Twitter. (Read more at Genius)
All The Worst Things You Ever Thought About Are Happening: Gaika Interviewed
"Look, let's be real about it man. I've spent the last five years screaming at the top of my lungs about all the things that are happening right now. It's a fact. Look at my music, look through my writing, look through my artwork – pictures of me four years ago in a mask talking about police brutality. It's not easy, you don't get the commercial looks because in doing these things you're challenging power, and you're asking people who have everything to share, and they don't really want to hear that. Not consistently. But when things are happening and I know I can challenge that, why wouldn't I? What's my rap career? I couldn't give a shit about my rap career." (Read more at The Quietus)
Silence Is Peace: Instrumental Music Just Feels Different
With Tyler, specifically, all five of his full-length studio albums are sequenced as if they are movie scores yet to materialize. 'IGOR,' his crowning achievement, is the best representation of how Tyler's director's eye for details and musical sensibilities are interwoven to create a concise, cinematic story that sounds exactly how it makes the listener feel. Through self-production, the Los Angeles-born multi-hyphenate has, with every album, improved his gift for gathering all the necessary pieces to construct a world for the listener to live in. (Read more at DJBooth)
Lost Words 2012: Drake Talks 'Take Care'
"Actually, 'The Motto' was made two days after the album went to press…I went to Vegas for my birthday…and two days after my birthday party I was at Mally Mall's house, in his studio. We were all just chilling, drinking. T-Minus had just voice-clipped me this beat. I was like, 'Fuck!' I played it over the big speakers. And it was so funny, there was this girl in the studio from the Bay Area, I think her name was Jaden...She was like, 'This is some Bay shit. This would go so stupid in The Bay.'" (Read more at The Motto)
After Pop Smoke's Death, Can UK Drill Producers Maintain Their US Success?
The London-New York connection was born out of YouTube. Brooklyn rappers 22Gz and Sheff G found AXL and Melo instrumentals on the site and used them to record songs seminal to the borough's early drill scene. After hearing the groggy synths on Sheff G's "Panic Part 3," Pop Smoke – then not yet Brooklyn drill's marquee name – sought out Melo, who later put Pop and his manager on to his friends. AXL, Yamaica, Swirv and Yoz all went on to produce for Pop, and all but Yoz signed management deals with Victor. Scene stars Fivio Foreign and Smoove'L, who signed to major labels, also utilised the London corps. The producer's tags rang loud: song after song out of Brooklyn would start with an echoing "AXL, AXL" or a voice cooing "This is a Melo beat." (Read more at The Guardian)
Reuben Vincent EP Shows Growth In The Charlotte Rapper's Repertoire
[T[he teenage rapper is still coming into his own with the support of his mentors Rapsody and Jamla Records founder 9th Wonder. Reuben Vincent values his role as the "little brother" at Jamla, which he takes seriously not only as someone who has a lot to learn but someone with a lot to teach. "I feel like being at Jamla, they gave me the space to be myself," Vincent said. "They let me be, they let me explore, they let me expand because of my age. I'm young, I'm in these high schools, I'm in these colleges, I'm in these rooms with people my age, so I know what they like and I know what I like." (Read more at Queen City Nerve)
The Latest From Koreatown Oddity Explores The Aftereffects Of Two Childhood Accidents
"There's no real way to show people, because there was just no cameras for it," Purdy says. "But the street I was on was all Black and Hispanic kids. There may be other people that have grown up here since they were kids. But there's nobody that I grew up with who stayed here. They might say, 'I'm from LA' or 'I've lived all over.' But saying you're from Koreatown is very, very specific." (Read more at Bandcamp)
Young Dolph Discusses The Business Of Running A Rap Label And Why He Hasn't Dropped An Album In Years
"I just felt like I had to take a break; I was going so hard. Not to take a break on the game but take a break on me actually putting out Dolph projects consistently back to back to back. There's been years that I put out three or four projects. Let them marinate. When I come out with a project, [I'll] come out with some different vibes, a different sound, a new wave, new artists. I want to really feel the growth the next time I drop a project."  (Read more at Forbes)
---

Three questions. Three answers. That's a wrap.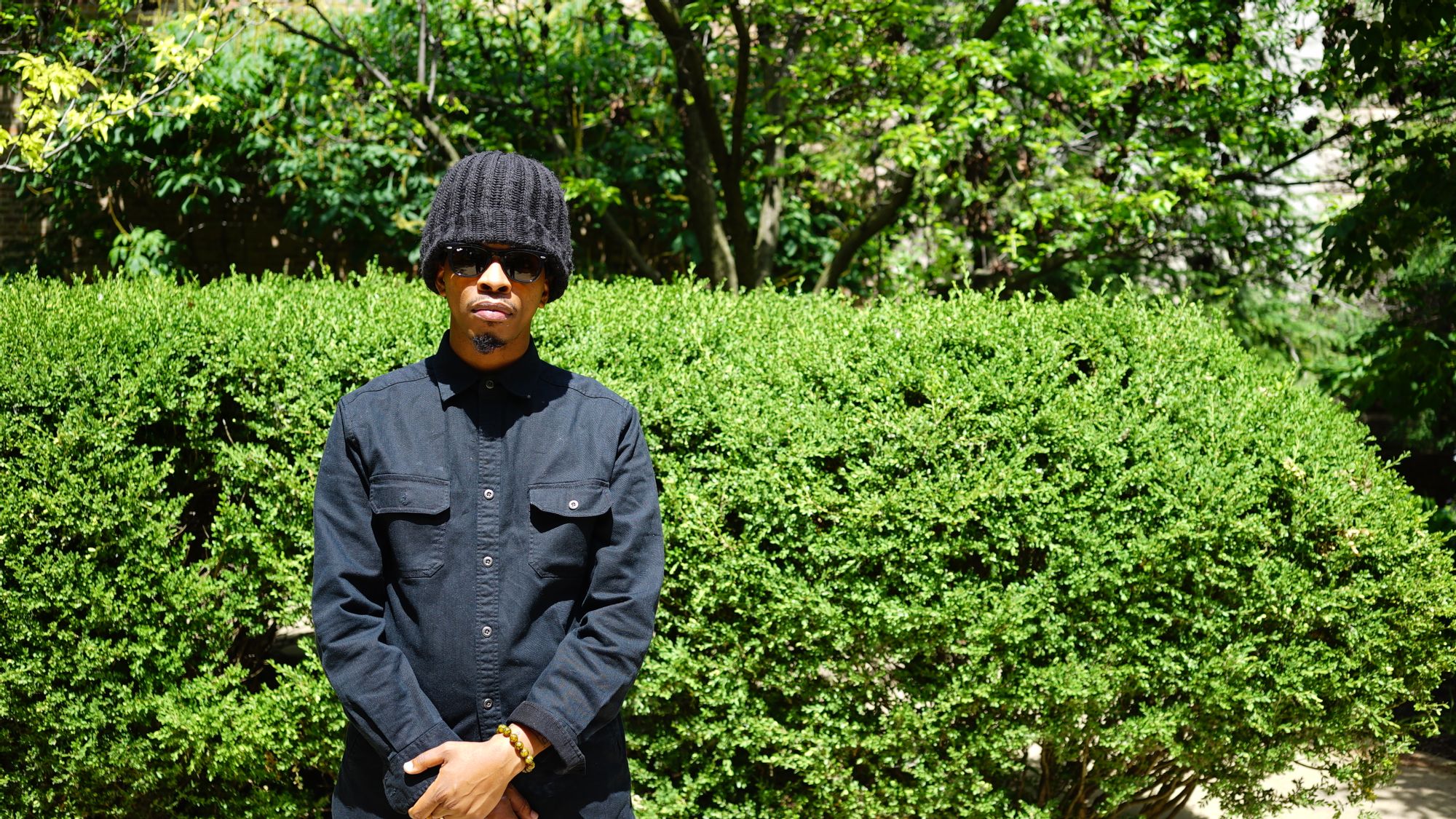 Photo credit: Mani Orr
For roughly a decade, Chicago rapper Vic Spencer has been putting in work. His prolific run of mixtapes, EPs, and albums in the 2010s demonstrated his perseverance as an artist in an industry that doesn't necessarily reward the talented and deserving. And with the new decade underway, the indefatigable emcee shows no sign of letting up. An avid collaborator, his latest project is Your Birthday's Cancelled by Iron Wigs, a trio with fellow Second City rapper Verbal Kent and the U.K.-based SonnyJim.
2020 is barely half over and you've dropped two solo full-lengths so far, Psychological Cheat Sheet and No Shawn Skemps. As an artist, how do you perceive the differences between these projects in terms of your intent and the execution?
Psychological Cheat Sheet is the vulnerability of Vic Spencer. It's the mindset of what it would looked like if I lived in my past today. I wanted the listeners to know that it's ok to be in tune with self and deal with your mental demons/health issues. No Shawn Skemps is quality time to myself with my alter-ego of 8 years, Vic Greenthumbs. I wanted to bring Greenthumbs back in rotation because of 4/20 and it was a clever way to tell people to fatten up their blunts when they smoking. I wanted to convey that I feel like I don't judge people at all, they could stank and I won't judge. Roll up some huff, I'm judging you to the moon.
The Iron Wigs record took me by surprise. How did the three of you connect to make Your Birthday's Cancelled for Mello Music Group happen?
Iron Wigs was just a thought between us 3 when me and Sonnyjim was working on Spencer for Higher 1. I reached out to Verbal Kent to work on our project and it sounded like a bodybag. So we kept working. By the time me and Sonnyjim finished Spencer for Higher 2, we was done with Iron Wigs. We was just looking for a home for it. Shouts to Mello Music for believing in the trio. It came together from our passion for music and creating it for the love and it ends up becoming an opportunity. It's the get back for me from the now defunct Chris $pencer. We had the title before the world shut down so it's irony that it's called Your Birthday's Cancelled.
Unlike some who've come and gone in Chicago hip-hop, you've managed to stay both active and relevant, continuing to improve your craft all the while. How did you persevere and outlast so many of your peers in this competitive and challenging environment?
Outside of Tree, when you look at who's been successful, my peers shitted on me. It don't get no realer than that. I used that for fuel. It's like Michael Jordan when he said what he did to players and coaches that wasn't fond of his success. I went out for blood to show and prove that I will be the best rapper in Chicago. I don't see how these Chicago rappers want me to say "I'm the 2nd best rapper" to protect their feelings. Not happening. So as you see no rapper from Chicago doing what I do and I want to keep it that way. I rap like the whole Chicago is against me and they don't like that but that's my survival tactic until it's curtains for my career.
Purchase or stream Iron Wigs' Your Birthday's Cancelled.
---
See you on Sunday.
Follow me on Twitter at @noyokono and on Instagram at @noyokono too.