"Steamed monkfish wrapped in banana leaves / Your wave looks like a splash, I'm in the canopies / Keep green vacuum sealed like a can of peas / You could fry supersized coriander seeds / New Jordans, fly shit, furthermore / I only rock a number somebody got murdered for"
I'm a sucker for bars, I have to admit. Whether stream of consciousness or surgical summer, lyrics and flow over a solid beat always scratch an inner itch for me. A 16 doesn't need to be linear or even cohesive, so long as it engages and reflects the mentality of the emcee behind it. That's part of what I enjoy about Meyhem Lauren's work, like the track above. By listening intently, you're unraveling a mystery, tapping into a worldview, and embracing every metaphor.
This newsletter marks the seventeenth installment of Irregular Vegetables, a weekly series of CABBAGES emails where I share links to recent writings from other hip-hop/rap journos and critics, squeezing in my own work as I see fit. These midweek editions hit inboxes every Thursday. Enjoy this week's reads and keep scrolling to read an interview with Philly rapper Torito, whose new album Meat Circus comes via the U Don't Deserve This Beautiful Art label.
---

If 'Good Kid Maad City' is revered for its commentary on gang violence, how can Lil Baby's discography, which presents a firsthand perspective of the same social decay, not also be an expression of Black plight? J. Cole's "1985" was lauded by his fans as an insightful portrait of the toll that drugs are taking on American youth. Is Future's entire discography not also a commentary on America's drug epidemic from an "insider's" perspective? (Read more at More Fire)
Pop Smoke's Debut Album Solidifies His Legacy
Standout track "44 BullDog" wholeheartedly embodies its title as the rapper unleashes his most turbulent fury ("Boy, you hatin' ass n----s better sit back / Or you gon' be the next one to get they shit snatched"), while lead single "Make It Rain," alongside fellow Brooklynite Rowdy Rebel, could easily become the next hood anthem with its Grim Reaper-esque production and staccato flow. Smoke's conscience also catches up with him on the album, as seen with posse cut "Snitching." Featuring Future and "Shake The Room" collaborator Quavo, the trio steps away from those they cannot trust. (Read more at Paper)
Digga D: The UK Drill Pioneer Who Can't Be Deterred
In June 2017, Digga D and four members of 1011 were arrested following a stop and search. Digga D was ordered to serve a year in jail and sentenced with a CBO (Criminal Behaviour Order) that prevented the group from releasing music without prior permission from the met, entering certain London postcodes and banning lyrical references to real-life incidents or people in their music. Now that 1011 is dissolved, their old music feels like a dust-covered time capsule hidden on the internet, once buried by the authorities and recovered by drill archeologists through anonymous YouTube re-uploads. (Read more at The Face)
Confessions Of Milli: M.I Abaga, Chocolate City, And When A Contract Goes Sour
After a lengthy delay of his personal projects, Milli and M.I Abaga would later suffer a nasty split in 2016. Milli's potential was left unrealized. Worse still, the exit was bitter and personal, with both parties sharing derogatory stories about the failed relationship. Milli blamed M.I Abaga for stifling his growth and refusing to let him release music due to negative man-management. In conversations, Abaga branded Milli "difficult" to work with, and ex-Chocolate City staff called him "problematic." Milli would later launch his personal record label, backed by investors. But after the release of an EP, he abruptly disappeared from the industry.  (Read more at Afrobeats Intelligence)
Biggaveli Back: Max B Returns As 'Charly'
Max's crackling voice hasn't lost any of its charm, harmonies cresting with gravelly ahhhs and owwws. His bars remain as strong and self-assured as ever. He's back over Dame Grease beats, but he also has eyes on Camila Cabello and the second season of Pretty Little Lies. "Goodman" sears righteously with jabs like "Martin Luther King, he had a dream / I had a vision, ended up back convicted" and "these devils is white as cotton, Jesus is black as fuck," but it also makes room to joke about the Kawhi Leonard/DeMar DeRozan trade and lament the fact that French's natural disaster insurance didn't cover the Calabasis brush fire. (Read more at Passion Of The Weiss)
On "Miles," Blu & Exile Strengthen Their Chemistry And Revisit Their Roots
Blu and Exile started piecing together a trap album in 2015 by trading beats and verses over email. They scrapped it in 2017. "It wasn't as genuine, especially for our fan base," Blu explains. "I was being a little more experimental, which I'm known to be with some of my projects. We decided to go back to the drawing board. We went back to our old music." They began on the album that would become 'Miles' with a more intentional, in-person form of collaboration. They cut 40 songs in all for the project. (Read more at Bandcamp)
At the time (the 1960s), there was a movement brewing in the city composed of scores of young, Black teenagers. They organized themselves into groups named after Black Greek fraternities. McCray belonged to Delta Phi Soul for example. These groups were for kids who didn't want to be in gangs. In addition to graffiti writing, the groups would compete with each other to see who could be best dressed and who had the dopest dance moves before breakdancing was fashionable. They would also spit rhymes to each other without beats before rapping became popular.  (Read more at Philadelphia Weekly)
Scam Rappers G4 Boyz Are Building the Bridge Between UK and NY Drill
"Local Scammer" is different, since the UK influence isn't limited to production. From the moment the hook starts, you notice G4 Choppa's distinct London accent, and bars such as "KMT, that's a third of the swipe" implement traditional UK drill slang. The classic UK drill sound is complemented by the cool New York vibe introduced by Buggy and Ice Boy on the song's verses. "These other rappers don't care, we care," says Ice, speaking to me from his minimalist New York apartment. "We've been making money in London for so long – people don't understand the rhythm, the culture, the energy of it. Why would we use UK beats and not give UKartists a chance?" (Read more at Vice)
English Eccentrics: The New Golden Age Of UK Rap Individualists
But these superstars are just the tip of an immense, and sometimes very strange iceberg. While grime, drill and the rest continue to provoke and innovate, some of the most interesting things are happening in the interzones between, or even completely away from, standard genres. There is an anything-goes experimentalism going on, a readiness to fuse anything with anything, but also - crucially - a sense of freedom for young, mainly black, artistes to try out roles outside what's normally been allotted for them by the entertainment industry. (Read more at Sound Of Life)
We'll Bite: Examining Hip Hop Twitter's Latest Obsession With 'The Glizzy'
D.C. born and raised musician Rashad "The Glock Knight" Stark told HipHopDX the story of when he first heard the term at a graduation cookout. "It was these two guys laughing and giggling in a corner," Stark said. "My friend comes over to tell me he's getting annoyed because he couldn't eat his hotdog in peace. I asked what they were saying, and he said they kept repeating, 'Oh nah, he's shoving that glizzy down his throat.' I thought it was hilarious, and from there on, we just kept the humor going." (Read more at HipHopDX)
Pop Smoke's Story Might Always End With a Glaring Question Mark
The curse of a posthumous album is that it shows what roads an artist could have traveled that they can't travel anymore. 'Shoot for the Stars, Aim for the Moon' should have been a stepping stone, not a capstone. If it itches as a final album, it's because Pop Smoke should be here figuring out how to broaden his horizons and refine his craft even further. (Read more at Vulture)
Open Mike Eagle Goes The Hip-Hop Entrepreneur Route With A Podcast Network And Record Label
"My heart lies with rappers trying to tell their own stories, because I don't feel like that happens enough. Rappers that I know, especially with history and legacy, haven't had that kind of platform to get their roses, even if they feel any impulse to want to tell their own story or do their own shows. The dope thing about podcasting is you can do anything, literally any kind of audio you want to record, that counts. I'm really excited to be like that kind of platform, an outlet for that sort of creativity."  (Read more at Forbes)
---

Three questions. Three answers. That's a wrap.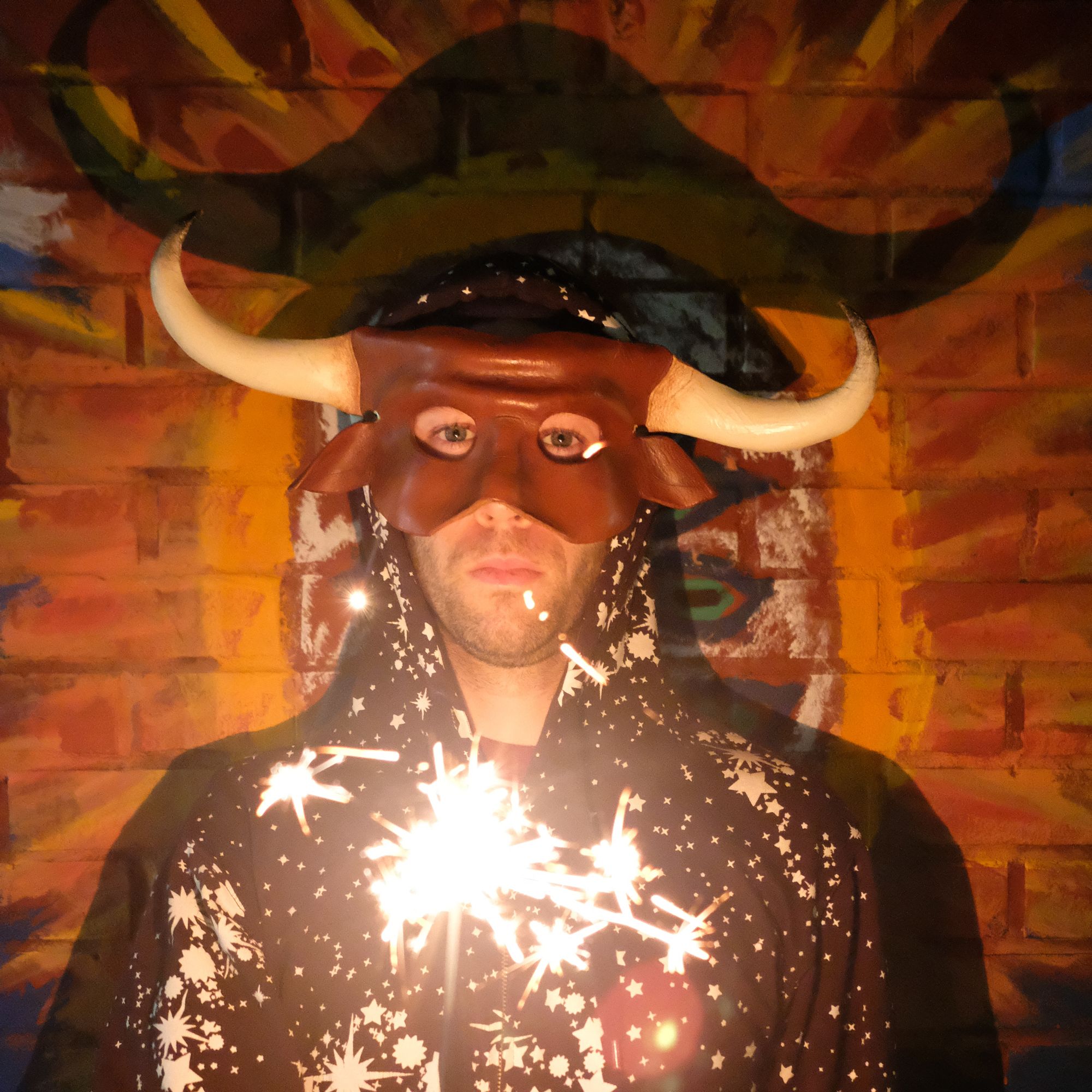 Photo credit: Matt Schaefer
From Humpty Hump of Digital Underground to MF Doom to Koreatown Oddity, hip-hop has had its share of masked men. Sporting a modified minotaur headpiece, Torito out of Philadelphia delivers complicated rhymes for complicated times. A follow up to 2018's Fabric Scraps project, Meat Circus marks his second album for Darko The Super's U Don't Deserve This Beautiful Art imprint.
Masks and character-driven disguises are part of a longstanding tradition in hip-hop, Do you see yourself as a kindred spirit to artists in that tradition, or does your masking have to do with other factors in your life / philosophy?
I think there's a bit of both. DOOM is definitely my favorite rapper and biggest influence. The mask just looks so fucking cool, and I love the significance of him wearing it to conceal the "wounds" and "disfigurement" of all that he went through with losing his brother, getting dropped, drifting around depressed for awhile, etc. There's more of a story to his mask, there's more of a meaningful tie-in with the character, but even just on an aesthetic level it's great, and there's a pretty decent chance that DOOM's mask and my general admiration of DOOM made me more inclined towards rapping in a mask. Or with The Koreatown Oddity, where the mask is more incidental and maybe not an integral part of a story or character, it's still very striking, very memorable, and it imparts an aura that's vaguely mythical and legendary. None of these things are substitutes for lyricism, musicianship, etc., but I love the idea of having a captivating visual element that complements everything else you're doing.

When I started writing rhymes regularly, probably about 9 or 10 years ago, playing live was the furthest thing from my mind. I was just rhyming in my head at work, writing stuff down if I liked it, without planning on doing anything with it. After a year or two, when I'd put together a few songs and started thinking about maybe trying an open mic, I had to figure out how I wanted to do that. I didn't want to go up there as John McGrath. I just had a sense that I wanted it to be something different from that. To some extent, I'm sure it was insecurity, self-consciousness, trying to be comfortable in a new and somewhat daunting situation, etc., but I knew I wanted a character of some sort, even if the character overlapped most of the way with my non-rapping self. I remember hearing DOOM talk about the mask, and how there's an anonymizing element that actually makes it less about what you look like and more about your skill, and that definitely influenced me as I was trying to find a path forward.

The name and the mask came together at basically the same time. My first name is Ferdinand, which I don't go by because it's a peculiar name for a caucasian dude born in the late 20th century. I was always drawn to the kids' book "Ferdinand The Bull", and while I have to imagine that it's at least in part because it was cool to see my given name in a context other than nautical exploration and Spanish royalty, and also in part due to the beautiful, vivid black & white illustrations, I also felt a kinship with the protagonist. I won't let this devolve too much into a children's literature recap, but basically Ferdinand The Bull isn't interested in butting heads and sparring with other bulls and trying to get picked for the bull fights in Madrid; he just wants to chill in the meadow and do his own thing, even if it's kinda weird compared to what his peers are into. So as I wrote more and more and put a few songs together, and began to think about how I wanted to perform live, my long-held connection to this story, even though it hadn't really come up at all in my adult life, really guided me in a particular direction. I went with "Torito" because I like the sound of it as well as the different possible interpretations of "little bull", and I started looking around for a bull mask. I found a "minotaur mask" for like $90 online, bought it, modified it a bit (put padding on the inside and trimmed the snout so it didn't cover my mouth), and went with it. Other than one time when I decided to try going maskless and one time when I accidentally left my mask at home, I've worn it for every show. I can rap whether or not I'm wearing a mask, but to me it's a part of who I am as Torito.

I imagine that when people see a rapper wearing a mask, they might assume it's a gimmick. But I think that if the music is really solid, substantive, entertaining, thought-provoking, etc., and it becomes clear that the mask isn't covering up some creative deficiency or lack of skill, then the mask is a memorable aesthetic that enhances what I'm doing musically and lyrically. Like, maybe it'll draw some eyes or catch people's attention in a way that John McGrath might not, but if those people end up listening, they'll hear what's behind it.
The features on Meat Circus are predominantly Philadelphia artists. Is it important to you to express camaraderie with like-minded artists in your local independent hip-hop scene?
Nowadays, more than ever, it's incredibly easy to work with people regardless of geographical distance. And I would love to do more collaborations of that sort, but for me, it's deeply rooted in what's happening locally. I owe so much of my development to the Philly artists I've gotten to know, to see, to play shows with, to do tracks with, that anything I'm working on is most likely going to have that as its foundation. I remember seeing Darko for the first time at a "weird" rap show at Kung Fu Necktie in Philly, and really enjoying his set and getting a little glimpse of him as an artist. I messaged him on Soundcloud the next day to ask about trying to set up a show with him. He got back to me, checked out my music, I got a beat from him, we played some shows together, did some tracks together, went on a couple little tours, etc. More than anyone else, Darko has believed in me as an artist and given me opportunities to get out there. I really can't imagine doing a project without asking him to be involved. Ialive, too, is another dude that I got involved with when I was just starting out. Same kind of thing, some shows, some collaborations, etc., and also a lot of solid advice shared with me over the years ("perhaps don't open a show with 96 bars of rapping" and "it might be good to break things up with a hook from time to time" come to mind). Or being inspired by seeing E Grizzly and Miggs and Zilla kill different shows, and knowing that I want to work with them. There's just an inexhaustible well here, very creative people putting out all sorts of cool projects, growing and developing what they do, always getting better, supporting one another. Becoming a part of that scene over the past half-decade or so is something that I'm deeply grateful for, and I think that's just reflected in how I collaborate.
On the production side, you collaborate throughout the project with Johann Sebastian, who was also part of the preceding Fabric Scraps, and Steel Tipped Dove. What is it that you enjoy about working with these two artists, respectively, and how do they complement your own production style?
So Johann and I have lived on the same block for about 8 years, and for the first year or so I'd seen him around, chatted with him a bit, but didn't really know too much about him. About 7 years ago we struck up a conversation when he saw me loading up my car to transport beer to a party/show where I'd be performing songs from a mixtape I'd just put out. I told him he should swing by if he wanted to, and he did. He checked out the show and later mentioned that he makes beats, and he sent me a few beats to see if I was into them. At the time I didn't know just how extensively he was involved in music, but I soon found out that he's a very skilled musician and multi-instrumentalist, a great producer, and an incredibly savvy audio engineer. With a couple of his beats and a few beats that he and I made together, we put out an EP in 2014, and while a lot of the process was hanging out in my basement and enjoying ourselves, working on that project together really forced me to up my game. At that point in time, I just wanted to write bar after bar, with little regard for hooks, themes, cohesion, anything like that, and I suffered from an aversion to allowing the beat any space to breathe (Johann slowly got me to come around to the idea that I don't need to cram a syllable into every possible space). I also was reluctant to put in the work to make things sound as good as they could. Watching Johann work, seeing how he combined soulful musicianship with technical mastery, helped me break out of some of my old ways. And then when I started making beats on my own a bit more frequently, I'd always end up working with him on some of the areas that weren't my strong points: he'd help loosen a track up a bit and give it a better feel, he'd layer percussion to give the sound more dimension, he'd cook up the right synth to complement what I had in place already. For Fabric Scraps, I'd basically make a beat partway, then do a session with Johann in which I'd record vocals and he'd fill out the beat and handle the engineering. I really liked that arrangement, and being able to work with him like that was a major part of why Fabric Scraps was a big step up from what I'd done previously.

We kept working like that and had a few songs that would eventually be on Meat Circus, but it became difficult to keep working like that once COVID-19 hit and we both had all sorts of additional work/family stuff to handle. At that point, I got in touch with Steel Tipped Dove. I'd rapped on his beats before through Darko, and I'd been hoping to work with him for a little while, but it hadn't come together. I told him where things stood with the project, that I was looking for co-production on a few tracks and engineering as well, and he jumped right in. I really hadn't worked closely with anyone other than Johann, so I didn't know what to expect, but it was great. He's incredibly organized, efficient, attentive, responsive, etc. in addition to his skill as a producer and engineer. Very good to work with. He helped shore up the drums on a bunch of the tracks, and it was cool to have a presence that maybe skews a bit more towards the electronic/synth side of drum production. I also really love the way he mixed/effected the vocals on some of the tracks. There's this soft, subtle, echoey, atmospheric layer that somehow simultaneously envelops everything and is also barely there. I've historically been a "vocals forward" kind of guy when it comes to mixes, presumably out of an unhinged, overabundant concern that every single syllable be maximally discernable, but there's this artful cohesion to his production/engineering that really won me over, and I love what he did on Meat Circus.
Purchase or stream Meat Circus.
---
See you on Sunday.
Follow me on Twitter at @noyokono and on Instagram at @noyokono too.