On a recent episode of the Super Duty Tough Work podcast, Blueprint and his Greenhouse partner Illogic discussed a topic all too familiar to cratediggers—wack records. The duo went back and forth about their experiences scouring dollar bins at dusty vinyl shops in search of sample fodder, gleaning lessons from their follies in the hopes of educating listeners as to the dangers of spending time and money on trash.
Beyond the prescriptive outline, the conversation offered anecdotal reveals that no doubt will appeal to the duo's fans. One of these was a story about "Lucky" from 2003's The Weightroom and how its distinct vocal snippet came from an otherwise useless album of Christian music. Other than the delight of the end result, the takeaway of that tale seemed to be that creative greatness can come from unlikely sources amid vexing scenarios.
As someone who spent his twenties wrist deep in used CD bins building up musical knowledge and a collection that I ultimately sold or donated for pennies on the dollar, the episode spoke to me a little differently. I've dabbled in beatmaking on occasion and in private, but have generally come to accept that I'm a far better writer than producer. But while my drum machine rightfully languishes in storage, I can relate to the experience of squandering my hard earned cash on music I absolutely hated.
I'm showing my age here a bit, but you young bucks need to remember there was a time when you had to buy a Young Buck album in order to hear it. Spotify didn't even launch in the U.S. until 2011, and it took Apple Music and Tidal until 2015 to debut. Hot dogs didn't cost a nickel back in my day, but music sure as hell cost more than $9.99 a month for 24/7 access to the fucking store. So when I stretched my desk job paycheck at places like Academy Records on West 18th Street, you'd better believe I was pissed if I blew $6.99 on some tepid shit from a fourth tier Wu-Tang affiliate.
Though artists remain perennially screwed by it, the streaming revolution suited me and my disposable income just fine. I probably could have put a down payment on a house for the amount of money I spent on new and used CDs between 1997 and 2012. And while those purchases—even the wack ones—no doubt contributed to the  education and contextualization that allows me to make my living now writing about music, I try not to think about how different things would be in NYC COVID-19 lockdown in that imaginary home than in my rental apartment. I'd probably have a nicer stereo system to play the radio on…
The good news is that now the wackness is, like so many things, everywhere. You can hear more or less any terrible rap album in the world now for the low price of free + a word from our sponsor. Technology has saved you from the tyranny of bland beats and weak bars, from the lure of dope cover art that suckers you into the sewer like that clown from It. Rejoice in knowing that if a wack record comes along and wastes your time, you can move on without having to think all that hard about it.
---

Apollo Brown & Che' Noir, As God Intended
A vet of the one-rapper-one-producer format, Detroit's Apollo Brown brings out Buffalo's Che' Noir for some sublime boom bap business. An immense burgeoning talent, she reps for her city with lyricism that moves beyond the Griselda gaze. She unloads hometown hardships on "Blood Is Thicker" and "Money Orientated," the autobiographical bars demonstrating streetwise wisdom and biblical reflection. Her narrative rap skills recall peak Nas on the twisty "12 Hours," and the Golden Age aesthetic bleeds into gems like "Hold It Down" and the homage "94." Brown has bestowed fire beats on better known emcees, but Che's show-and-prove ambition gives As God Intended album of the year potential.
Leaf, Fashion Bitch
Since her time with Fool's Gold Records, Leaf has been more than ready for her breakout moment. A welcome follow-up to 2017's glossy Trinity LP, Fashion Bitch finds her stronger than ever. Still all about her paper, she matter-of-factly delivers broke boy putdowns and femme-forward lines on "Go Dum" and "Bend That." Her sung-rap skills suits the current moment in hip-hop, with sex positive bangers "Is It You" and "Fuck My Ex" leaving no doubt who's in charge here. She subtly flips a certain male pop singer's sour grapes into the luxe "Burkin" while popping designer tags over the couture-driven title track's 808 bump.
Torito, Meat Circus
In more ways than one, MF Doom's influence weighs on Torito, a Philadelphia rapper who dons a modified minotaur mask when spitting his complex and quirky rhymes. His multisyllabic flow on "Crying Moon" and "Carneyvore" benefit from impeccable breath control and bar stamina, with lyrics whizzing by so fast and furious that rewinds are a must. On the production side, he shares credits with Johann Sebastian and underground darling Steel Tipped Dove. The former helps develop a Special Herbs-worthy beat for "Bovines And Beans," while the latter contributes to the vaudeville stutter of "Hobby Horse."
---

Three questions. Three answers. That's a wrap.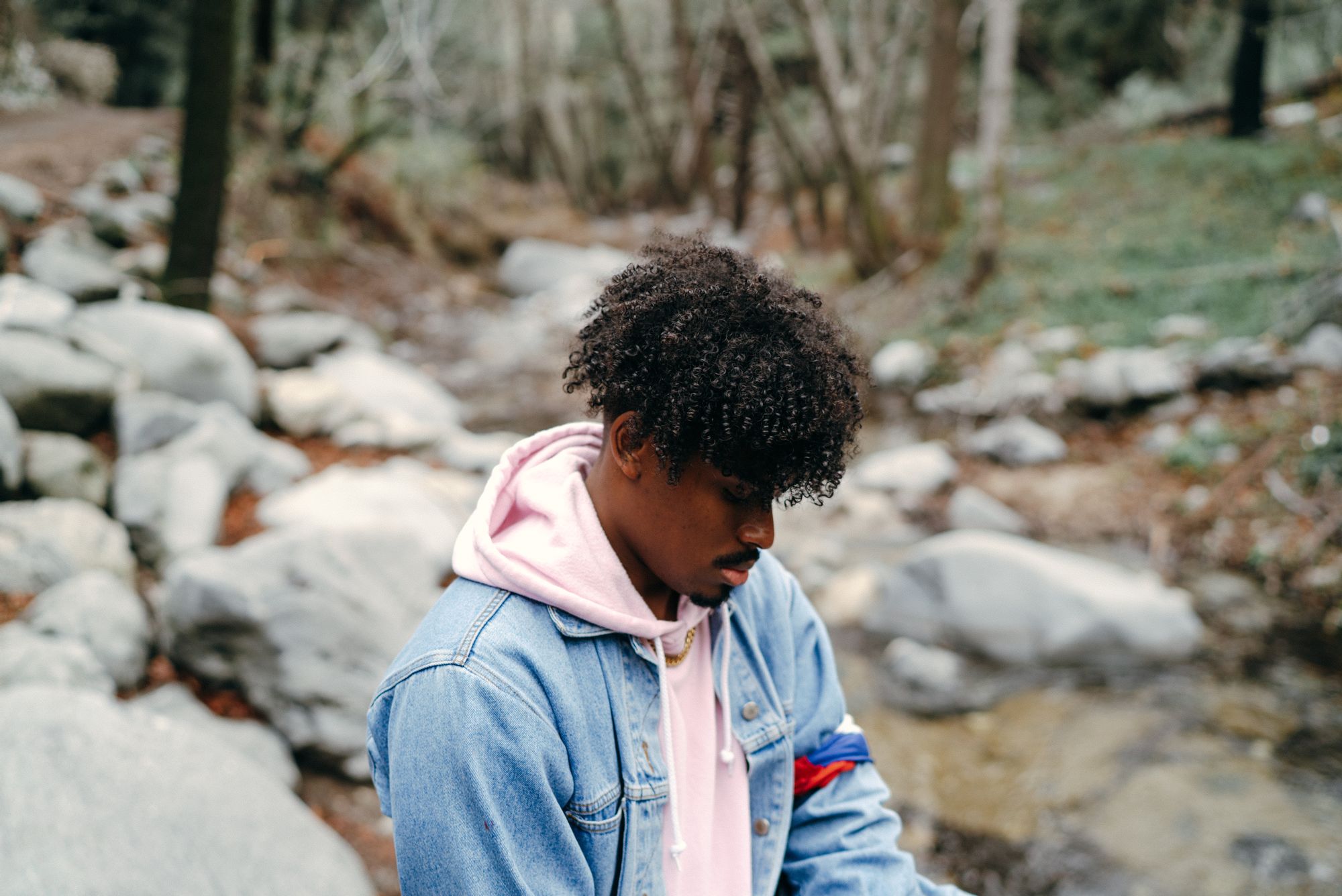 Photo credit: Maxine Bowen
Growing up in Port Au Prince and Miami, ToBy comes to rap with a certain perspective. Over instrumentals by producer oebeats, he approaches a wide range of personal topics and introspective concerns on his project The Outside. There is melancholy and there is joy, and judging from these songs he's unafraid of tackle the spectrum from either point.
Who were the artists that inspired you to start rapping and singing?
I listened to a lot of Mos Def and MF DOOM when I first started rapping. I also had Jay Electronica on repeat as well. My biggest influence and inspiration is definitely Childish Gambino; I've been a fan since I was 14. His album "Because The Internet" was the first time I ever considered singing on my music. I had "Telegraph Ave." on repeat. I would say my first introduction to hip hop was Lupe Fiasco's "Kick Push." My cousin showed it to me when I was younger and I thought the sound was super dope, but had no way of buying my own music at the time. I really started getting into hip hop on my own during my freshman year of high school when I started watching Samurai Champloo and diving into the Nujabes soundtrack.
The titular "outside" from The Outside is meant to be taken somewhat literally, drawing from key locations in your life including your grandmother's home in Haiti. How does sense of place factor into the way you create or are otherwise inspired to create?
I think a sense of location and an awareness of your surroundings is necessary as an artist. We take in and express our lens of the world for other people to interact with, and where you are in those moments of time definitely can bleed into the work. I think, as artists, our interpretations of life and how we navigate it are what people interact with us for. My grandmother's house in Haiti holds a special nostalgia for me and it's where I worked on a lot of my early music. While I may not have expressly said or referenced it in my work, the fact that I was there in those moments as opposed to say a studio or at home allowed me to create unique songs each with their own identity.
Much of the project seems to be trying to merge deeply personal subject matter with modern hip-hop production styles. Seeing as the latter, at least in the mainstream context, can veer more towards the superficial and material than the existential and spiritual, did you find it at all difficult reconciling between the two forces here?
I didn't find it difficult at all actually. I found that the musicality within the production allowed me to really open up in a way that was actually a little difficult to do before for me. I listen to modern hip hop and deeply personal singer-songwriters all the time, and I tend to go back and forth when I do. So it was pretty natural for me to find pockets where I could open up. I also made extra sure to gravitate towards the beats that evoked that inclination to be open, so as to avoid falling into a trap where I made something superficial. I was thinking about the project overall. so I really wanted to make sure the fat on it was trimmed. I'm also a pretty existential person in general so it all kind of spilled out once I started writing.
Purchase or stream The Outside here.
---

As someone who spends a lot of time looking for and listening to unknown and underground rappers, it's always great to see someone talented come up after years in the trenches. Alchemist devotees knew about Boldy James well before The Price Of Tea In China, a 2020 standout album that received the deluxe edition treatment this week. But Chicago-based blog IllRoots saw it for the Detroit rapper even before 2013's My 1st Chemistry Set, and backed his 2011 mixtape Trapper's Alley: Pros And Cons with a trio of music videos. One of these was the Ken Koller directed clip for "Concrete Connie," Boldy's block encomium delivered over a cold ass beat. For those of you praising Alchemist's Alfredo with Freddie Gibbs, here's more of that vibe you've been seeking.
---
See you next Sunday.
Follow me on Twitter at @noyokono and on Instagram at @noyokono too.