"If I make it back this time / Gots to hold what is mine / And thank God that I made it alive"
-P.O.D., "Southtown"
Greetings again from my couch, a place where I increasingly find myself seeking out nostalgic comforts in self-quarantine.
I recently went through a very convoluted process involving cereal boxes, QR codes, and 72-hour waiting periods just to get a two week Disney Plus free trial, only to discover how much it sucks. Tragically, the aspect ratio issue afflicting The Simpsons there makes the show's first ten seasons (read: the good ones) all-but unwatchable, with classic sight gags cropped into oblivion. I attempted an episode of Chip 'n Dale: Rescue Rangers, only to realize that this beloved after-school cartoon offers little repeat value for an adult man. Instead, I've gone back to old nu-metal records like the one embedded above, headbanging in isolation.
Anyway, here's the second installment of Irregular Vegetables, the weekly series of CABBAGES' emails where I share links to recent writings from other hip-hop/rap journos and critics. For now, you can expect to receive these every Thursday, in the hopes that when all of this COVID-19 madness subsides and we begin to return to something resembling normalcy, I'll stop doing them.
Enjoy this week's reads and make sure to scroll down for a bonus Lettuce Wraps Q&A with Tyron Perryman about a very cool project documenting the Richmond, VA hip-hop collective Mutant Academy.
---
Cuban Links
Lil' Flip once claimed to be "the first cat in Houston with a black McLaren." Fifteen years later, after fiddling with some buttons and finally figuring out how to drop the top, Toliver tells me he'd love to put purple candy paint on this McLaren, now heading west down Holcombe Boulevard. N*E*R*D's "Provider" is cranked up—the volume is already all the way up, but he keeps turning the knob—when he lists some of the cars he's driven over the years. (Read more at Complex)
I Left Sony Music with My Entire Catalog. Here's Why
In terms of monetary exchange between the label and myself, I ended up paying more for buying back my catalog than I received in total from my advance. Only a fraction of my total net-sales counted towards my recoupment. Even with having 45 million-plus streams, I was, according to the last statement we received at the end of 2019, still in debt to the label. All the revenue the record label generated in two years through brand, live, and sync deals did not count towards recoupment. (Read more at DJBooth)
Drakeo The Ruler On Facing A Second Trial For His Life
Men's Central Jail exerts its own doomed gravitational force. The buildings are drab and colorless, ringed by mentally ill homeless people camped out in tents on the sidewalks of concrete arterials. On the corner, a strip of squat bail bonds shops waits patiently. It is a soul-deadening vortex, a place that makes a Soviet labor camp look like Burning Man. To see Drakeo, I'm forced to speak to a litany of deputies each sending me in a different direction. Finally, one smirks, "Oh the rapper?" (Read more at Genius)
The Casio RZ-1: An Entry-Level Sampler Behind Top-Tier Beats
Released at the onset of rap music's first Golden Era, the RZ-1 was popular amongst first-generation hip-hop producers who were learning to make beats. With its affordable price tag, the RZ-1 allowed budding hip-hop musicians to pre-produce records in their homes, forgoing booking unnecessary hours in the expensive professional studios of the day. (Read more at Reverb)
"I Didn't Even Know People in the Industry Knew Who I Was Until They Were in My Face:" An Interview with Mo3
Despite being signed to major record labels such as Universal Music Group, and features on MTV and BET; the emergent collective of Dallas rappers failed to sustain national attention in comparison to their Houston counterparts. As their popularity declined, the city's independent hip-hop scene regressed to their "gangsta rap" heritage, where talents such as Mo3 reached national and regional acclaim for his autobiographical depictions of "Nawfghanistan", his North Dallas neighborhood. (Read more at POTW)
El-P on the Music That Made Him
At 15, I had a Tascam 4-track cassette recorder and a secondhand TR-505 drum machine—maybe the worst drum machine ever made. Even at the time I was like, "I don't know what to do with this thing." But I was doing a bunch of tape loop stuff. That's how I started. I was recording demos and trying to make beats. Back in the early '90s, every time you thought you might start to have something figured out, someone would come out with a record that would completely change production, and all of a sudden you're like, "Fuck, I'm 100 miles away again." (Read more at Pitchfork)
Mass Appeal: New Noise Out The Northeast
But now, a new generation of Massachusetts rappers are poised for a takeover. These artists are diverse in sound and story, unconcerned with past perceptions of their region. Many of them rap as well as produce, and they often work with one another. The cross-collaboration has resulted in a self-contained ecosystem that has allowed these artists to craft a cohesive sound, and to cultivate a following locally and beyond. (Read more at Weekly Rap Gods)
20 Years of 'Stan': How Eminem's Epic 2000 Hit Relates to the Fan Culture It Inspired
While "stanning" is not unique to the last two decades, the Internet and social media websites have opened up accessible platforms for fan groups to communicate with each other and their favorite musical artists. In her article, Dr. Stever notes that celebrities have created a more personal connection with their fans that wasn't as possible before the advent of the Internet. "Things like Twitter, Facebook, MySpace and blogs or video blogs are all being used now by celebrities to create that intimate day-to-day connection with fans," she explains. (Read more at Billboard)
J Balvin Nuances His Cosmopolitan Reggaeton Sound on 'Colores'
"To me you are the hardest, you're on another level." Right-hand man and producer Sky Rompiendo finally puts Balvin's freestyle skills to the test amid the dancehall-accented bounce of "Verde." Balvin colors within the lines of standard radio reggaeton in songs "Blanco" and "Morado," but then dusts off his guitar for the unmistakably made-in-Medellín tracks "Azul" and "Gris." (Read more at Rolling Stone)
Madvillainy Unlocked the Promise of the Rap Album as a Living Document
Music critics and fans hailed West's The Life of Pablo updates as genius, having taken advantage of the new artistic opportunities presented by the streaming landscape. Yet eight years earlier, Madlib already preemptively outdid his future collaborator with a complete overhaul of the Madvillain album. Madvillainy 2 arrived in 2008 billed as a remix project, but in reality it was more than that. (Read more at Crack)
---
Lettuce Wraps with… Tyron Perryman
Three questions. Three answers. That's a wrap.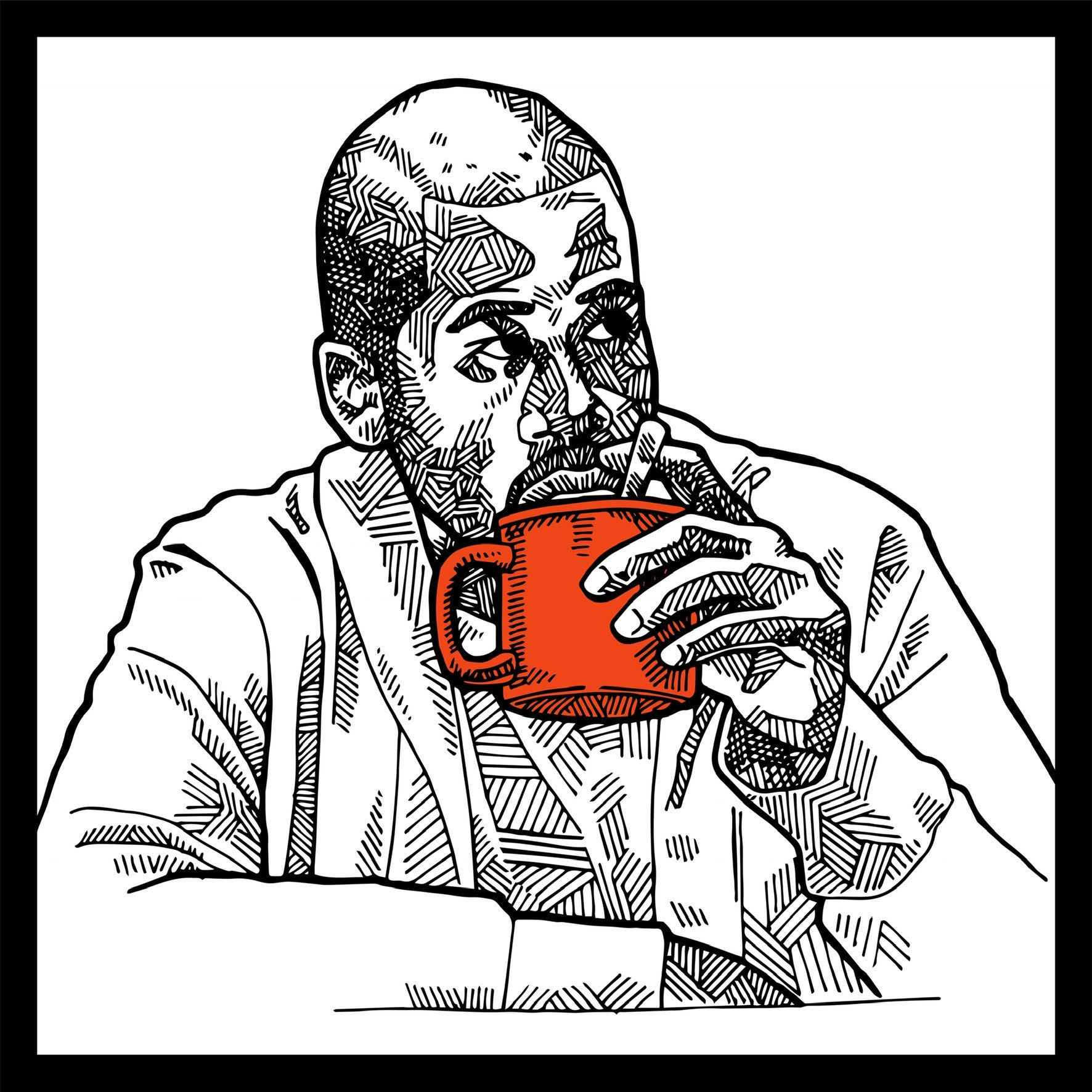 Illustration credit: Tony Coppin
Though CABBAGES spends most of its time and energy on the written (or, more accurately, typed) word, hip-hop music journalism thrives across audio and visual mediums as well at this mature stage in the Internet Age. Some of the best reporting nowadays, as well as some of the most engaging infotainment, drops as podcasts or video clips or even full blown Netflix series.
Tyron Perryman is very comfortable with the format shift. He previously hosted the Tea & Converse podcast and has recently released a new "audio doc" via Bandcamp entitled Camps Cliques Units Squads Crews & Clans. Divided into three tracks, the project tells the story of the Richmond, VA hip-hop collective known as Mutant Academy, a sizable set of local talents helping to put their long-overlooked rap city on the proverbial map. Serving as producer, interviewer, and narrator here, Perryman achieved this by focusing on one particular album in their ever-expanding discography—2017's Chapel Drive by Fly Anakin and Koncept Jack$on—and speaking with all the right people to get this bit of regional rap history right. In turn, I threw a few questions Perryman's way about it.
What prompted you to want to tell this story about Mutant Academy and why was Chapel Drive the lens through which you sought to tell it?
The Camps Cliques Units Squads Crews & Clans idea had been lingering in my mind for a long time, hence why I approached the Griselda interviews the way I did in 2015 and was slowly making my way through the members of the Combat Jack Show in the same fashion. But I wanted to start challenging myself to tell bigger stories than the one to one long form interview format could afford me.

When I figured out what that would sound like and how I would approach it, it needed to be Mutant Academy and for several reasons. Over the last few years they've been making some of the best rap music and not just in what's deemed the underground space, I mean period. Every member in the group is multifaceted. No one is just rapping or just solely making beats. Each person wears multiple hats well. And since the "papers" of record that cover the culture and the genre are dwindling and journalism within the space is lacking, I needed to make sure this story didn't go untold. I didn't want them to wait 20 years for their story to surface so it was a give them their flowers while they're still here kinda thing for me also.

Chapel Drive as the vehicle was a "gimme" because although it was a Fly Anakin & Koncept Jack$on album, it was the first time all of the members of Mutant Academy were all present on one project so it was also sort of an unofficial debut group project.
What was the most profound or most interesting thing you learned about Richmond while working on this audio documentary?
It has to be the vast amount of talent that exists in Richmond and the uniqueness of that talent. You have Mirtaw who doesn't sound like Monday Night who doesn't sound like Michael Millions who doesn't sound like GRT SCTT!! who doesn't sound like Young Flexico who doesn't sound like anyone in Mutant Academy. You have Nickelus F and Ohbliv and DJ Harrison and D'Angelo. Richmond is just loaded really.
You're no stranger to various podcast platforms and streaming sites. Why did you choose Bandcamp as the platform to host and sell this project?
Bandcamp is for folks who are serious about music. In the digital space, it's maybe comparable to buying vinyl. Most people take their Bandcamp libraries seriously. They're not just adding anything to their collection. People are more intentional and selective and thoughtful about what they add and share. And there's a sense of community. Buyers talk to each other, artists to buyers, artists to artists. And that's the space I wanted this project to exist in. I didn't want to throw it in a noisy space but rather a carefully curated space, a less disposable space.

In addition to all of that, Bandcamp isn't known as a podcast space or audio documentary space so I wanted to challenge that a bit and maybe make it more habitable for ideas like this going forward.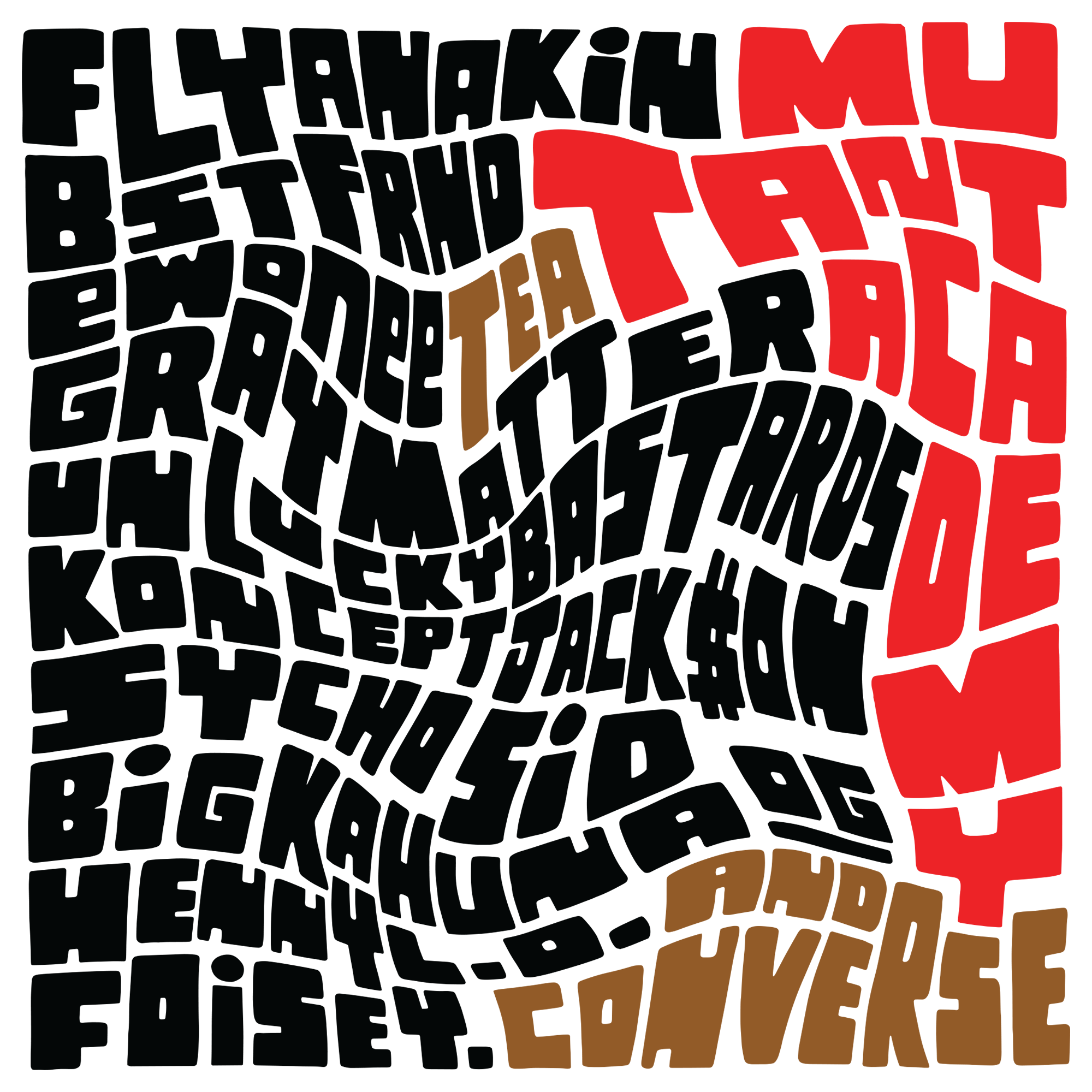 Purchase Camps Cliques Units Squads Crews & Clans at Bandcamp.
---
CABBAGES Subscriptions: 20% Off
Last week, I dropped the first Side Salad email for paying subscribers, looking back at rapper/producer Oh No's 2012 Rudy Ray Moore homage Ohnomite. The next one will arrive this coming Tuesday, focusing on another older album I love that you might not have heard before. As a working freelancer during these tumultuous times, I'm eternally grateful to those who support this newsletter project with their dollars. From now through March 31, you can save 20% off a paid #CABBAGES subscription, either for the monthly or the annual rate. Thank you for considering this.
---
See you on Sunday.
Follow me on Twitter at @noyokono and on Instagram at @noyokono too.