This newsletter marks the twenty-fourth installment of Irregular Vegetables, a weekly series of CABBAGES emails where I share links to recent writings from other hip-hop/rap journos and critics, squeezing in my own work as I see fit. These midweek editions hit inboxes every Thursday. Enjoy this week's reads and keep scrolling for an interview with DJ Premier's favorite trumpeter Takuya Kuroda. After that, make sure to check out the latest Crudites, a feature where I recommend three new singles/videos from hip-hop artists you may not be familiar with yet.
---

Jay-Z And Pharrell Are Making History, But Both Could Stand To Learn From It
The deification of Jay-Z over the past decade has been tiresome — and not just because people bought into the God MC self-mythologizing to the extent that some people even seem to think having dinner with the man is a better investment for the future than $50,000 cash. Jay-Z is a fascinating character — not because he never misses but because he does miss. But he always learns from his mistakes. (Read more at Vulture)
"We Actually Mean What We Say When We Say It:" An Interview With Armand Hammer
Woods hates Da 5 Bloods. Heartbreaking to me: a Woods devotee and someone that found the last hour of that film to be brilliant. But the way Woods bodies, ethers, and spits out Spike's latest with the ease and clarity of Pauline Kael leaves little room for my argument, which (reminder I'm a professional critic) relies heavily on words like 'powerful' and 'cathartic.' Woods has me cornered. Though I spoke with both Elucid and Woods shortly after that movie came out in mid-June, our conversations are as poignant now as when they occurred. (Read more at Passion Of The Weiss)
A Guide To The Crate-Digging Depths Of Madlib's "Medicine Show" Series
Madlib's approach was simple for the Medicine Show: "Just digging through all of my crates," he once said. "From hip-hop to…I might play some ska, I might play some jazz, industrial music…kinda like what I would sample. I sample any type of music, so I'm just playing all types of different things and unreleased beats. I'm just trying to show everybody there's good in different types of music." Indeed, the series is an education in obscure Brazilian music, psychedelic jazz, reggae dub and forgotten disco, and showcases Madlib at his most unrestrained. Late last year he quietly uploaded the series to Bandcamp, with only half of them streaming. (Read more at Bandcamp Daily)
03 Greedo Is Plotting To Make Music History
Earlier this month, the prolific artist from Watts released 'Load It Up, Vol. 01,' a joint album with Ron-Ron, a producer and frequent collaborator. The album title, which is also one of Ron-Ron's producer tags, nods to his ability to provide a fresh inventory of beats for Greedo's notoriously prolific and lengthy studio sessions. And Greedo's been happy to have some support from the outside. "Alamo [Records] is so live," he told me over the phone. "They've been rocking with me. I've been gone for more than two years and they trust me, and I trust them. I'm in a great position to still do what I want to do, creatively." (Read more at Vice)
BackRoad Gee Unknowingly Made One Of The Year's Best Grime Projects
I first came across BackRoad Gee, a rapper from East London, four months ago via the song "Party Popper"—which sonically meshed everything that makes drill and grime uniquely great. Spitting alongside fellow rhymers Ambush and Pa Salieu, BRG's energy stole the show—an energy I'd only ever seen before in grime MCs. And this was confirmed further upon hearing his 'Mukta vs Mukta' EP; produced mostly by Finn Wigan, across seven tracks BRG dances over the riddims like an MC at Eskimo Dance gearing up for a reload. (Read more at Complex)
Yung Baby Tate Opens Up About Her Creative Upbringing, Personal Style & Georgia Roots
"I think I've always really felt like women, in general, are always pitted against each other and I always feel like it was so lame. Women are also put down by our male counterparts so I always feel like it's [been] important for me to switch things around with the roles and how women are viewed. I think that we're strongest together, and it's way easier for fifty women to be heard than one. I've always felt it was important for us to stick with each other whether we rap, sing, produce, engineer — anything." (Read more at Okayplayer)
Duckwrth Is Ready For The World To Feel SuperGood Again
"It's like shining the light in the cave," Duckwrth says of the LP's timing. "If you're in the dark cave and you shine a light, that light becomes the focal point. So I just wanted to bring a brighter tone that we really need. Like, truly, I didn't know that this year was gonna look like this, but now that it's happened, it's just like, 'Oh, OK, I see why things happen in timing that they happen. So I'm hoping that it does exactly that." (Read more at Spin)
Tulsa's Hip-Hop Artists Are Speaking. Will The World Listen?
National interest in Tulsa's history of violent racism has exploded in recent years after decades of ignorance. HBO's 2019 drama Watchmen shed light on the city's history of racial terror, and there are currently at least four planned documentaries and miniseries in the works on the 1921 massacre, involving everyone from NBA stars Lebron James and Russell Westbrook to author dream hampton (Surviving R. Kelly). With the increased spotlight on Tulsa, the city's hip-hop community finds itself in a peculiar position, with the rest of the country seeming to suddenly care about a history they've been writing, singing, and rapping about for years. (Read more at Rolling Stone)
Blac Chyna Avows Her Passion For Rap
Nearly 10 years ago Drake introduced the world to Blac Chyna when he gave her an extravagant shout out on his 'Thank Me Later' hit "Miss Me," in which he pleads for her presence at Miami strip club King Of Diamonds. Now, these days, she's been more into rapping herself. It's her new passion. Her latest single is aptly titled "Cash Only" and it features Billboard hitmaker Trippie Redd, with more to come. "Carpe diem" has to be her mantra because the serial entrepreneur has seized every moment for the ripe taking. At this point, it's easy to say she has become a bonafide household name. (Read more at Uproxx)
Jenzia Burgos On Creating A New Digital Home For Black Music History
"When I first started really getting into curating these resources, one thing I kept coming back to was how much I wish something like this existed when I was in school. I grew up in the South Bronx and hip-hop is my bread and butter, but my dad is Dominican and he was raised aware of his Black identity and Black history on the island. Whenever I was listening to what would get traditionally termed as Latin music, my dad was always saying, 'You hear that beat? That's because of so and so rhythm that comes from Yoruba.'" (Read more at Jezebel)
Black Ambition Stretches Beyond Black Capitalism
Jay-Z once likened himself to Fred Hampton. I wonder if he ever read when Hampton said, "we say we're not going to fight capitalism with Black capitalism, but we're going to fight it with socialism." Fred Hampton was a leader who understood that Black wealth wouldn't save us — it would only stagnate us, as the false promise of representation always draws people away from the work needed to uproot capitalism. (Read more at More Fire)
---

Three questions. Three answers. That's a wrap.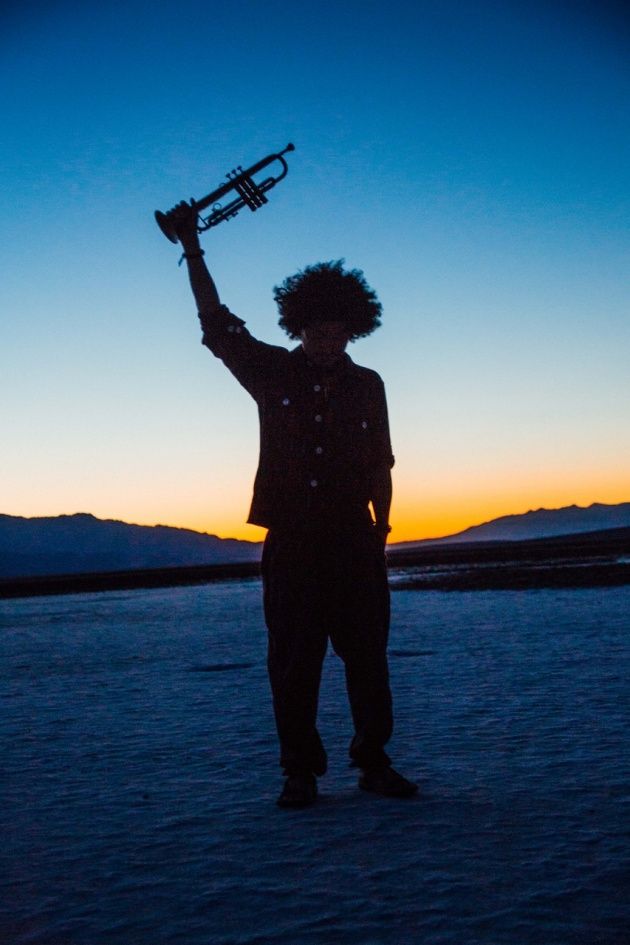 Photo credit: Hiroyuki Seo
Born in Japan and based in New York, trumpeter Takuya Kuroda made a name for himself in the latter's jazz scene, one that often absorbs the city's hip-hop influence. To that end, he plays with DJ Premier in the BADDER Band, a group that regularly reinterprets the Gang Starr legend's iconic catalog. Due out next month on the First Word label, Kuroda's latest bandleader album Fly Moon Die Soon departs from the live ensemble feel of 2014's Blue Note date Rising Son, instead putting tracks together in a more beat-oriented manner.
What has playing in DJ Premier's BADDER band taught you, either from a compositional or performance standpoint?
During a tour, I can't forget what he told me. He said he never tried to make hip-hop music this big (how it is now). He just kept making music for his family, community, and people who are close to him. I loved it when I heard it and want to do it too with my music.
Your forthcoming album Fly Moon Die Soon relies more on beats and sampling than your prior works. Why did you opt to take this particular approach?
Yes it has more beats than my previous album because I sometimes love the consistent groove and sound effects that beats add to a track. But, of course, I do love musicians' organic approach to the music. So I worked so hard on finding perfect balance both those two can live, breathe and vibe in those songs from the album.
In addition to the album's originals, you also include versions of the Ohio Players' not-infrequently sampled "Sweet Sticky Thing" and Herbie Hancock's "Tell Me A Bedtime Story." What was it that prompted you to choose these particular songs?
I chose "Tell Me a Bedtime Story" cuz we do that song a lot in a live set, so I thought it would be cool to put in there but the song has been done so many times in many albums so it was tough to come up with how I wanna do it but the intro came up and I love it.

José James actually told me when we did "Rising Son." He said it's very important to what cover you put in your album because it will give the audience an idea what kind of album it is and what kind of artist it is. It's a song from Ohio Players. Also this song was done by D'Angelo. And I love doing covers from those eras at gigs. I used to do Hammond organ band back in the days in NY, did lots of songs like this. I think this is perfect to tell people what I like and what kind of album it is.
Pre-order Fly Moon Die Soon here.
---

Three new tracks for you to snack on...
Apifera, "Lake VU": A jazz fusion quartet led by Yuvi "Rejoicer" Havkin and signed to indie hip-hop institution Stones Throw, Apifera glide into a lithe groove amplified by playful keys and a general vibe of wonderment.
Clipping, "Say The Name": Paying potent and poetic homage to a certified Geto Boys classic, the Los Angeles trio unleash an industrial strength single to tease their forthcoming horrorcore treatise Visions Of Bodies Being Burned.
Reggie, "Southside Fade": Operating in a majestically nebulous space between R&B and rap, this L.A.-transplanted Houston native makes a compelling and revelatory introduction with this ode to his hometown.
---
See you on Sunday.
Follow me on Twitter at @noyokono and on Instagram at @noyokono too.