If you hit up Def Jam's website right now, you'll immediately see Justin Bieber's impossibly pretty face. The front page feature serves to support a For Your Consideration Grammy campaign for the pop star's 2020 album Changes. If nothing else, it's a reminder that, for the past six years, the Canadian sensation behind "Baby" (featuring Ludacris) and "All Around the World" (also featuring Ludacris) has been signed to the same label that gave us LL Cool J and the Beastie Boys.
As I've written elsewhere, I see no real issue with Bieber being on the Def Jam roster. Universal Music Group owns the brand outright, and has for some two decades now, so the powers-that-be there can do with it what they please. (Let's never forget those initial years under UMG, when it was frankensteined into an abominable mash-up dubbed The Island Def Jam Music Group.) Frankly, it's good for the business unit's bottom line, as the success of the 5x-platinum 2015 outing Purpose and its colossal singles "Sorry" and "What Do You Mean" no doubt bankrolled more than a few rap artists on the label.
Still utilizing a turntable arm logo at a time when new releases almost never get vinyl pressings, the Def Jam brand is an anachronism. Those who love it love it for what it was, what it represents in hip-hop history. By keeping legacy artists such as Fabolous and Jadakiss around, hip-hop heads haven't penalized the label for bringing the tween-targeting pop likes of Alessia Cara, Carly Gibert, and Carson Lueders into the fold. The recent decision to bring Public Enemy back 25 years after Muse Sick-n-Hour Mess Age *only* went gold appeals to that nostalgic inclination many still hold for it. That apparently includes current Def Jam Chairman / CEO Jeffrey Harleston, who took on the role this past February in an apparently temporary capacity after Shady Records co-founder Paul Rosenberg rather abruptly jumped ship.
While much amateur fuss has been made about Jay-Z's relatively brief tenure on top at the label, the role of Def Jam President since Jigga has seen some interesting figures, including Antonio "L.A." Reid and Steve Bartels, the latter having overseen the Bieber shift. But Rosenberg's two year stint is fascinating, if for nothing else, for how much it diminished the brand. His arrival there seemed almost a rebuke to the Bartels era, with the intent of bringing hip-hop back to the fore of the label's mission after the preceding five years of pop inclusivity. Beyond his longstanding business relationship with Eminem as manager, he'd been with Shady Records for the long haul, which affords him no small amount of clout for G-Unit, Slaughterhouse, and Griselda. If Rosenberg could bring such talents to Marshall Mathers' vanity label at Interscope, imagine what he could do with something as big as Def Jam!
When you take out the artists who were already signed there by the start of 2018, including those whose deals were under imprints like GOOD Music, Rosenberg's impact was rather slight. New recruits like Bobby Sessions, Nimic Revenue, Beau Young Prince, and Fetty Luciano got to put out projects on the label, but none of the digital-only affairs seemed to garner the attention or connect with the kind of audience a Def Jam project arguably should. In 2019, an ambitious and aggressively publicized camp with these largely young talents yielded Undisputed, a compilation meant to spotlight this new generation. Each of these artists had their merits, but it became clear to anyone paying attention that, in a competitive marketplace, the return-to-rap strategy and the Def Jam name simply wasn't enough to break them out.
Given how Shady Records managed to make its 2017 Griselda signing into such a huge deal, at least from a branding and publicity standpoint, one has to wonder why Rosenberg didn't or couldn't recreate that over at Def Jam. In addition to the Buffalo bunch's crew deal, Conway The Machine and Westside Gunn—both men in their mid-thirties—made solo album arrangements with Shady at the same time. Only a little bit younger, Benny The Butcher ended up doing a deal with eOne in April of 2020, which means he was at least available to be courted by Def Jam up until then.
Perhaps Rosenberg and other decision makers at UMG thought the brand needed a youthful infusion. (To that point, it remains utterly baffling that he didn't sign any Brooklyn drill rappers either.) But considering how Benny blew up over the past three years he surely would've done some good over there. Emboldened by success, Griselda expanded in 2020 to include Boldy James and Armani Caesar, both of whom now have heightened profiles and more name recognition than anyone who joined the Def Jam roster this year. Mind you, these artists aren't going to do Bieber numbers, but they're a safer bet than trying to transform random TikTok teens into rap stars.
Even after Rosenberg dipped, Def Jam still seems to be squandering this moment in hip-hop and capitalizing on the aforementioned nostalgia already associated with the brand. Already popping online before he signed there, 24-year-old Fredo Bang out of Baton Rouge seems to be doing well enough over there. But still, rather than recognizing the gritty bap revival that's well underway, they're fumbling the bag at the most recognized hip-hop brand in the world by desperately seeking the next viral sensation like everyone else. To wit, their latest signing Mak Sauce just dropped his first single for the label, a trap version of kiddie classic "The Itsy Bitsy Spider."
---

Pacman Da Gunman, Esta Loca Vida Mia
Nipsey Hussle's legacy continues to bloom in myriad ways. As the first project on the All Money In imprint released after the Crenshaw rapper's death, Pacman Da Gunman's 2019 set No Guts No Glory became inextricably linked to a tragic narrative. A true friend and longtime label signee, he properly follows up that one with Esta Loca Vida Mia, a record that not infrequently delves into the weight of loss. On the booming yet minimalist "Can't Believe It," he remains incredulous about the temporary nature of life. His art a product of the streets, it gets heavy inevitably even as main producer SpaceNTime tempers some of that with snappy beats on highlights like "Ambient Lights" and seize-the-moment motivational "Blow It."
Stas THEE Boss, Sang Stasia!
A standout presence in the Shabazz Palaces Cinematic Universe, this Washington native turned Brooklyn denizen has kept a steady profile since the 2016 dissolution of THEESatisfaction. As the title of her latest solo project suggests, Stas THEE Boss aims to show off her pipes. But Sang Stasia! isn't some conventional R&B affair, her hip-hop informed flow primed for late night riffing and laden with spoken word depth. The experimentally mindful artist couches her vocal in a wild mix of self-produced leftfield beatwork, looping and droning hypnotically on "Fake Money" and "Frontin' Centered." Featuring Knife Knights' Erik Blood, the Ayers tweaked "Love Everybody" is a middle finger anthem in miniature.
Cargo Cults, Nihilist Millennial
Def Jukies know Alaska from Hangar 18 and his "Atoms" verse on Cannibal Ox's The Cold Vein. A decade and a half older yet still very dope, he comprises the vocal half of grown-ass duo Cargo Cults with Wrecking Crew producer Zilla Rocca. Aware of his age, the emcee comes through with slight self-deprecation on "UX," though it's a clever ruse to conceal the caliber of his rhymes. Though he leans towards a 21st century anthropology thesis, his love for hip-hop makes "Reign Of The Tech" some ill pedagogy. Though Zilla steps to the mic only once, for the disarmingly referential and aptly named "Great Rap Duo," he flourishes behind the boards for the rollicking bap of "All Power To All Power" and "Get Off My Lawn." Oh, and Curly kills his "Pinky Toe" verse.
---

Three questions. Three answers. That's a wrap.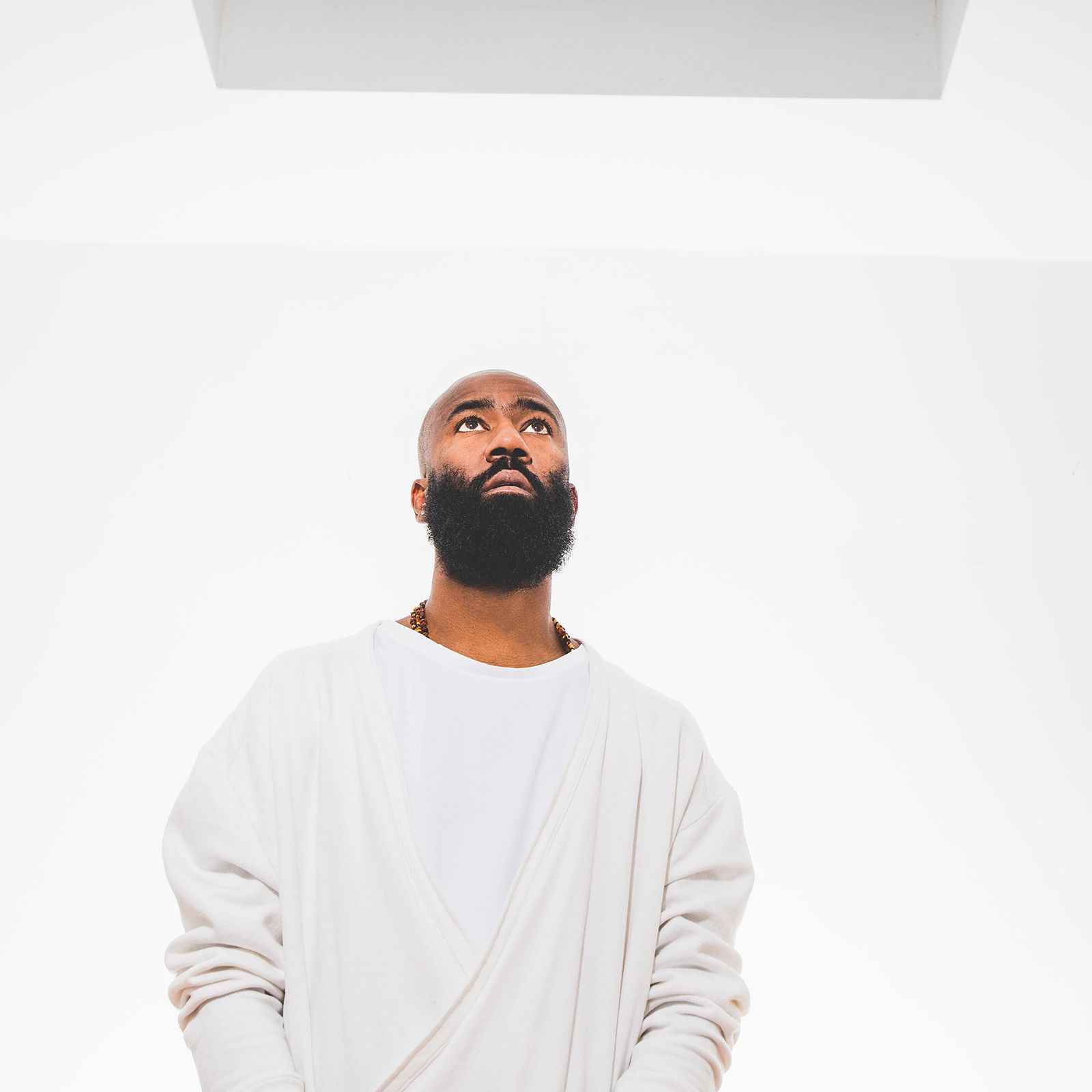 Photo credit: Christine Ciszczon
When we talk about classic Common, we ought to invoke the name of The Twilite Tone. As both a co-producer on 1992's Can I Borrow A Dollar? and the DJ part of the rapper's Chicago triumvirate with No I.D., Anthony Khan played an early and important role in bringing the city's homegrown hip-hop sound to the rest of the country. His musical imprimatur has blessed several G.O.O.D. Music releases as well, with production credits on Big Sean's Hall Of Fame, Pusha T's My Name Is My Name, and the Cruel Summer compilation (yes, on "Mercy"), among others. Though he's dropped a few 12" releases in the past decade, The Clearing marks his debut solo album under long-utilized The Twilite Tone moniker, due out October 9th.
How did you come to release The Clearing through Stones Throw?
What led me to release the project through Stones Throw was an initial impromptu meeting / "kick it" session with Peanut Butter Wolf via our mutual friend Dave Mata. Wolf asked what I was up to, I explained I just finished an album, he listened to it there, afterwards he asked if I would like to release the project on the label and I replied, "Yes". Beyond that, ST's ability to take left-of-center experimental forward thinking yet submerged in the deep musical culture content and know how to market, promote, and create an enormous cult following loyal community around what we do as artists authentically sealed the deal for me.
While the album touches on multiple genres, there's a consistency thanks to the all but ubiquitous synth sounds. How did the gear you chose to work with shape The Clearing?
Hmmmm, I guess one could say my album is multiple genre. However, for me, I don't really subscribe to genres or categories. I believe the genrefication of music is artistic Jim Crow or Apartheid, thus I used the term "trans genre" meaning to "transcend genre." I would rather people just say that's "Tone" or "The Twilite Tone" to describe my music and me. As far The Clearing, the gear and my choice making with that said gear definitely shaped the realization of the project. For me the sampling, both chopping / manipulating loops, drum sounds, and sound bytes interweaving the synth chords, Moog-like bass lines is the common thread, core, or overall creative direction of The Clearing.
You have this long history of work with Common, appearing in one capacity or another on numerous albums of his. Looking back, what did you learn most from your time collaborating with him and No I.D.?
Thanks for asking me about this. Let's see, Common, NO I.D. and I met in high school and ultimately, we came into the music business together. I worked with them through Common's fourth project Like Water For Chocolate, after which I ventured out on my own. Common and I reunited some years later around his "Electric Circus Tour" where he asked me to DJ/host the tour. We have remained friends and acquaintances ever since.

What I learned from my time collaborating with artists in general, from Common to the Gorillaz, to Kanye to Cody Chesnutt, etc is that I must be present to who the artist is, what they want, and beyond that, what they need—which is always my best authentic self. What can I say, do or add to make this a moment and make this moment CRAZY that will cause epiphanies and possibly a paradigm shift? I learned my purpose, which is to motivate and inspire freedom via my gifts as a producer, artist, DJ, songwriter, host, leader, and person.
Pre-order The Clearing here.
---

While researching for the most recent CABBAGES Side Salad, I was reminded of the German IDM duo Funkstörung. Members Michael Fakesch and Chris de Luca garnered some indie buzz in the late '90s for their fractured takes on singles like Bjork's "All Is Full Of Love" and the Wu-Tang Clan's "Reunited." But their coolest remix—the East Flashbush Project's "Tried By 12"—could never live up to the infectious pluck n' throb of the original beat. While some listeners know it best from the 2011 Shady Records cypher with Eminem, Yelawolf, and the full Slaughterhouse quartet, I prefer the bars from elusive Brooklyn rapper DeS on the official 1996 12".
---
See you next Sunday.
Follow me on Twitter at @noyokono and on Instagram at @noyokono too.