Keeping It 100 After 100 Issues
Two-and-a-half years in, CABBAGES' founder Gary Suarez shares his thoughts on writing a hip-hop newsletter.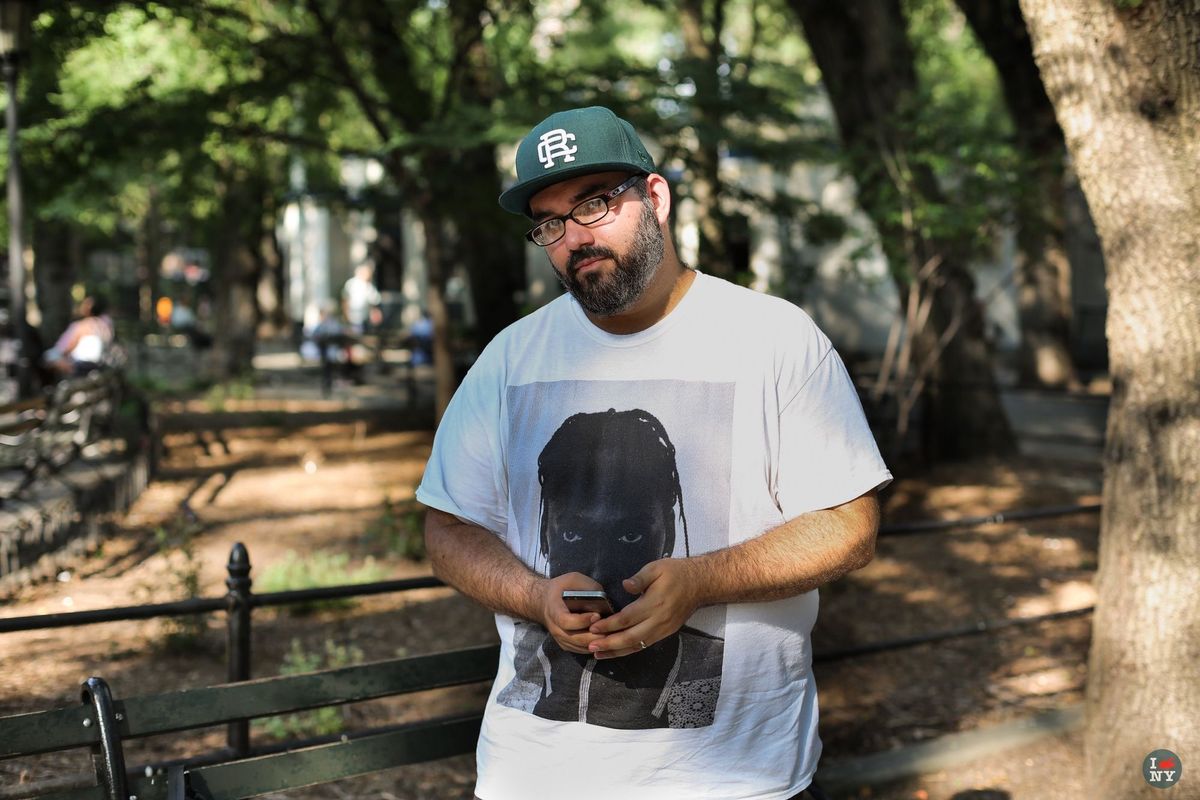 I'm not interested in throwing around platitudes nor snark in the wake of back-to-back-to-back homegrown tragedies and the all-but-imminent reversal of women's rights to their own bodies. This has been the depraved state of things for so long–Sandy Hook happened a decade ago this November, people–and, beyond condolences shouted into the wind, I can honestly offer nothing of great value to you amid the abject horror and mundane tyrannies of this American life.
As a young man fresh out of college, I escaped 9/11 Manhattan on foot across the 59th Street Bridge (ain't ever gonna call it Ed Koch, sorry), looking back downriver at the smoky and smoldering downtown. And it damn near radicalized me in the wrong direction, towards right-wing indoctrination in the insidious pages of ratty New York tabloids and seemingly classier blogs. Thankfully, my "diverse" ethnic makeup coupled with a morally leftist twinge from a childhood and adolescence spent in an underfunded Queens community center swung me back hard. I now live in what is probably the most socialist part of the city, based on who we've locally made our elected officials, and I'm grateful for that good fortune and, yes, privilege.
Hip-hop, then as well as now, brought me little comfort in a time of crisis, not that it was ever hip-hop's job to do so. As I've written in these virtual pages before, rap music let me down in the wake of 9/11. More recently, that disappointment persists as artists whose work I admire find fresh and confounding new ways to challenge my appreciation for their catalogs. Kendrick Lamar becoming the latest multi-millionaire to decry a non-existent "cancel culture"–on a chart-topping album that repeatedly employed a homophobic slur to artistically(???) bait said non-existent cancellers–deflated my Mr. Morale & The Big Steppers listening experience. The ongoing public decline of the Artist Formerly Known As Kanye West, whose performative MAGA pivot seemed almost quaint compared with the aggressive and abusive Instagram harassment levied against his former wife, leaves me with less love for a discography that I once adored. (The other day, in a midtown Manhattan St*rbucks of all godforsaken places, I made eye contact with a barista rapping along with "Flashing Lights" and felt disinclined to join in.) And don't even get me started on Boosie conveniently falling for a tasteless 4chan prank viciously misidentifying the Uvalde shooter as trans.
Regardless of genre, I neither demand nor expect the music or entertainment I consume to match some ideological orthodoxy of mine. And as meme culture loooooves to remind me, there is no such thing as ethical consumption under capitalism. So even if I were foolish enough to want to apply purity testing to my weekend listens, I'd be roundly shellshocked by how pretty much everything I put my disposable income towards contributes to corporate greed, toxicity, or plain ol' evil. I can decide not to stream DONDA or Mr. Morale, and so could you, by the way. But after a couple decades as a music critic I've learned the hard way that wider calls for boycotts resonate poorly and rarely last. These are personal choices made by human beings, who generally put self and convenience first. The backlash to DaBaby's homophobic concert remarks barely lasted beyond summer 2021. By March of 2022, he had the No. 10 album on the Billboard 200 alongside admitted domestic abuser YoungBoy Never Broke Again. As of this writing, Morgan Wallen has the No. 6 song in the country, despite going viral for unabashedly using the n-word on camera. The fans, to be sure, DGAF. Say, isn't there a new XXXtentacion documentary out now?
This is issue No. 100 of CABBAGES. Well, actually, this is the 282nd newsletter I've typed up and sent out since first launching in January of 2020, inclusive of the Thursday Irregular Vegetables and podcast editions, the paid-subscriber-only Side Salad installments, and the not-infrequent longform artist/author Q&A emails. But technically this marks the 100th numbered Sunday newsletter according to my internal pedantic log of such things. So, by now, unless you're only just joining (hi!), you probably have a clear sense of my tastes, tendencies, and biases when it comes to hip-hop.
Just a month shy of two-and-a-half years of existence, the CABBAGES experiment continues. And let's be clear: this is still very much an experiment. My hypothesis is that an audience exists for serious albeit opinionated coverage of hip-hop and rap beyond what's being marketed by the major label system. This is why the vast majority of what you read here on Sundays focuses on independent artists. I remain committed to the idea that this music deserves better from its journalism and criticism than the glorified gossips and flagrant starfuckers who trawl for clicks by perversely equating celebrity and the imprimaturs of Sony, Universal, or Warner with merit or value. Some worthwhile journos and crits operate within the system, and I regularly endorse that work by proudly showcasing their writing in the Irregular Vegetables newsletters every other Thursday. But as a lifelong freelancer with a penchant for chaotic takes, it makes the most sense for me to go it alone, as I do here every week.

Naturally, running a would-be hip-hop media brand with a D.I.Y. fanzine ethos and financially supported by a handful of (beautiful! attractive! intelligent!) paying subscribers means I have to put up or shut up on the daily. What good is it to rage against the State of Music Journalism or Toxic Stan Culture if I don't practice what I preach in these pages? So there are artists I decline to write about when I learn more about their actions or views. This newsletter began mere months before the pandemic became inescapable, which means I spent a lot of time watching great talents like Pete Rock and Homeboy Sandman turn towards and even spread COVID denialism and anti-vaccine conspiracies. The former helped shape my boom bap brain as a youngster, while the latter was, for a time, one of my favorite Queens emcees. But you probably won't find me interviewing either artist in these pages anytime soon. If you think that's gatekeeping or "cancel culture," then there's really nothing I can write here to convince you otherwise. You probably call people you disagree with "fake woke" in earnest on the regular.
I believed Kelis when she accused Nas of marital violence and abuse. Up until 2004's Street's Disciple, the Queensbridge icon was probably my No. 1 ranked rapper alive, and he remained high on my list even after that double-disc blunder. His compulsive inability to make a cohesive album aside, I marveled at his abilities and I always will. Try to make an Illmatic and a Stillmatic in the same catalog–it's damn near impossible. But a few back-to-basics records with Hit-Boy doesn't change that I still believe Kelis, so it's not hard to for me opt out and not give him much attention in these pages. I find unsettling both the industry's and the culture's willingness to dismiss a Black woman's voice in favor of a man who made some dope songs. I find it happens so often in hip-hop that it's practically become a genre trope. I find that I'm repeating myself. We all know that misogyny and patriarchy run deeper than rap but I imagine decades of male rappers normalizing the word bitch in song and otherwise as equivalent to the word "woman" has something to do with it.
My love and respect for hip-hop began with my childhood as a Latin kid growing up in Corona in the 1980s and the early 1990s. From the age of one, I lived in an apartment just blocks away from N.O.R.E. and Prodigy, before a shooting on 99th Street prompted my parents to finally move us to another part of the borough the summer before high school. I'm not some finger-wagging outsider; I'm not above it. As I wrote in issue No. 1, I grew up with hip-hop; I'm about as old as "Rapper's Delight." This music has provided a fairly consistent soundtrack to my daily life, voluntarily and, at times, involuntarily. I am part of the culture, whether you like it or not.
Nobody owes me their attention. No artist owes me their time. But I think, somehow, that I owe you something. So, as a fan and critic, I will continue to use CABBAGES and other means to document my inconvenient discomfort with hip-hop for as long as I am able to write.
---