Kings Of Rock Part II: The Metal Years
This is CABBAGES #059.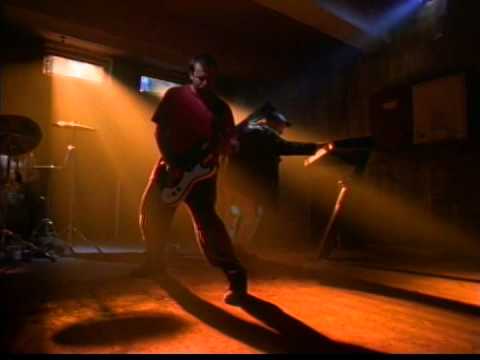 For decades, many have sought to treat hip-hop and hard rock as incompatible. Never mind that acts like the Beastie Boys, Public Enemy, and Run-DMC actively blended the two to make their seminal albums, to say nothing of the countless underground and indie acts of the mid-to-late 1980s who did so concurrently with these recognized success stories. Sure, sometimes the union has proven a messy one, particularly as the nü-metal movement around the millennium presented a largely whitewashed vision of rap amid its chunky riffage—and also any time Aerosmith got involved.
Nonetheless, the genres remain intertwined on a genetic level, from the early days of uptown vinyl DJ sessions through the contemporary digitized works of artists like Trippie Redd and City Morgue. There are periods of hip-hop and rock's conjoined histories that help to elucidate or otherwise underline this inbred (in a congenital sense more so than an incestuous one) connection. Some of these timeframes tend to receive far less attention, being dismissed as exceptions or fads as opposed to data points of an ongoing bond. In fact, these serve to shine light on the so-called gap years between, say, Rage Against The Machine's 1992 breakthrough and Limp Bizkit's 1998 ascent.
No shortage of attention has been granted to 1993's Judgment Night soundtrack, which outshone its B-movie counterpart by tapping into the American youth's apparent demand for more of what they'd heard on RATM's eponymous debut and the Beasties' Check Your Head a year prior. The novelty of the premise—pairing alt rockers and metalheads with their major label hip-hop counterparts—seemed unnatural on some level, largely due to marketing the shock value of it all. But even if Helmet and House Of Pain didn't belong together in certain purist circles or on record company promotional calendars, "Just Another Victim" worked.
So too did the avant-garde blend of Faith No More—quantifiably a rap metal group up to and, arguably, through 1992's Angel Dust—and the Californian-Samoan crew Boo-Yaa T.R.I.B.E. In their specific case, a common funk core bound the two together, something that would be evident to anyone who'd heard the former's 1989 LP The Real Thing and the latter's 1990 debut New Funky Nation. Their resultant collab "Another Body Murdered" combines the best qualities of both groups to yield a chaotic good, with Mike Patton's manic energy suiting the emceeing and the keys.
To compartmentalize is to ignore the devilish details. Assuming that rappers and hip-hop producers don't listen to hard rock or metal makes one naive at best and racist at worst. Similarly, it makes no sense to assume that this is somehow a new development, coming to light only when Smokepurpp sported a Metallica shirt or that time Lil Uzi Vert donned a Marilyn Manson tee. With respect to Soundcloud rap for making the point as obvious as possible, youth culture doesn't work that way, and hasn't for decades now.
What has changed, however, is that rappers, particularly BIPOC ones, now enter these rock spaces far more freely and with less stigma. Vic Mensa's 93Punx project packed a sociopolitical punch with singles like "Camp America" and "3 Years Sober," while Scarlxrd transitioned from metal frontman to one of the leaders of a current aggro wave. And yes, there have been some retrograde moments, like when Machine Gun Kelly recreated "Killing In The Name Of", with Travis Barker in tow. But setting such nostalgia aside, the 2020s promise more and more youthful innovation from a more diverse set of aspiring rock stars, several of whom may just so happen to also be rap stars.
---

CLBRKS & Dweeb, The Library Of Babel
Few hip-hop artists broadly branded as "lo-fi" have transcended that subgenre snare quite like CLBRKS. After dropping two of 2020's sickest projects with producer Morriarchi, the irreverent UK emcee crosses The Atlantic to connect with Canada's own Dweeb here. Spliced with translated audiobook snippets of the titular Jorge Luis Borges story, The Library Of Babel features a lithe lyricism to match the literary themes and soul-drenched beats. "Onceimdead" grapples with mortality over a haunted doo wop dirge, while "Labyrinth" swells with sampled strings as the bars flow in a disorienting blur. Billed as a bonus, "Lobsteroutthetank" drops the high-minded pretense for a profane and triumphal finale.
AJRadico, Transit
A candid snapshot of New York City from the lens of a 21-year-old spitter, Transit reveals depth beyond the surface of its booming beats and robust rhymes. Benefitting from a Manhattan arts education, AJRadico situates himself and his worldview amid the trap-adjacent quasi-commercial sounds of "Ballhog" and "No Mask." He's a creative chameleon whose potential is merely hinted at on quality cuts like "Armor" and the gilded "Paragraph." The stop-start staccato bars of "Vertigo" and the anti-gentrification subtleties of "Brownstone" show just how easily he could slide into an R&B session a la Anderson Paak, yet their left-of-center sonics indicate he couldn't ever be content there.
Sal Dulu, Xompulse
If we've learned anything from labels like All City and Brainfeeder over the years, it's that the beat scene contains multitudes. With the release of Xompulse, Dublin-based Sal Dulu reinforces that lesson with a set of ten compelling tracks that revel in vaporwave-esque electronics and disembodied boom bap. He summons ethereal pulchritude for "Alien Boy 96" and "She Belongs To Roth," while applying his piano playing skills to the reverb-soaked contemplations of the title track. Three cuts include rapper guests, with Mutant Academy's Koncept Jack$on and Fly Anakin respectively dazzling their way through "B" and "Zumo," and MF DOOM familiar Stahhr exhibiting flashes of her bar brilliance "Buzzcut."
---

One of the most important figures in reggaetón history, Ivy Queen has yet to truly receive her flowers. Recent moves like her Bad Bunny collab "Yo Perreo Sola (Remix)" come close to properly honoring her impact and pioneering spirit at a time when women remain maddeningly marginalized in Latin music's male-dominated spaces. But the Puerto Rican rapper/singer deserves credit for holding it down during the years when the industry refused to make room for ladies. Taken from her 2010 album Drama Queen, "La Vida Es Así" appears in two versions for its corresponding music video. The original was produced by Tainy, the onetime Luny Tunes protégé who has since gone on to become one of the leading hitmakers behind the Latin trap revolution. Halfway through, the beat switches to the bachata version, showcasing yet another facet of the reggaetonera's exceptional range. (Also: note the prevalent product placements for Nuvo! Hey, remember Nuvo?)
---