Kings Of Rock
This is CABBAGES #058.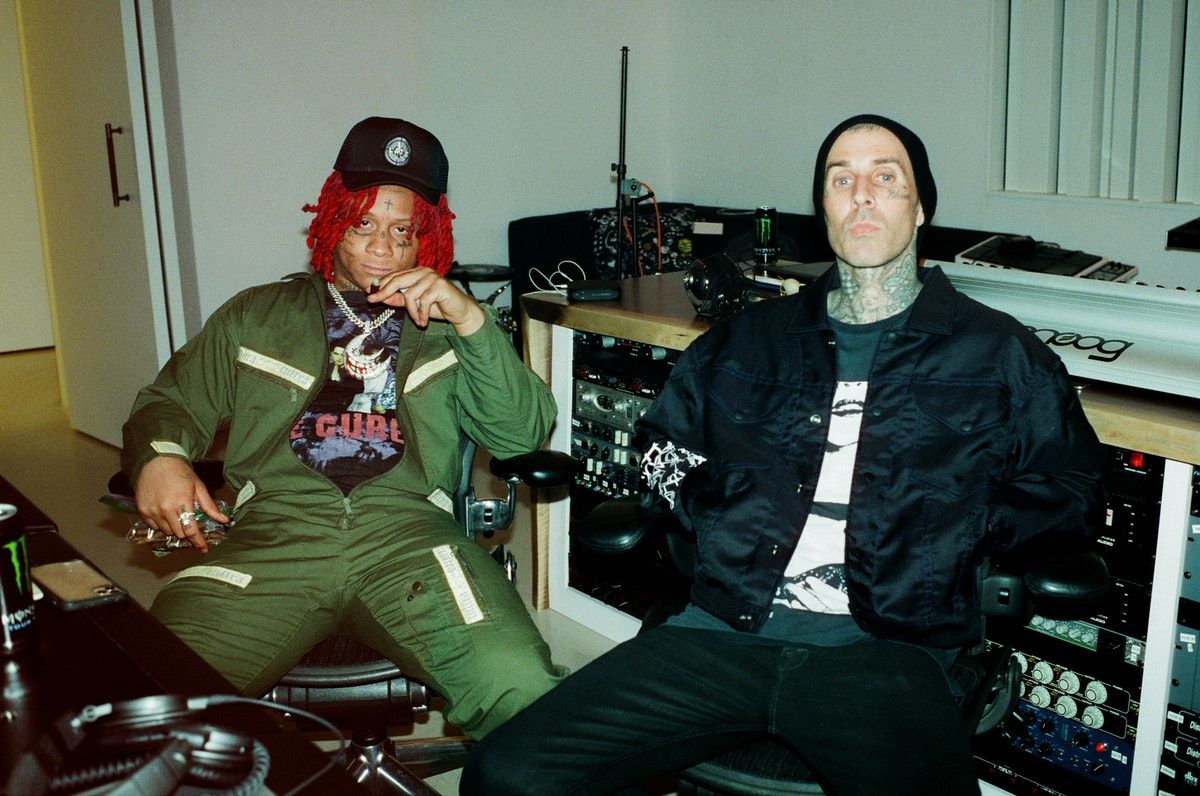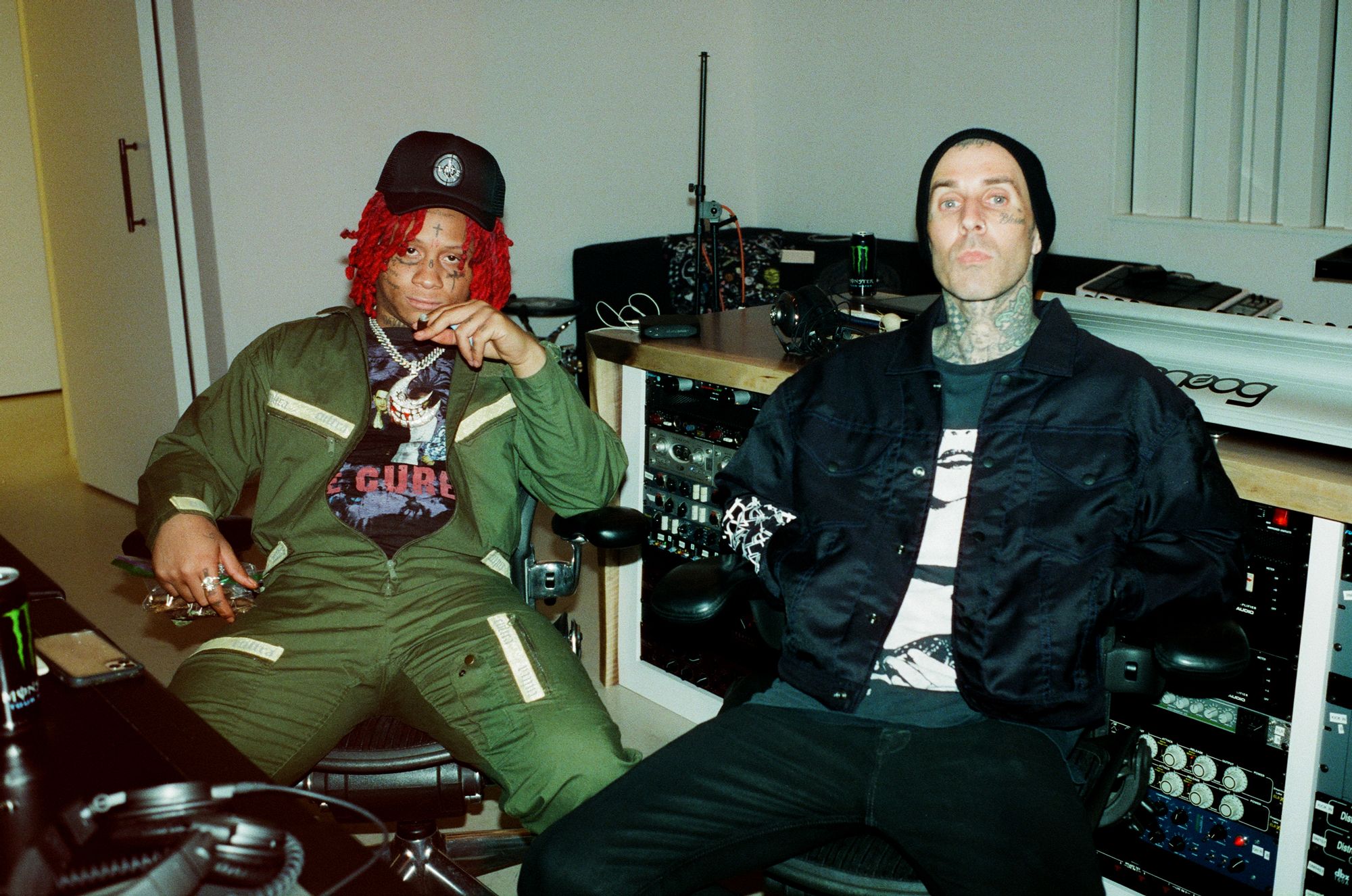 Trippie Redd put out a rock album this week. Conveniently billed as the successive deluxe edition of the rapper's October 2020 album Pegasus, in a Billboard-baiting maneuver made standard practice in the pandemic, Neon Shark is roughly 40 minutes of post-Warped alternative energy. Largely produced by Travis Barker, the 45-year-old drummer behind such bands as Blink-182 and Transplants, the album bridges generations at multiple touchpoints. There's a cameo from Deftones frontman Chino Moreno on "Geronimo"—with a bonus interpolation of "Back To School" called "Leaders"—plus a credit on "Red Sky" for John Feldmann, of ska punks Goldfinger and now a known quantity in A&R as well as songwriting/production circles.
If that sounds in any way appealing to you, well, you're not alone. That same team—Barker and Los Angeles-based songwriter Nick Long—had no small hand in the making of Machine Gun Kelly's career-reinventing chart-topping album Tickets To My Downfall, transforming Bad Boy's seemingly token white rapper into a popular punk darling. In a move that ought to have been seen as foreshadowing, Trippie happened to feature on that album, guesting on the peppy emo track "All I Know," itself a reunion after 2019's "Candy." MGK returns the proverbial favor on two Neon Shark cuts, the aforementioned "Red Sky" and the opening Blackbear collab "Pill Breaker."
Following the lucrative embarrassments of turn of the century nü-metal, and Lil Wayne's critically panned yet nonetheless platinum n' prescient 2010 full-length Rebirth (another record Barker contributed to), the current rap rock renaissance reflects a clear preference for the kind of sounds that aging rockers and young stubborn purists once loudly lamented. These days, Billboard's Top Rock Albums chart looks like a graveyard, heavily populated by zombified "Greatest Hits" sets, moldy classic rock LPs, and whatever one considers the Foo Fighters' latest dreckfest.
But, as any small town sheriff would know, there are kids messing about among the tombstones. Sure enough, the latest ranking includes MGK's album—where it spent eight of the past 20 weeks at No. 1—and Miley Cyrus' totally '80s Plastic Hearts set in the top ten. In principle, Trippie's Neon Shark ought to show up there to cause some midnight mischief in about a week, after its first full charting frame finishes. But because it exists tethered to the categorized-as-rap Pegasus, it almost certainly won't, thus burying the story of what is sure to be one of the most streamed rock albums of the week.
The decision to bundle Neon Shark to Pegasus makes sound, deeply cynical sense in an era where streaming's impact on Billboard and the RIAA leads major labels fighting one another (and internally, division against division) for each week's meaningless winner. But by seeking to revive Trippie's prior album and push it artificially closer to gold or platinum certification, his label leaves him singularly, perhaps tragically categorized in a way that MGK—a white artist—wasn't. Tickets To My Downfall evidently wasn't seen as a risk in the way Neon Shark is. After all, the former wasn't dubbed a deluxe edition of 2019's Hotel Diablo, a record which laid out more than a few unsubtle hints at where MGK was heading. Nearly a decade his junior, Trippie has just as many Billboard 200 top ten charting albums as his chum, so it's not as if he hasn't proven himself.
This weekend's SNL guest, Bad Bunny dropped his rock-addled El Último Tour del Mundo nearly in-between Tickets To My Downfall and Neon Shark. Though the Billboard chart-topping album's first single "Dakiti" with Jhay Cortez stuck relatively close to his expansive definition of trap, the follow-up "Yo Visto Así" put him in the guitar-friendly emo rap space that a subset of English-language rappers like the late Lil Peep had been enjoying in previous years. Like that Latin chart hit, his second performance last night "Te Deseo Lo Mejor" features work by Mick Coogan, who like Barker's studio partner Nick Long fronted his own project before making a career writing for others. Though only five of the album's 15 originals feature that particular sound, thus making it ineligible to appear on Top Rock Albums, it arguably better reflects what rock is today than ancient sets from Journey, Queen, and The Beatles. As such, the industry's genre orthodoxy makes bedfellows of Bad Bunny and Trippie Redd, two artists who don't neatly fit the rocker motifs and stereotypes but, to the eyes and ears outside of the business, supersede them.
---

The Lasso, 2121
2121 is not a conventional album, nor is The Lasso a conventional artist. But coming off a magnificent spate of far out 2020 rap collabs—Small Bills' with ELUCID, Kirlian with Psypiritual—the producer's latest endeavor makes a great deal of sense. The funk pervades throughout these trippy proceedings, its psychedelic soul sensations flowing in a relatively seamless mix with vocalists A. Billi Free and Rachele Eve and live instrumentalists as constants. Rappers like Ill Camille, Lando Chill, and Sadgalnina feature in microdosed moments, as do a few Mello Music pals. The trio of Motorkam, Nelson Bandela, and Namir Blade make a posse cut out of "Onyx," while Fat Tony—on a roll himself lately—proves a natural leading boogie-man on "The Abyss."
Ol' Burger Beats & Vuyo, Dialogue
Straight outta Oslo, this producer-rapper pair put their all into this impressive collaborative album, which follows last year's teaser EP. Jazz, soul, and boom bap contribute considerably to Dialogue, with Ol' Burger Beats mining all three for his lively, heady instrumentals. A true talent, Vuyo astonishes from the underground and arrives here all-but fully formed. Backed by head-nodding grooves, the emcee gets deep on multiple occasions, speaking to both the immigrant and the Black experience on "Conflict," "Summer Of George," and other cuts. Elsewhere, he dazzles with the breadth of his references, fanboying for tertiary Seinfeld characters on "Athens" and nodding to both Hugh Masekela and Shakira on "Enough For You."
Bodega Bamz, El Camino
Spanish Harlem's finest returns with yet another reminder of his emcee prowess. From "Dear Music," a ruthlessly emotional opener that elucidates the maddening arc that career spitters like himself experience, through the title track, a reflective and part-sung closer bolstered by vintage grooves, Bodega Bamz leaves no question about his constantly elevating mic skills. El Camino goes hard when it needs to, offering street-level chills on "Crime Pays" and gives him his own damn flowers on "Muy Peligroso." On uptown anthem "The King," he pays homage to the Diplomats, ASAP Yams, Lord Tariq, and Peter Gunz in one fell swoop, claiming Big Pun's throne in the process.
---
The death of Prince Markie Dee hit me pretty hard. Old enough to remember when The Fat Boys broke up, I had the Puerto Rican rapper and songwriter on my bucket list of artists to interview, for this newsletter or otherwise. Though some have focused on Krush Groove and The Beach Boys, let me direct you to one of his underrated solo tracks. The 1992 single "Trippin Out" found him in overweight lover mode, a style he took to with ease, one that would be emulated by others for years to come.
---
See you next time.
Follow me on Twitter at @noyokono and on Instagram at @noyokono too.