Meechy Darko Embodies 'Gothic Luxury'
+ reviews of Bloo Azul & Spanish Ran, Your Old Droog, and Zoomo. This is CABBAGES #110.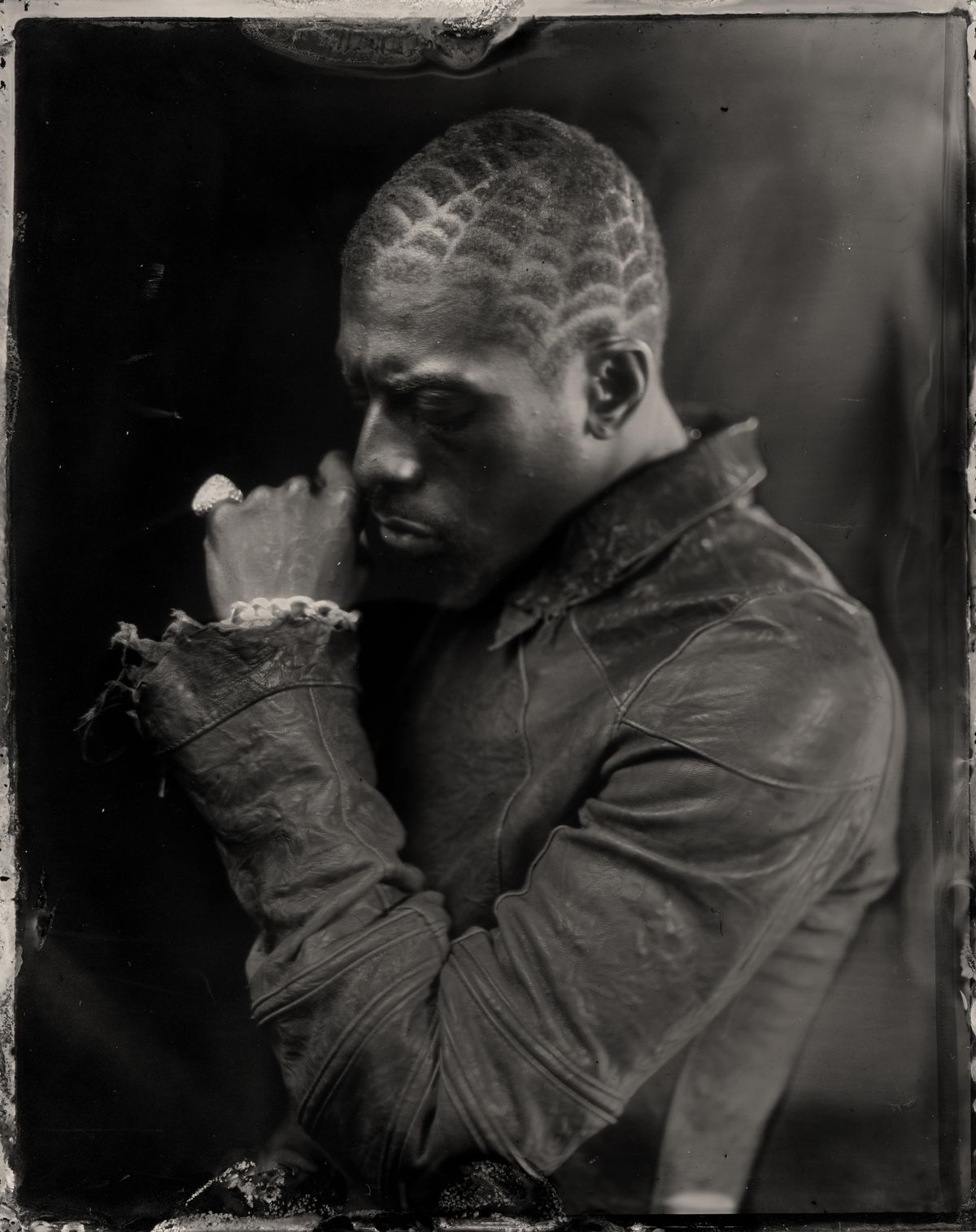 The Flatbush Zombies haven't broken up, in case you were wondering. You'd be forgiven for suspecting that they had, given two years have passed since the now, more than ever EP, and four since their last album Vacation In Hell. While some loosies, including a Metallica remix featuring DJ Scratch, appeared here and there, more apparent was the arrival of Erick Arc Elliott and Zombie Juice's respective works separate from the group.
"I don't think me, Erick, and Juice really sat down and said, here's the master plan of what we're gonna do," Meechy Darko says of the group's concurrent solo explorations. "Life kind of happened. COVID happened."
Pandemic circumstances aside, now seems like the right time for the gruff-voiced rapper to try going it alone. It's been a full decade (as of last month) since his Beast Coast affiliated trio dropped their D.R.U.G.S. mixtape, a brooding psychotropic breakthrough that arrived at the tail end of hip-hop's so-called blog era. "That was a crazy time in life," he says of those early days of smoking blunts in apartment stairwells and writing on a Blackberry. "You're speaking it out loud to your friends, these ideas, these visions you have. You can literally manifest shit." From there, Darko helped to further craft and refine the Zombies' aesthetic, one that resonated with a young generation of listeners open to experimentation both chemically and musically.
Due out later this month, Darko's long-awaited solo debut Gothic Luxury does not flip the script so much as it expands the cinematic universe. Over the course of its (un)lucky thirteen tracks, he reveals more about himself than ever before, all while linking with hip-hop legends Black Thought and Busta Rhymes. With executive producer Dot Da Genius (Kid Cudi, Lil Nas X) behind the boards, the sonic shift matches the vibe shift. "On God" grapples with the loss of his father, who passed away in 2020, while "Kill Us All" offers a conspiratorial, holistically scathing indictment of American hypocrisy.
"I would still make music even no one listened to me, 'cause I just love rap and I think I'm nice," Darko says, reflecting on his career so far. "It would be funnier to me that no one in the world listened to me and I could be rapping better than most people rap."
Below are edited excerpts from our conversation.
---
What were you trying to accomplish with Gothic Luxury that would distinguish it from Flatbush Zombies?
It wasn't really a thinking process. It was like a living process. A lot of the album came together from just not overthinking. I didn't have a big grand scheme of where I wanted to go. Then when I started making the music, it was very interesting, getting used to not having somebody to my left and my right to be like, all right, verse two, it's on you. It was all me, the whole way through. I've been music with Erick since he started making music, he was like freaking 14. I was always around. I've been making music with him since I was like 18 or some shit. So it's like Eric B and Rakim–they know each other very, very well. When it's Rakim alone, you gotta get used to not having, literally, Eric next to him.
The sonics were never an issue for me. As time will show, I'm not one dimensional and I can rap on all type of sonics. But the hardest part–and it wasn't a challenge because Dot made that very easy for me–was building a new trust and brotherhood with someone else to make music. I don't really try to make music with people for cash grab moments or clout moments, nothing like that. Everybody I make music with, it's somebody I fuck with or I love or respect, and plan on being friends with for the rest of my life. We're both from the same place. I couldn't have asked for a better person. We figured each other out. I'm very blessed to have worked with legendary producers my whole career, whether be RZA, James Blake, Erick. That's an embarrassment of riches, low key.
In the absence of the group dynamic, and the need for compromise, you became the primary decision maker for Gothic Luxury. How, then, did you go about making the decisions that you needed to make in putting these tracks together?
I like to follow the musical spirit. If it feels right, we're gonna do it. I don't get too married to any idea, because we have a lot of talented people around us and we can try something else. Some things are for open discussion. A lot of what I say is not up for discussion, to be honest, unless someone's telling me, by the way, you said that word wrong. Then it's open discussion. But as far as where I'm going with my lyrics, no one is like telling me where to go or guiding me there. They'll try to pick my brain and figure out what I want, and I'm still trying to learn what I want. And then I'm trying to figure out what I want from the people in front of me, 'cause I'm still figuring out what they can do. It's a crazy paradox, and just a funny thing in general. I can be like, I want this to sound like Aquemini, but then I want it to be kind of a Rick Ross beat, and a little hint of the '90s. It's like this dance, figuring all that kind of stuff out.
On the album, you talk about speaking with DMX. You've got a Busta Rhymes feature on "Lost Souls." You mentioned RZA before, who you've worked with repeatedly. What have you learned or gained from your interactions with these New York legends that play into your life and your career?
That I got a little more respect than I think I got. I just gotta ask about it, check in and see. I've always paid homage to the people who inspired me and the people before me. I'm a hip-hop nerd, low key. I don't even try to talk about it too much, 'cause I feel like the more people know that about me, it takes away from my music. I just love this shit a lot. So having somebody like Black Thought being on my song and taking time outta his life, when he's doing so much shit, like he's a hard working man right there, to then tell me some shit like, I'ma hit you when I need that verse from you. That means the n**** fuck with me. I met Busta Rhymes before, he fucks with us hard body. He had so much respect for us. And he actually came through for us a lot of times. I got a nice amount of people I've worked with, from the RZA, Bun B, Jadakiss. That's nice. I got more too. I got more.
Beyond the familiar druggier themes, you tackle some pretty heavy issues on the album, like personal loss and trauma, as well as macro level issues. Were you in any way looking or hoping to change the listeners' perspective on you as an artist with the subject matter you chose to address here?
It does bug me, but at the same time I never rapped about the same thing. Obviously, everyone has their favorite things to refer to. Did Tupac only about Hennessy? No, but whenever he talked about liquor, that's what he liked. My drug of choice is psychedelics. What's the difference between me saying that and another n**** saying the name of the liquor that they're drinking that night? It's just foreign to these people, so in their brain they're like, you're the drug rapper. Even when we made the album called D.R.U.G.S., it was a fucking acronym, for Christ's sake–and a deep one at that. [Ed. notes: Death and Reincarnation Under God's Supervision]
At the same time, I feel like having that growth sonically. It's my first project. I wanna get certain things out the way so people can't be like, the first album is just a bunch of turned up heavy songs that you could jump up and mosh to. I can make that album in my sleep. What I do wanna do though is make something that I feel like can stand the test of time for my catalog, at least for people who are really fans of what I do and what we do. Then I could just move on and do whatever I want to do next. That's really my goal, to keep doing different styles and different sonics. You gotta evolve, man. It can't be the same thing over and over again.
This album's gonna be an experiment for me. I didn't put everything on the line on certain songs for a reason. Based on how things go with this, the reception and how people receive songs–and it's not about what they do statistically, but even when I speak to people or actually see them and what it makes them feel– if I don't like what I see, I might not tap into that for a while. It might not be something I necessarily need to tap into. I could at least say I did it for the first project and I tried. And if you guys just all want to hear a whole bunch of "Never Forgettin'(s)" or "Lavish Habits," or you want me to do a million "Headstone(s)," I can do that if that's what y'all want. But as an artist, there's something in my spirit that I have to fulfill musically.
Meechy Darko's Gothic Luxury is out 08/26 via Loma Vista Recordings. (Pre-order it)
---

---

Bloo Azul & Spanish Ran, Once In A Bloo (buy it / stream it)
CABBAGES day-ones know this Bronx duo well, thanks to their DOOM-nodding team-ups MF Bloo and Danger Bloo from 2020. Bloo Azul's mindful reality raps and Spanish Ran's refined production style persist on the transitional Once In A Bloo as they embark on a new phase in their creative partnership. Beginning with "Morning Marauders," a verbose intro swarming with brass and booming with bass, the project exudes confidence. "Azucar" and "Fronto" dip into a jazzier, more mellow space, exploring the bounds of boom bap with quiet reveals and double-time flows, respectively. On the soul-splattered side, the insular "Brady Court" brings listeners home to the borough, while sole feature Rasheed Chappell delivers a self-described aux cord gospel to "Possibilities."
Closely linked to New York rapper YL, with whom he shares a handful of joint projects, the semi-secretive producer Zoomo built his profile with features by buzzy underground types like Lord Jah-Monte Ogbon and Starker. His oft understated, subtly askew approach offers ample space for spitters to do their thing without diminishing his contributions. While recorded in Brooklyn, the showcase-style Cloyd doesn't limit its guest curation to the five boroughs, inviting talented out of towners ANKHLEJOHN and Hidden Character to play. Apart from the ostensible posse cut "StockX," the record mostly gives each emcee a solo spot, allowing for short-but-sweet single verse standouts "3 Day Weekend" by Theravada and "Fan's Choice" by Vel The Wonder.
Your Old Droog, Yodney Dangerfield (buy it / stream it)
Seasoned Brooklyn rapper Your Old Droog must have one heckuva deal with Nature Sounds, given that this is his fourth project for the label in eight months. As concise as the preceding 2022 trio, Yodney Dangerfield is the best and most focused of the bunch, a solid entry point for this stage in his rapidly expanding catalog. A veritable bonanza of bars set to beats by Nicholas Craven and Jonwayne, among others, songs like "50K Or Brunch" and "The Tonight Show" pack more than just punchlines. Greying comedy nerds like me will no doubt pounce on all the lyrical references to stand-up legends and vets, yet those unfamiliar with the likes of Murray Langston or Joey Diaz can appreciate Droog's tight 15.
---

---