With 'Porches,' REASON Steps Out Of TDE's "Big Shadows"
The Carson, CA rapper discusses making his new TDE album. + Reviews of Cain Canary, Rick Hyde, and Unsung.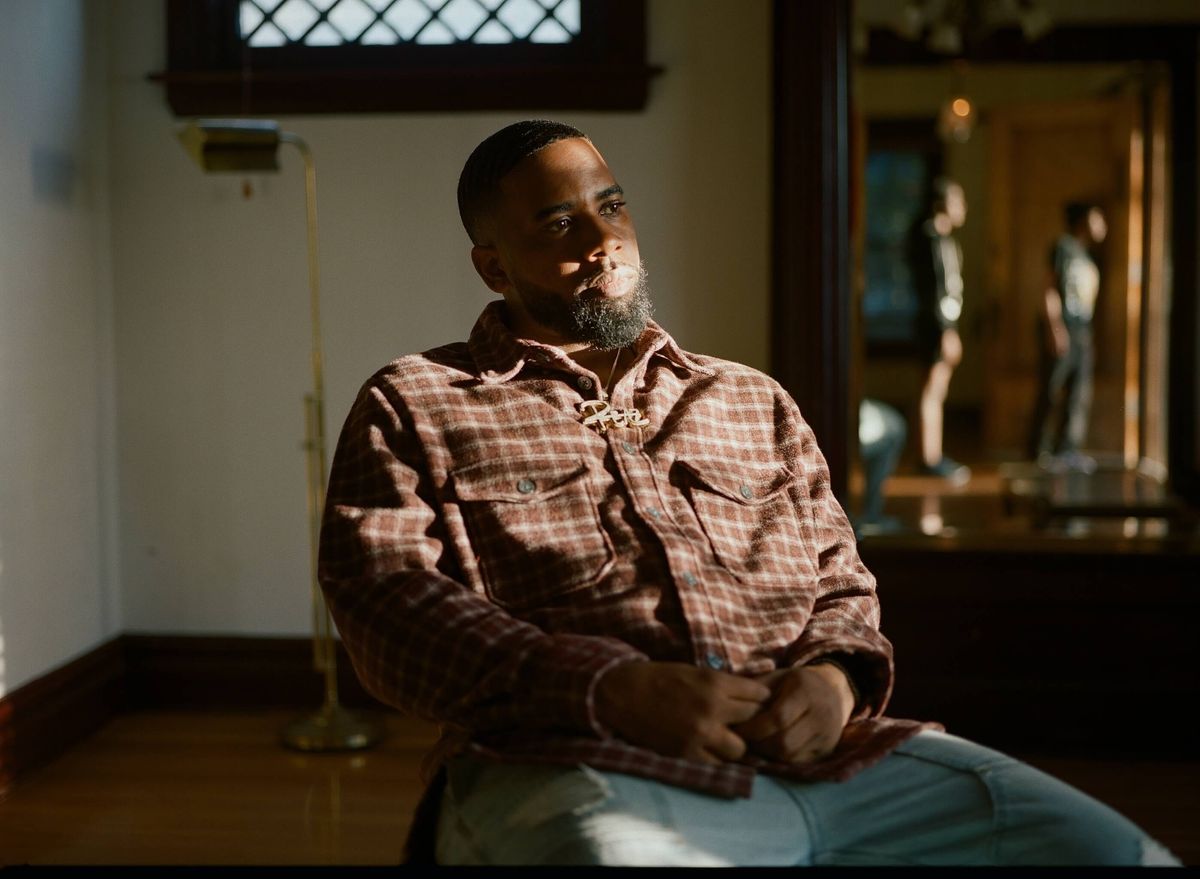 If you're the type who closely follows hip-hop drama, you no doubt caught wind of the evident discord between REASON and record label Top Dawg Entertainment when, earlier this week, TDE co-president Anthony "Moosa" Tiffith Jr. called into a live interview with the rapper with some very unflattering remarks. Regardless, he recalls the challenges to being signed to the celebrated imprint date back almost as far back as his joining there in 2018.
"We were in a weird place because all of the artists that people really wanted to drop hadn't dropped," he says of his attempts to get through to the label's listener base. "No matter how good you are, they were just like, bro, we don't care 'cause we're starving. It was that type of mindset." Indeed, devotees of TDE stars Kendrick Lamar and SZA ended up waiting five years for follow-up to DAMN. and Ctrl, respectively. Some fans even waged social media war against the label in the years between those records, making it even more challenging for a new signee like REASON to break through. "I was trying to get people's attention. I had to control what I can control."
One way he sought to combat what he describes as "big shadows" was to do some fan service for his first album for the label, 2020's New Beginnings. The only full-length released by TDE that year, it sported features by known quantities Ab-Soul, Isaiah Rashad, and ScHoolboy Q, a deliberate choice on REASON's part. "I think that was a big reason why a lot of the fans really liked me," he says. "It also gave me a time to shine, because on all of those records I held my own." Other guests on the project included Rapsody and Vince Staples, further adding to the album's star power. "You are working with the Kobe Bryants and the LeBrons of what's going on. You gotta kind of wait in the corner and make the shot when it comes."
Nearly two years later, REASON is taking his most ambitious shot to date with the release of Porches, his sophomore album. (His first TDE project, 2018's There You Have It, was a revised version of his 2017 mixtape of the same name.) Notably, he didn't rely on recruiting marquee names as he did on New Beginnings, though TDE rising star Doechii and labelmates SiR, Ray Vaughn, and Zacari all provide features. Comparatively focused inward, the 17-track effort was originally named Stories That Are Forgotten, until a thoughtful creative conversation with his manager Meco–one of what he describes as several daily chats over the past three months–during the sequencing stage changed his mind.
"The porch resonates so strongly with me," he says. "There's just so many memories I have on the porch, and when I think about them, they also shaped the type of person I am." He likens the porch as a metaphorical reflection of one's environment, and the view from it naturally impacts a person's worldview. "A lot of our habits, the vernacular we use, and just how we operate, it comes from us learning it right there."
Storytelling takes a front seat throughout Porches, both with REASON's own true tales as well as those of others told via his voice. This, in part, came as a response to New Beginnings fans who loved the more personal back half of that album and demanded more–sometimes directly via social media comments. He took the constructive criticism to heart as his approached this next project. "I told myself, even if I'm making the trap records or the more melodic records, I want it to be all the way personal all the way through," he says. "I'm not gonna tell hypothetical stories. I'm gonna open up the door and let people really know the things that I've gone through, whether I'm insecure about them or not."
REASON cites songs like Drake's "Look At What You've Done" and Kendrick Lamar's "Sing About Me..." among his Porches influences, with J Cole's 2014 Forest Hills Drive and Lupe Fiasco's The Cool as particularly inspiring and helpful. "I just love the way that he tells these stories in this vivid fashion where you can literally see it as it's all playing out," he says of Lupe specifically. After playing these records more or less nonstop, he drew upon them to convey the experiences and narratives he wanted to share in as engaging and vivid a fashion as he could. "If you only tell the story, but don't tell the things that are going on around the scenario, then it's harder for a person to visualize it," he says. "When you tell them that there's a dice game going on, that your friend walked up to you [or] his car is passing by these, these different things add another element to that. And then you throw in the emotional side after that.
"A person that doesn't know who I am, nor do they care about my story, they can still like the record. They can still like the beat and the hook and appreciate it for what it is. And maybe it's their 12th time listening that they realize, oh, he's talking about himself."
---

---

Rick Hyde, LUPARA
A fixture of Benny The Butcher's Black Soprano Family, Rick Hyde continues to grow since dropping the promising Plates some four and a half years ago. His most cohesive project to date, LUPARA serves as a group effort of sorts–albeit with him squarely at the center. Helmed by Chop La Rock and Rare Scrilla, the beats here shimmer and thud gratifyingly throughout these eight solid tracks. A reverie for the late DJ Shay, opener "Rick Rhude" captures nearly all the themes one desires out of the Griselda Cinematic Universe, while phenomenal closer "Streers Ain't The Same" honors the mentor further. The guest list includes some reliably toughened street spitters like ElCamino and Boldy James, though Hyde methodically lands his verses amid such formidable friendly competition. Legendary turntablist Q-Bert provides precise cuts on the rugged rocker "One Brick Minimum," his skills buttressing quality features by Benny and Malik.
Cain Canary, Canary In A Coalmine
West Virginia native Cain Canary (fka Chaz Canairy) put out one of 2022's most unique rap records, the Steel Tipped Dove collab The Birds. His blend of trailer park manhood, outlaw country aspirations, and acute lyricism gets amplified on Canary In A Coalmine, with producer Harvey Cliff leaning heavily on the twang. Countrified hip-hop like this obviously has its precedents (remember Rappin Duke?), game changers (Everlast), and contemporaries (M*rg*n W*ll*n), but the dextrous and melodic emcee ensures songs like "Front Door Man" and "Mobile Home" steer clear of novelty or pandering as he showcases his most authentic self. (Okay, "Apple Butter Bread" definitely pushes the limit.) Closing pair "The Light" and "Grandma Ruth" provide exemplars of his bonafides, with Cliff throwing two divergent yet similarly enjoyable beats his way.
Unsung, Hand Painted Model Trains
A cerebral artist with clear experimental tendencies, West Virginia's Unsung is as informed by complex confessional lyricists as by ethereal electronic producers. Though his latest album's title Hand Painted Model Trains may repel for its seeming suburban mundanity, the project swiftly proves a rich and eventful listen. Handling both beats and rhymes often casts unintended light on whichever skillset is comparatively lacking, yet he dazzles and chatters his way through "The Box In A Valise" and the shape-shifting "Odysseus Recovers His House." With a quavering backpacker flow, he shares both process and progress on "Messages" while poetically unraveling over the synth swirls of "Allegheny Wake."
---

---