From Freestyles To Easter Eggs, ShrapKnel Rule Rhyming
+ reviews of Al.Divino & Estee Nack, Penpals & Spectacular Diagnostics, and Pink Siifu & Real Bad Man. #114.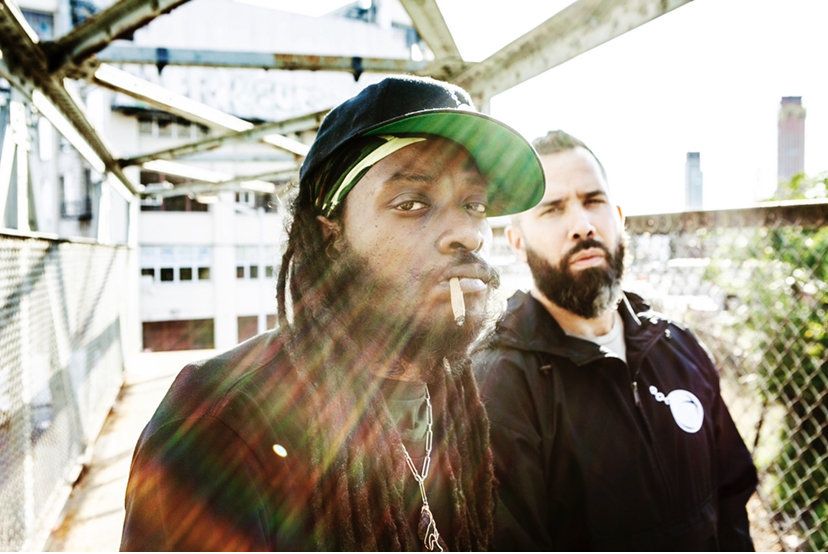 Fans of the Philadelphia-centered Wrecking Crew have had no shortage of new music over the past few years. The talented and respected underground hip-hop collective regularly releases new music, sometimes via thematically driven compilations, occasionally as solo albums, and often in somewhat incestuous offshoot combos where they can play off one another's strengths.
However, two of its members, Curly Castro and the New York based PremRock, have seen their profiles rise considerably of late. Depending on one's vantage point, their pair's respective and collective successes might be perceived as discrete from the Wrecking Crew. This, of course, has to do with both of their connections to Backwoodz Studioz, billy woods' esteemed record label. So while their documented history should put to rest any such misconceptions, it nonetheless bears some clarifying.
"A lot of people really don't know that we've been friends and been making music for close to a decade now," PremRock says of his relationship with Castro. To that end, he makes a point to cite their first proper collab, the Blockhead-produced "Criminal Childish," off his self-released 2014 solo record A Clean, Well-Lighted Place. That moment was the (perhaps unintentional) seed that grew to become ShrapKnel, a dynamic duo of rappers whose seemingly disparate microphone flows and lyrical techniques somehow mesh incredibly well together.
"It turned into the best idea we never had," Castro says. "When we first started telling people that we were gonna be a duo, everybody was always like, oh, that's a great idea. It was a resounding affirmative."
Adding to ShrapKnel's momentum, Backwoodz also dropped both rappers' 2021 solo efforts, Castro's Little Robert Hutton and PremRock's Load Bearing Crow's Feet. Critically praised and widely discussed in independent hip-hop circles, both records arguably shone a greater spotlight on them both than their 2019 EP Cobalt or even their 2020 eponymous debut full length. "With Backwoodz, now we have a group of people that are checking for us that weren't before," PremRock says, "which is definitely a credit to the label and the following they've built over the years."
Released just last month, the duo's exemplary sophomore album Metal Lung takes an approach distinct from any of their prior endeavors, solo or together, albeit with a familiar third party in the proverbial mix. Credited with the bulk of the new project's production, Steel Tipped Dove has history with PremRock, which includes work on 2012's Mark's Wild Years–not to mention having recorded, mixed, and mastered the aforementioned Cobalt. His style of beatmaking differs from that of their ELUCID-led, Willie Green-recorded 2020 album, as does his attitude about studio time.
"If you go to Green's, you're going full head of steam," PremRock says, "We book 12 to 5, we're gonna knock out everything out that we can. With Dove, it's like, yeah, we're gonna roll in around 2:30; you can get there at 3:00. I'm at the store, you want me to get you beer? It's way more that vibe–that's not a critique."
"I think, because Dove had a lot of production on this one, he seemed to take it a little more personal," Castro adds. "It was like moments where he would beef up beats or send us reworked demos, just for him to increase his performance on the record. He definitely took the record's completion to heart."
Below are edited excerpts from our conversation.
---
I think about great rap duos over the years, where you have two rappers who are significantly different in terms of their approaches or vocal tone. How do you find balance or cohesion when working together?
Curly Castro: Well, it started live. Me and Prem make so much sense live. We don't talk about it much, but that's where some of the catalysts start. I would always back him up, or I would be at his shows and jump on for a freestyle session of his, and vice versa. We have big reverence for each other's solo careers. I'm very defensive about Prem and when people talk about him, to the point he has to tell me to calm down. That respect is so high; I want him to do well. So the duo was almost like a natural byproduct to that.
PremRock: A lot of our most memorable live moments were freestyles.
Curly Castro: What we would do is I'll go for four bars and he goes for four bars. And freestyling is pretty hard, because sometimes when you get on your stream of consciousness, you just go. It's really hard to pass it off, or to count yourself off and know when to stop. A lot of freestyle is going forever and that's the impressive nature of it. To me, I feel like freestyling is more impressive when you're in control of that energy, when I can stop when I want to, when I can start when I want to. And me and Prem would always do a routine either on his set or my set, where we would be consciously going back and forth for fours. So I think that's where we figured out our styles really work together.
PremRock: I remember a Chicago show. You were on the tour before that, but you didn't come after Chicago. And I kept the freestyle in the set. I wouldn't say it bombed, but it did not connect. I remember the always-honest woods being like, it's less chance for magic when it's just you. And I took that shit right out. I was like, say less because I knew what he meant. When me and Castro do it together, it's way more organic and fun. People got into it.
Tell me about what it was like working with Steel Tipped Dove on Metal Lung, versus how you guys worked with ELUCID on the previous album.
PremRock: Dove was way more encompassing, like in person, hanging out. Dove runs essentially an indie rap incubator and hangout out of his spot that he's been in for years. Good dude, literally eats, sleeps, breathes music. He's just sitting there with his joint, making beats or listening to music 24/7. 50 years from now, I think we're really gonna revere his space and his studio for what it's done, for creative energy. This record is really a testament to when you get in there, but have like a drive and a purpose to make something–because otherwise you are gonna probably just smoke weed and hang out with Dove and do cool shit. But it's up to you to make something focused and an actual project.
ELUCID is as a guy who works on his own. I think even woods will tell you that when they're not out with Armand Hammer, they're not like writing together or recording together. So with ELUCID, it was like, here's the beats, keep me updated on progress, boom. Emails, texts every now and again. With Dove, it was like, we're coming through on Thursday.
Curly Castro: That's a ShrapKnel tradition. We record in-person or try to write in-person. That in-person part is kind of lost with the digital landscape these days.
PremRock: And with COVID.
Curly Castro: Even when we were working on the first record, it was out of style to even meet up. Some people would do projects and they never met, that whole foreign exchange. So with the first record, we made an effort. We wrote together, we did demos together, and then we recorded it together. But this time around, we did so much at Dove's. And then for him to be the producer as well, to be involved with all of the engineering, vocally as well, that was a little different.
On the vocal side, one of my favorite things about Metal Lung are all these little interpolations or reinterpretations of familiar hip-hop hooks, refrains, and phrases. What drew you to those, creatively or for inspiration?
Curly Castro: It's part of, I guess, my writing process. I don't know if I'm thinking of Onyx the day I write–bu-bu-but wait it gets worse. It's like, the beat's going and why would I be thinking of Onyx? I don't know. I did, for "Acid Vignette," when the MCs came to live out the name, damn I was walking out the projects with Sharane. That one I actually wrote because I was thinking of House Party. I mention Dragon Breath. I was in that phase of when I used to watch House Party, how old I was, and then listening to GZA. So it was more of a time thing where, because I was writing about something from back then, I started thinking about something from back then.
Sometimes it's a byproduct of me just kind of being stuck. A lot of tracks I'm like, how can I set this joint off? Let me borrow something here. It'll sound like it's that nursery rhyme type writing. And you wanna give people something familiar, so they're swaying back and forth. I'm doing it now as we're talking. You're swaying back and forth before you even know it, and so we already got you, you know what I'm saying? We don't need to convince you eight bars into the song. We got you in the first two because I gave you something somewhat familiar to ease the transition.
Something similar happens with '90s and '00s alternative rock on this record too, like the Rivers Cuomo Weezer reference, for example.
PremRock: I just love Easter eggs in general, when I read, when I listen, all that stuff. It's a tribute to growing up and being like, yo, did you hear this? And then you text your friend or whatever, pre-text. You know what that's from? And then putting somebody on to what something's from.
Curly Castro: It's sonic footnotes. I remember when I was in college, sometimes I didn't wanna go through the footnote hunt, because I thought, oh man, that's more work. But you find some of your best books that you've ever read in footnotes. So it's the same thing with like hip-hop. I love going down rabbit holes just because of a lyric. It opens up a whole new world for you. We definitely do that, on an educational tip, even just on the creative tip.
ShrapKnel's Metal Lung is out now on Backwoodz Studioz. Buy It or stream it wherever you find music.
---

---

Pink Siifu & Real Bad Man, Real Bad Flights (buy it / stream it)
Continuing a Real Bad Man helmed series that already gave us 2022 projects with Boldy James and Smoke DZA, Real Bad Flights puts the ingenious Pink Siifu at the fore. More straightforward than the rapper's profound GUMBO'! from last summer, the nine-track effort consists largely of duo-and-posse cuts with top tier artists in the pair's respective and concentric circles. Armand Hammer muscle their way onto "Tokyo Blunts," while Ahwlee maintains the mellow francophone boogie on "View Of Paris." A understated master on the mic, Siifu does more than just hold his own alongside pals and peers on "Pour The Wine" and the breezy "Off The Plane." He executes a perfect lyrical landing on cool closer "Real Bad Gospel."
Al.Divino & Estee Nack, Triple Black Diamonds 2 (buy it / stream it)
This Massachusetts pair have dropped quite a few joint projects over the years, operating in similarly gritty sonic spaces as the Griselda guys outta Buffalo. Yet Estee Nack's profile got a considerable boost with this year's Peace "Fly" God. The sequel to a 2016 tape, Triple Black Diamonds 2 serves as a streetwise reminder that both he and Al.Divino have been putting in work. Their stovetop chemistry is evident on "Pizelle Powder" and the sparse, hallucinatory "Nepotism." Reliable producers like Ewonee and Futurewave provide some cinematic and soulful beats, though DJ Mastamind steals the show with the raw brilliance of "I-Rak" and the drum-free dramatics of "Thizzy Womack."
PENPALS & Spectacular Diagnostics, Dimensions Of Dialogue (buy it / stream it)
Though New York rappers Bobby Noble and Rapswell typically source their boom bap beats from third member Squires, this time they linked with veteran producer Spectacular Diagnostics. Rich references to everything from Adventure Time villains and Stephen King's Langoliers to K-Mart gun sales and Tomi Lahren abound on this purely rhyme-driven endeavor set to inventive jazz reconstructions and vintage sci-fi/fantasy slappers. The highbrow/lowbrow nods to Švankmajer's stop-motion milestone Dimensions Of Dialogue, Jodorowsky's surreal Holy Mountain, and Lucas' blockbuster Star Wars are consistent with this bespoke trio's apparent interests. Accented by ill cuts, "All Types Of Medicine" brings Alaska in the mix, while fellow Wrecking Crew dude arrives for "Room 217."
---

---