The Best Hip-Hop Albums Of 2021
25 must-hear full-lengths from another pandemic year. This is Cabbages #085.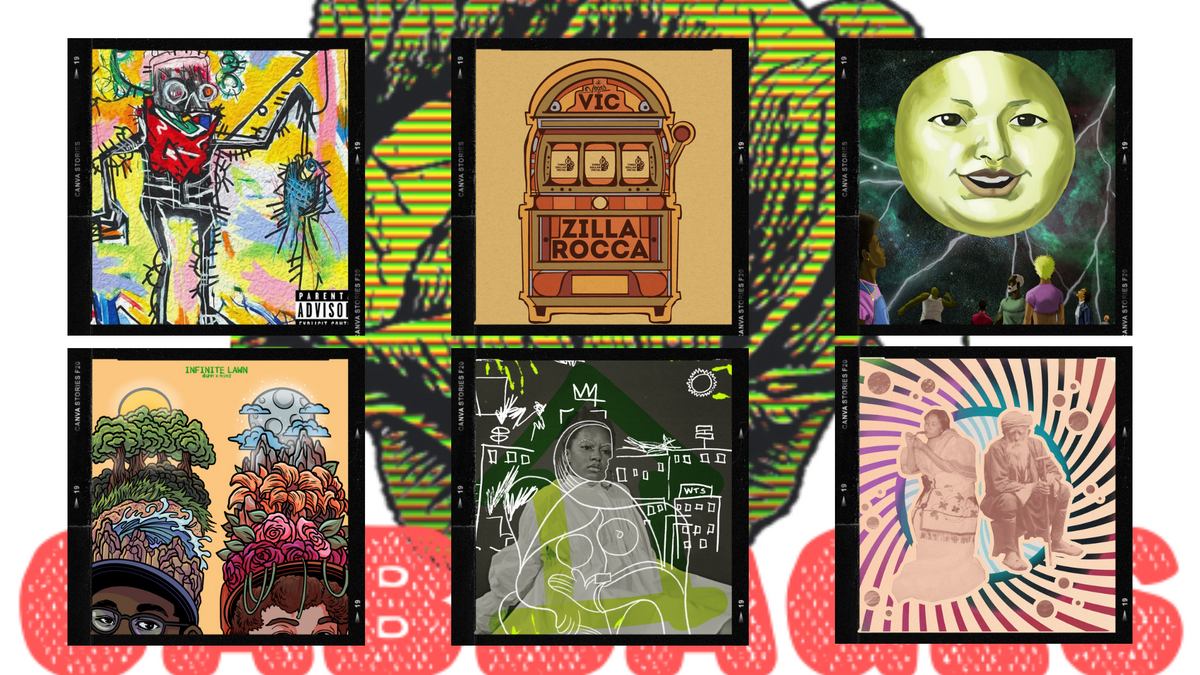 Some notes before we get started...
The CABBAGES Hip-Hop newsletter is a one-man operation. That means, when I decided to publish a ranked list of the Best Hip-Hop and Rap Albums of 2021, the end result was, by definition, a matter of personal choice and taste. You are going to see albums here that you haven't heard of before. You are also going to notice other albums that appeared in other outlets' lists–or even on your own individual list that do not appear here. That is how it works. It's what happens when decisions are made without succumbing to the dull tyranny of consensus. CABBAGES is Gary Suarez's point of view, and you are welcome to disagree with that point of view as much as I am welcome to disagree with every outlet that put Drake or Ye in their annual top five.
My biggest grievance with most publications' yearend listmaking is the mindless reliance upon major label releases, which invariably happens at the expense of independent and self-released work. So, if an album came out through some division of Universal Music Group, Sony Music Entertainment, or Warner Music Group, you won't find it on this list. The same generally applies to large companies with major label pedigrees that behave like majors, including Alamo, HitCo, and 300 Entertainment, the latter recently acquired by WMG. CABBAGES exists primarily to document and highlight what's happening in hip-hop and rap music outside of the major label system. Did I enjoy albums that came out through these companies? Absolutely! Some of my favorites were the ones by Vince, Tyler, and Baby Keem.
The independent and underground artists who made the cut include some with particularly busy 2021 release schedules. It would've been all too easy to load up this list with multiple albums from the same rappers and producers. As such, I did my best to limit the rankings to one album per artist, though there are exceptions. In quite a few instances, I tried to credit other notable 2021 releases I liked from those artists underneath their numbered placements. No slights meant.
---
25. DijahSB, Head Above The Waters
Cosigned by no less than Kid Cudi himself, Toronto's vibrant emcee gets autobiographically vulnerable and relatably motivational on their Polaris Music Prize nominated full-length.
24. L'Orange & Namir Blade, Imaginary Everything
North Carolina meets Nashville as two of the wildest cats in the Mello Music menagerie collaborate on a maximalist rap record that somehow stays grounded amid its enormous and ambitious sonics.
See also: L'Orange, The World Is Still Chaos, But I Feel Better
23. MAV & Spanish Ran, Breakfast At Sues
The Bronx beat master links with a mesmerizing Rochester rapper for a street level educational seminar carefully detailing handshake deals and grind narratives the New York way.
See also: Bloo & Spanish Ran, Nowhere Bloo
22. Spectacular Diagnostics, Ancient Methods
Repping hip-hop for two decades, Robert Krums eschews the showcase style of other work under this moniker for an inspired odyssey of jazzy beats and sci-fi samples, with Armand Hammer's elevated emcees along for the dystopian ride.
See also: Spectacular Diagnostics, Natural Mechanics
21. Ransom & Rome Streetz, Coup De Grace
No mere New York street pastiche, this cohesive and cold set from two seasoned spitters brings murderous mindsets and grim reality raps to the fore for a darkly cinematic collab.
See also: DJ Muggs & Rome Streetz, Death & The Magician
20. J.U.S., GoFundMe Corvette
Danny Brown's Bruiser Brigade rose considerably in stature throughout 2021, yet this late entry from one of Detroit's finest left the roster in an even stronger position for the new year with fluid flows and left-leaning production.
See also: J.U.S., God Goku Jay-Z
19. maassai, With The Shifts
Following 2020's incredible H31R collab with JWords, maassai returns on her own to implement a free-spirited yet exacting display of unconventionally erudite and tenaciously poetic flows.
18. Cartel Madras, The Serpent And The Tiger
Contra and Eboshi come correct once again with the fantastic final volume of their Project Goonda trilogy, their confidence and cool evident from rapid-fire raps over some superb club-adjacent rhythms.
17. DøøF, NCL​-​DøøFus 2: SWAMP PHONK
NCL-Tim's hazy beats guide this semi-psychotropic sequel to his last tango with the Virginia rapper, the ensuing melange of freeform lyricism, mashed-out samples, and gonzo aesthetics potentially frizzle frying one's hip-hop wiring.
16. KAYA, Mahal Ko
This chill Brooklynite from the exceptionally good Planet Locale collective flows verbose and ponderous over beautifully fractured production by Jcomm and Kuya on her album debut.
15. PremRock, Load Bearing Crow's Feet
The ShrapKnel spitter levels up on his solo steez with this Backwoodz Studioz outing, seizing the day with deep thoughts that burst with passion, vulnerability, and emotional intelligence.
14. CLBRKS & Dweeb, The Library Of Babel
The ever-irreverent UK emcee connects with a canny Canuck for a transatlantic tape inspired a Jorge Luis Borges story, its literary themes and soul-drenched samples converging into a glorious disorienting blur.
See also: Dweeb, Aromatherapy
13. Abstract Mindstate, Dreams Still Inspire
DONDA discourse be damned, the reunited Chicago duo of Olskool Ice-Gre and E.P. Da Hellcat dropped the best Kanye West album in years, his throwback production buoying the pair's mature bars and knowledge bombs galore.
12. Zilla Rocca, Vegas Vic
The Philly-centered Wrecking Crew vet delivers a bars-heavy undertaking with impeccable new bap beats, his quippy referential lyricism less concerned with narrative world building than demonstrating his well-honed Wu-inspired mic chops.
See also: Career Crooks, Never At Peace
11. Armand Hammer & The Alchemist, Haram
A departure not only from ALC's work with Mobb Deep but also with his more recent stuff with Freddie Gibbs, this visionary team-up with two of the most formidable lyricists alive goes in avant-garde directions that reveals subtle secrets with every listen.
See also: Boldy James & The Alchemist, Bo Jackson
10. Nappy Nina & JWords, Double Down
This alliteratively apt follow-up to the Bay Area transplant's Dumb Doubt applies beat science by New Jersey's innovative H31r producer for a fresh and frenetic collab nimbly balancing poetry and prose.
09. R​.​A​.​P. Ferreira, bob's son: in the garden level cafe of the scallops hotel
The ex-Hellfyre Clubber continues his outré rap winning streak with an album-length homage to a Black Beat(nik) great, alluding to a shared legacy between the two dextrous wordsmiths throughout this heady hip-hop listening experience.
See also: R.A.P. Ferreira, the Light Emitting Diamond Cutter Scriptures
08. YUNGMORPHEUS & Eyedress, Affable With Pointed Teeth
Harnessing this L.A.-based rapper' lyrical righteousness and pointed rage is no small feat, but with an open-minded Lex Records producer behind the boards, the potent results of their partnership capture danger and magic alike.
See also: YUNGMORPHEUS & ewonee, Thumbing Through Foliage
07. Bruiser Wolf, Dope Game Stupid
Even in Michigan's sprawling regions of rap talent, this Bruiser Brigadeer and former footballer stands out, thanks to a comedically-timed cadence and ruthless punchlines served with the sexually-charged diction of a modern Rudy Ray Moore.
06. Semiratruth, I GOT BANDZ FOR THE MOONLANDIN'
Largely self-produced by the ascendant Chicago artist, this intimately chaotic yet cogent collage of beats, samples, and words does dizzying damage at a sitcom duration, shadowboxing with feelings and exceeding expectations again and again.
See also: Semiratruth, MIRA
05. Mach-Hommy, Pray For Haiti
Newark's fiercely independent and always enigmatic emcee entered the Griselda Cinematic Universe to no shortage of well-deserved fanfare, accompanied by Westside Gunn and his in-house beatsmiths yet never losing what makes him exquisite and unique.
See also: Mach-Hommy, Balens Cho (Hot Candles)
04. Lord Jah-Monte Ogbon, Too Little, Too Late
The self-described "best rapper in Charlotte" is now one of the best in America, evidenced by the east coast excursions of Jewelry Rap records like "Changed My Number Again" and "Evette & Jody From Baby Boy," his uncanny gifts undeniable as he achieves rap greatness.
See also: Lord Jah-Monte Ogbon, Beautifully Black
03. Mimz The Magnificent & Dunn, Infinite Lawn
Of all the artists in New York's Planet Locale cabal, this uptown-connected emcee duo did the most, both members' deep communal commitment to the beats as well as the rhymes making this exemplary debut album an outstanding exemplar of hip-hop as art.
See also: Mimz & Bloodmoney Perez, Mitosis // National Question, All Fronts
02. Curly Castro, Little Robert Hutton
Proudly repping the local Wrecking Crew, Philly's microphone marksman conjures Black Panther martyrdom and righteous memory with a movement in mind, his poignant and vitriolic expression of the Black American Experience making for a veritable masterpiece.
01. Wiki, Half God
Even from the earliest days of Ratking, Patrick Morales appeared on a divine path in hip-hop. Over time, he's transcended his rap prodigy status and the respect earned as a New New York standout, all culminating in this absolutely stunning and thoroughly superb album. Produced entirely by Sage "Navy Blue" Elsesser, Wiki executes his personal vision with artfully opaque verses marked by learned honesty and native mouthiness.
See also: Wiki & NAH, Telephonebooth
---
If you've made it all the way to the end, congratulations!
Here's a link to take 25% off a full year's paid Cabbages subscription, with exclusives including a sneak previews of artist interviews and  private podcast.