Vin Rock Takes It Back (And Forward) To '19 Naughty III'
The Illtown Sluggaz x Naughty By Nature member speaks + reviews of AJ Suede & Televangel, JUNE!, and Rio Thomas. #132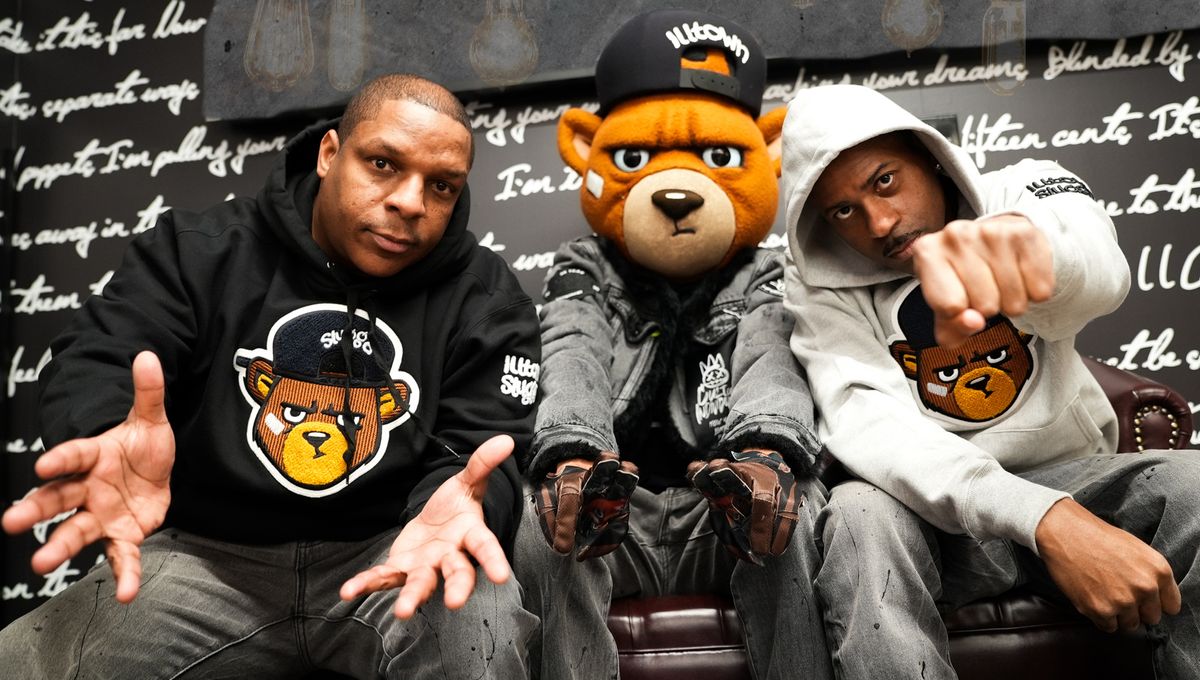 When Vin Rock stepped into New York's Webster Hall recently to celebrate his former Tommy Boy Records labelmates De La Soul, he couldn't help but recognize the surrealness of it all. "It was almost like a throwback kind of Forest Gump thing," he says. "You're seeing all of your old industry peers, old dancers, old publicists, record execs, people who were in the mail room–now they're executives."
Best known for his tenure in Naughty By Nature, the emcee had touched and impacted a lot of the people gathered in the club's main room with his music. And it just so happened that he had worked closely with Tommy Boy to prepare a 30th anniversary edition of the group's 19 Naughty III, released just last month with bonus tracks including rare remixes. While that wasn't what the night was about, his contributions to the culture and, specifically, to the label were part of what made his attendance at the special event so meaningful. "Dave, Trugoy The Dove, passed away, so it was a bittersweet moment in there, but it was definitely all love in the building."
Amid the righteous and genuine joy in celebrating De La Soul's excruciatingly overdue arrival on digital platforms, it's understandable (if a touch upsetting) that this concurrent Tommy Boy milestone was largely overlooked. Though not typically considered contemporaries, as Naughty By Nature came to the label later, Treach, DJ Kay Gee, and Vin Rock were technically recording at roughly the same time as Maseo, Posdnuos, and Trugoy. Indeed, the New Jersey trio's first album Independent Leaders, released under the soon-to-be discarded moniker The New Style, dropped the same year as 3 Feet High And Rising. "The fact that we were signed to the old Sugar Hill Records label and that album did nothing, it just lit a fire under us," Vin Rock recalls.
Following a name change, Naughty by Nature's self-titled Tommy Boy album came out mere months after De La Soul Is Dead, and they'd even opened for the then-better-known act. 1991's RIAA double-platinum breakthrough hit "O.P.P" and its follow-up single "Everything's Gonna Be All Right" changed everything, and it is perhaps the level of commercial success it brought that separate the two groups in some people's minds. "We were in a groove, but we were so focused," Vin Rock says of the aftermath of the corresponding album Naughty By Nature. "We weren't caught up in the accolades. We had on blinders and we were just being creative."
Subsequently, 19 Naughty III further distinguished the widening gap and took Naughty By Nature to even greater heights. Unlike its eponymous predecessor, entered the Billboard 200 top ten and claimed No. 3 in its opening week, a feat they'd repeat with 1995's Poverty's Paradise. On the Hot 100, "Hip Hop Hooray" reached No. 8 peak amid a 22-week streak; the less ubiquitous singles "It's On" and "Written On Ya Kitten" both enjoyed multi-week runs on the chart's lower rungs.
Vin Rock insists that they weren't at all preoccupied with replicating "O.P.P.," a similar and authentic impulse drove their work on 19 Naughty III. "We come from the club scene, call and response, interacting with the crowd," he says. "We were just continuing our formula." He cites the making of "Hip Hop Hooray" and its infectious hook as an organic result of an established live audience-informed process that dates back to their '80s upbringing. "Once we began recording, we were like, let's transfer that element over to the recording side. Then, when they hear the records, they can imagine themselves participating with these songs live."
That same approach drives Vin Rock's latest endeavor, Illtown Sluggaz. Reuniting with Kay Gee and adding a dancing teddy bear mascot, the group seeks to perpetuate the performing aspect of Naughty By Nature's legacy. "The core of our skillset is rocking parties and taking it directly to the people," he says. "That's what we love to do." To that end, they've put together a hometown show this Friday to inaugurate what they're calling the Slugga Music Concert Series, with R&B acts Next and Amerie, fellow 1990s hip-hop hitmaker AZ, and Funkmaster Flex also on the lineup. It's all part of a wider branding play that Vin Rock envisions, one that builds on the past with the aid of contemporary tools and means. "We're gonna play both sides of the fence–do the analog and the digital, old school plus new school–and keep our movement going as such."
---

---

Rio Thomas, Long Way Home
Whether or not you caught wind of him on the FROwNS-produced FROwN Lines, or perhaps more recently in collaboration with TAB Jones, now is the right time to get into Rio Thomas. Just three songs into the exquisite Long Way Home, the U.S. Virgin Islands-based rapper demonstrates the magical power of a well-crafted opening bar on "I Don't Deserve This" (I was so focused on every door closing / I forgot to push the ones that was kinda open). Evidenced on tracks like "2021" and "Loss Of Faith," his lyricism here resembles the straightforward efficiency of a Raymond Carver story, with the added benefit of a sampled grown-folks R&B backdrop courtesy of producer Damien Rose. Elsewhere, he lays bare his heart on "Words Never Spoken" and "Everything I Miss At Home."
AJ Suede & Televangel, Parthian Shots
Seattle spitter AJ Suede last slowdanced with erstwhile Blue Sky Black Death member Televangel on last year's supremely moody and sublimely sacred outing Metatron's Cube. Though their follow-up Parthian Shots similarly draws inspiration from facets of the pre-Christian world, it has a fresh vibe all its own. The verbose yet concentrated emcee remains on top of his game amid the ivory tickles of "All That Jazz" and "Groundwork," his producer clearly in the pocket on the latter. "Rosicrucian Rolls Royce" melds the mystical with the modern, its instrumental a blend of G-funk and '70s cinema spackled with lo-fi mischief. Shifting focus, erudite punchline pimp Bruiser Wolf shines amid the warbling organ and soul splatter of "Holy Moly," while Mr. Muthafuckin' eXquire calmly unfurls a decidedly New York narrative tapestry on "PBS Kids."
JUNE!, Smiles Of The Sun
Beyond the smoky sole solo moment "Don't Trip," you won't find JUNE!'s gravelly voice much on Smiles Of The Sun. Instead, the Charlotte, NC artist lends the mic to a transatlantic set of spitters while focusing his attention on the beats. His productions reflect a refreshing albeit subdued versatility, one that reveals itself slowly like decanting wine over the course of the guest-heavy effort. Though the respective deliveries by, say, Deleteeglitch on "Mind Control" or J Wade on "Presence" differ considerably, he keeps the tone consistently somber throughout. Even still, the standouts leave a lasting mark, as WilfMerson muses with existential heft on the muted "Bye" and Pro Era's finest, CJ Fly, sounds off on hypocrisy and injustice on the lusher "So Far."  
---

---