Onstage at SOBs, Manhattan's most reliably overcrowded hip-hop venue, Smoove'L has the audience right where he wants them. The crowd seems to know every bar and hook the Brooklyn driller raps and he's giving them that same energy right back. The short set runs through all his singles that have been racking up big YouTube numbers over the last several months, making a brief detour to play a Pop Smoke song as a tribute to the departed. And if you didn't know better, you'd never have guessed that, prior to his untimely death just five days earlier, the two artists had beef.
It's not entirely clear what prompted Pop Smoke and Smoove'L—two of the brightest lights in their borough's drill scene—to take lyrical shots at one another in their songs, specifically the former's "Christopher Walking" in response to the latter's "D&D" with Casanova. (A beat dispute is one plausible theory.) What is clear is that at least one of the parties was looking to quash it. In response to the news of the murder, Smoove'L posted an iPhone text screenshot to Instagram, explaining that the day before he had instructed his A&R to extend an olive branch and offer a collaboration on a track called "Very Valuable."
Sadly, that wouldn't come to pass. But given that the factionalism, at times seemingly guided by incongruous affiliations, among Brooklyn drill artists had made such team-ups nigh on impossible, the willingness of one party to create together with the other offered some small hope in an otherwise mournful time.
There's always a certain amount of fantasy football type thinking going on in today's hip-hop world. The logistical barriers that kept many of the Golden Age greats from working in tandem simply don't exist in our wired age of high-speed data transfer and WiFi Internet-enabled recording studios. Through the miracle of technology, just about any rapper on the Hot 100 right now has been on a track with any other rapper concurrently on the chart. Failing that, a connection could be made within the next 10 months to rectify that error.
As such, up until February 19, the odds of a Pop Smoke meets Smoove'L song was hindered solely by beef, something that also stymied their hip-hop forebears. Stylistically, the two artists were fairly well matched. Both favored the UK drill aesthetics of producers like 808Melo and Yoz Beatz. They respectively assumed thotty themes on multiple songs without apology. Simply put, they'd have been perfect together on a single. While the chance of a posthumous union remains an option, we may never get to hear that synergy at play.
Tragedies like the loss of Pop Smoke serve as awful reminders to the rest of us that the time to settle our differences is while everyone's alive. If any glimmers of good can come from this agony of a talented young Black man taken too soon, it might be the fences mended in the aftermath. As the hip-hop community grieves once again, there exists chances for reconciliation, a lasting strength and unity to follow, a peace more fruitful than any beef.
---
Treacherous Trio
Smoke DZA, A Closed Mouth Don't Get Fed (buy it / stream it)
A pillar of Harlem hip-hop, Smoke DZA is an ubiquitous, hilarious, gifted artist whose importance locally and regionally cannot be understated—but chances are some of you outside of the tri-state still haven't caught on. For his latest project, the Kushed God comes confidently out the gate alongside Westside Gunn for the exquisite "Morse Code" before linking with coast-to-coast rap talents Buddy and Dave East as well as singing Cinematic labelmates Flipp Dinero and T-Pain. In an uptown trio with producer 183rd and rapper Nym Lo, he delivers an ice-cold verse on the Goodfellas-referencing "Frankie Carbone."
Primo Profit and Vago, Callejero Vagabundo (stream it)
Boston-bred with Colombian roots, this gloriously gruff spitter has the perfect vocal tone to match the streets he raps for. Similarly, Primo Profit's narco bars and hood rhymes suit the bleak, scratchy soul of Vago's beats for this stygian one-rapper-one-producer affair. Their "Ambush" exudes dramatic menace without so much as a kick drum in play, while the slo-mo boom bap of "Vagabundo" coaxes a cautious realness out of the rapper. As luxe as the finest Griselda wares, "Conspiracy" brings the whole project to another level.
Securing co-signs from KA and Earl Sweatshirt is about as close as we get to sainthood around these parts. The rap moniker of Brooklyn-based skateboarder Sage Elsesser, Navy Blue demonstrates his divinity with this empyrean effort. Following a string of EPs and mixtapes, the Àdá Irin album unspools his deep thoughts across 11 tracks of looped sonics and hazy chops. Over the piano warble of "Simultaneously Bleeding," he pontificates on a range of topics in a free associative fervor. Later, he joins the Brownsville hero for the reflective and intricate "In Good Hands."
---
Lettuce Wraps with... Psalm One
Three questions. Three answers. That's it. Time for another edition of Lettuce Wraps.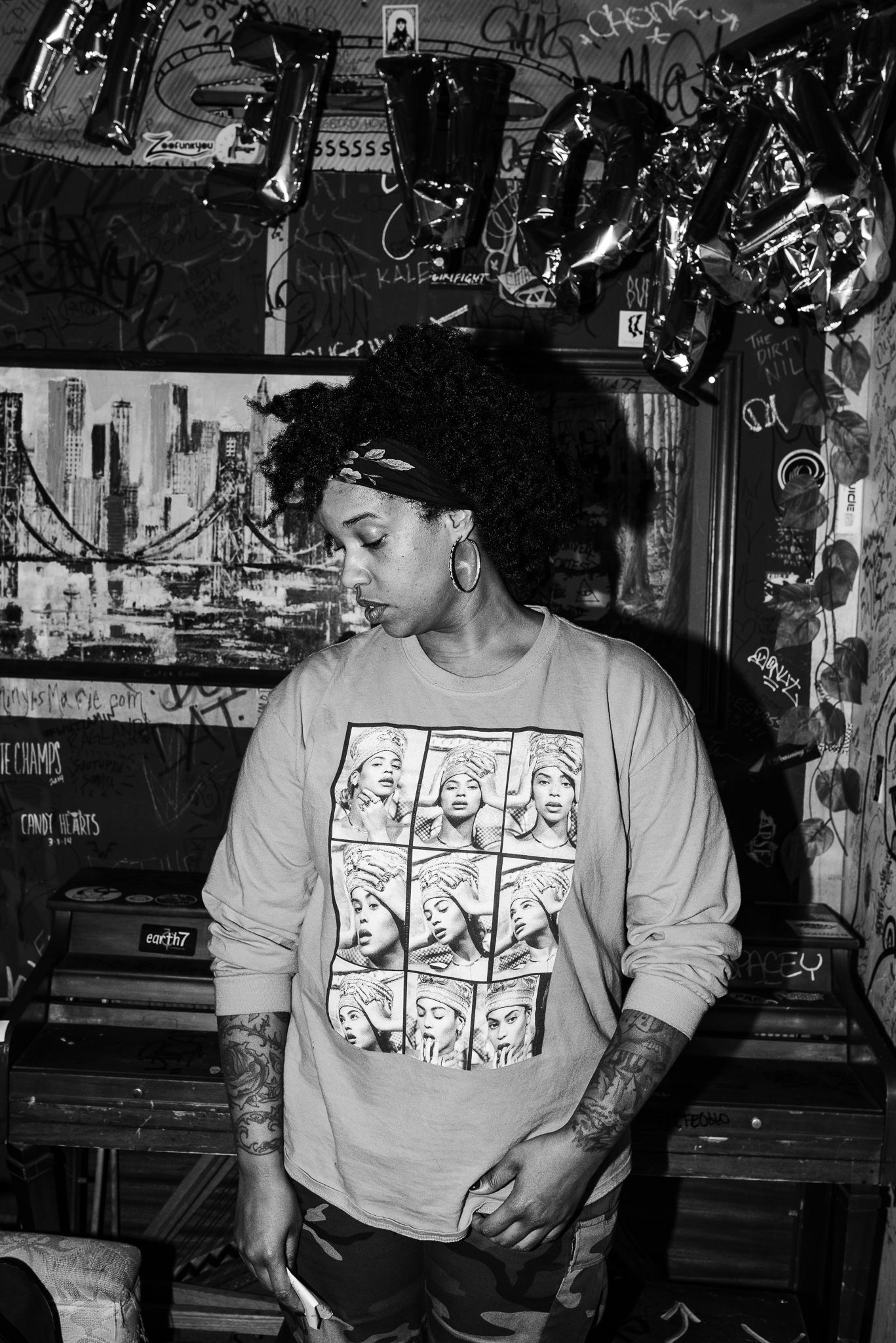 Photo credit: Graham Gardner
When you see the name Psalm One, you know you're in the presence of greatness. A native Chicagoan, she dropped her standout Rhymesayers full-length The Death of Frequent Flyer back in 2006, cementing her status as one of the Midwest rap mecca's finest. In recent years, she's made the shift to releasing her music independently, including last year's Flight Of The Wig.
As an independent artist—a DJ and a rapper—with some two decades worth of tenure, how have you adapted to the changes in the industry over the years in order to stay active and creative?
Adapt or die, right? I started getting national buzz around 2006. It was a crazy time because it was the end of the "mixtape" era and not quite the social media age yet. I would say it was the beginning of the blog era and the cusp of the Internet becoming user friendly. I saw a lot of peers not being able to adapt to the digital format. Coming in at the end of the "old school," I was big on change. As a youngin, I always side-eyed an older, stagnant musician's mentality. So as I started getting older myself, I knew adaptation was gonna have to happen more rapidly. I think my longevity comes from a base love of music. I have a big enough ego to be a solo rapper, but I don't need to be the face of a project to be fulfilled from music. Working as a backing DJ and executive producer taught me that. Because I have this insane passion for music as a whole, it keeps me active. I am interested in pop culture and technology so I try and stay knowledgeable of that. I listen to the youngins as well. That helps. Rest In Peace Nipsey, cuz he said it best. This shit is a marathon. I'm in it.
How did the process of making last year's Flight Of The Wig differ from The Death Of Frequent Flyer, the latter having been released a dozen years earlier?
Flight of the Wig wasn't even a concept until I was getting ready to release another EP. I had so many songs that weren't going on the Don't Get Lazy Now! EP [that] I knew I had enough for an album. The process was different because it was all me. No label telling me anything. No pressure to sound like anything. I hopped on a plane to Brooklyn and went to my main producer Optiks' house. That's a place of supreme inspiration for me. I stayed for about a week and we put it together. I created a space for myself to be able to have laser focus on the project. I created the deadlines. I didn't have to ask anyone shit! I didn't have to make anything work for anyone else. The budget was mine. That was new for me. I always had pride in my ability to create through the chaos, but the Flight sessions were the first time I created in personal peace. That made all the difference.
Your most recent single "Cult Of Ye" offers some pretty sharp and insightful darts. Do you think that people who say things like "separate the art from the artist" (in #problematic cases like that of like Kanye West) are deluding themselves?
People are absolutely deluding themselves if they think the Kanye case is black & white. It's layered and more complicated than simply Mr. West being a genius at music. He's also a genius at marketing. Duh. He is god of the hypebeasts. That's a strong base. He's turned "free thinking" on its head the same way Tr**p has remixed "patriotism". And many people are fooled. We all have our personal lines we draw at supporting artists, but by the looks of it online even the most vile person can retain fans if they do or make something "cool". Or if they co-opt a platform. Ye also has this very delicate issue of his mental health; he gets to mold, market and frame it as he wishes. He's also aligned with religious groups as of late that hate my black queer ass. What's in it for me to be a Kanye fan anymore? I'm from Chicago. The gatekeepers have my number. They ain't callin! I have no brand loyalty. Kanye doesn't get my support anymore. I can't separate the art from the artist, in this case.

And when I say he "doesn't get my support anymore" that simply means I'm not streaming him from my apps or buying any shoes, merch, or concert tickets. I'm not going to Sunday Service. I won't demand anyone turn his music off if they're playing it. I'm just not buying into Kanye West any longer. That is my choice.

There are plenty of artists across genres and decades that get a pass on their bullshit because people like the art. Depending on the act, I can separate the artist from their work. But my lines are drawn at morality. Where's your moral compass? I love Kanye West's music, but I can't even listen to his latest work without my brain exploding about his antics. So I don't. I cancelled myself! I don't need to compromise my personal ethics to wear a shoe or slap a song. There are plenty of artists out there I can enjoy without compromising my beliefs.
Purchase Psalm One's music digitally at Bandcamp or stream it via Apple Music.
---
We Out
Last month, I caught Rapsody and Sa-Roc on their Brooklyn tour stop. I stood towards the back of the sold-out venue, as I tend to do more often at shows now than I used to, compromising a prime view for a bit more comfort. My trade-off paid off when I turned my head and saw two rap luminaries standing near the merch tables—Black Thought and Pharaohe Monch. The former eventually took the stage to freestyle alongside Rapsody, while the latter stayed even further back in the room than I did, wary of the spotlight for the night.
I've seen Monch live a handful of times over the years, primarily at jazz clubs. He's a friend to some truly great players, including trumpeter Keyon Harrold and saxophonist Marcus Strickland. He never disappoints onstage, though since I somehow always happen to catch him as a guest performer rather than the headliner, I'm often left wishing he'd played longer. "Push" is one of my favorite songs of his, and if you only know him for "Simon Says," check out this classic from his discography.
---
See you next Sunday.
Follow me on Twitter at @noyokono and on Instagram at @noyokono too.