Wiki: The Cabbages Interview
The NYC emcee discusses his Navy Blue album collab 'Half God' and looks back on Ratking's early days.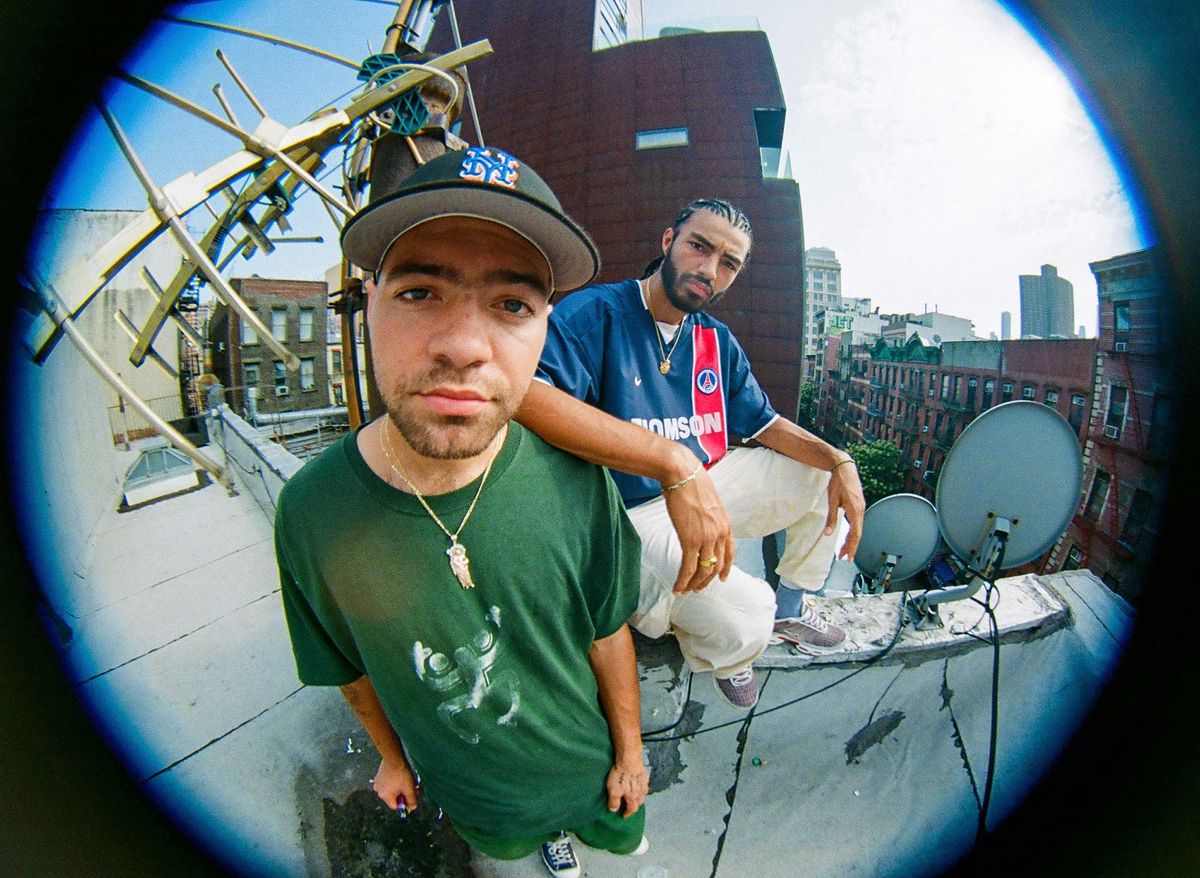 First emerging in the early 2010s as part of the seminal hip-hop group Ratking, the rapper and NYC native Wiki made a lasting impression not just on his city's scene but also far beyond its borders. As a solo artist, he's honed his craft as an emcee over the course of albums No Mountains In Manhattan and Oofie as well as other notable releases and features. 2021 being no exception, he's dropped two projects in collaboration with producers Nah (Telephonebooth) and Navy Blue a.k.a. Sage Elsesser (Half God). Earlier this month, we hopped on a call to talk about these two projects as well as a milestone from his Ratking days.
---
Before we talk about your latest album, I'd love to ask you about another project you dropped this year, Telephonebooth with Nah, It's a fascinating listen.

Thanks, man. I appreciate that. Me and Nah have known each other for a minute, playing shows in Philly. That's how we originally met. We were doing shows back in the day with Ratking, just like underground low key shows, whatever. We always wanted to work, because we were fans of each other. Especially after Ratking ended and everything, it was something we were like, oh this could be something cool we can tap into. And one time we linked in Europe for a couple of shows and shit like that. So it was just always in the talks.

Quarantine kinda gave us a chance to just kind of put [in] some time. We didn't really have anything else going on. He sent me a bunch of shit and then I kept sending him back stuff. And he gave me this certain structure, like everything he sent was the time the songs were. That's why the songs are so short, but that helped me turn it into what it is. And, like you said, the listen itself, I like to listen as a whole, you know? It's like 20 minutes long and it just takes you into this place and then you leave and then it's done. Even though a lot of the shit is a bit experimental and bugged out, it's in some ways easily digestible, all together in a way. Because it doesn't delve too deep into it. It touches on certain moments. So it's interesting you described it as a fascinating listen, because I feel like until I listened to the whole thing together, then I was like, oh, Nah, this is dope. I feel like he had that in his mind already with what he sent it to me. So I just had to fill it in and tell my stories.
To be honest, these are some of the wildest beats you've ever spat over–which for you is saying a lot, because you've worked with really innovative producers over the years. How did you go about navigating these Nah beats as an emcee and lyricist?

The first stuff I did was just kinda like where you hear it and you're like, oh, I like this. I got to catch a little groove to it, a little flow on, or an idea for something. But then some of the other ones were like, alright, how am I gonna make this work? How am I gonna bring it out of myself? For example, I remember there was one, "Friendship." If you listen to the beat, if you had the instrumental to that beat, that shit's mad hard to rap too. I don't really know the words for the musical shit on the rhythm side. You know, in some shits it's like, every quarter or whatever, it just circles back in a really fucked way. So I had to actually write it in a way where I was like, alright now I'm stopping here. You know what I mean? I had to write it to the beat specifically rather than write to the loop. And that was fun though, 'cause it was like a pain in the ass. But once I got it, I felt like it was like a challenge–and then I sounded smooth as fuck on it. And it's dope because you wouldn't know from hearing it, but if you were to try to rap that shit on it, you would get like, whoa, this is crazy.
Another one, which was one of the last ones I did was, I think it's called "Sexy Jawn." That one, Nah was like, I really want you to rap on this one from the go. I didn't know where to go with it. And I was like, I know Nah wants me to rap on it, so I'm going to do some sexy shit. I knew I wanted to take it somewhere else. That beat could've been so much darker– not that Nah doesn't like some sexy shit, but I wanted to go somewhere where Nah wouldn't expect me to. And to me, that one was dope though, too, because I had fun writing it and shit. It was fun performing it, and recording it was fun. I feel like you could hear it on the song. It was like a vibe in it. That one was tight too, 'cause it was one where it was a little bop. When I would play it for the homies or the homegirls, that one stood out as a bop. Some people were like, yo I love his beat, yhis is so bugged out. And that one really is a weird beat, but has a certain groove to it that connects. That was the cherry on top, because it needed something, man.
What you've done with Navy Blue on Half God is no less impressive. I know you guys go a ways back, but how did you knowing him lead to you doing this project together?

We'd known each other for a minute, so that already made it organic when it happened. It wasn't like we needed to get to know each other and shit. It was just kind of getting to know each other more, in a way, because making music is just a little bit more personal a thing–so, maybe even more him getting to know me throughout the process, just as friends talking and getting to know each other, but separate from the music. When it came together, he was definitely a fan of me, I think, and I didn't realize it as much. I mean, Ratking, it was the era, everyone fucked with it, but like, he was a fan of me as an emcee. And then I could tell that because whenever we would bump into each other and see each other, he would be like, oh, we got to work or he would just show love. He would always show love.
And we ended up working on the Ankhlejohn album; we did a joint together for that. Even though I'd know Sage for a minute, I know Sage and Ankhlejohn separately. I met Ankhlejohn at a show in DC and we'd been meaning to work. And I was like, oh, you're working with Sage? Fire. It made sense to them to get on that. And that kind of got the ball rolling. Like anything in life, you work once and it's just like, cool, now you're going to work more. You know what I'm saying? I'm happy we even did that, cause it wasn't just like, we're making an album together. We were just starting to work together. We had talked; he had spoken on it.
I'm always trying to work with someone to make a project, but you know, it's about you being fully invested, them being fully invested. Like, me and Remy [Banks] have been trying to do a project forever. We're going to do it, though. It's coming soon, but it's one of those ones where we also got our own shit going on, you know?
With this one, when I went to L.A. we did the Earl [Sweatshirt] joint and then I did "Roof." It was coming together. I just kept making a couple more joints and Sage was like, yo, we should do a record. And it kept growing. At first I was like, maybe I'll do a record if it works out or if he's down and if it like grows into that. But then it was like, oh no doubt, I'm doing a project with Sage. It was like, oh yeah, we'll do like seven joints. Then it turned into an album, but with like ten joints. And then it just kept growing, like, this isn't kind of what Telephonebooth was. This is my next record. It was the best shit I was making and it was just really personal.
The way Sage put it to me from the jump was always like, I want to make your record. He's an emcee too. If we were doing a fully collaborative record, he'd be rapping on the whole thing. It was more him producing this record for me. It's not like he doesn't have the voice himself. This is my story and shit. He was very clear and very aware of that the whole way and, and clear to me about that. So that was really helpful. And it gave me confidence that someone was like, nah, I want to produce your record. And it was good for him, 'cause I'm good for him on any type of career shit. Like, he did the Ankhlejohn record, now he's going to do the Wiki record as a producer. That's a dope opportunity to produce someone's whole album, especially a dope emcee like me, or Ankhlejohn, you know what I mean?
I'm going to put it like this, 'cause a lot of dudes be like, oh whoa, he just started putting music out. He been making music for a minute. You don't even know. It's just how public he is with it. And even now that he is out here, he's a student of the game. He's very humble and he's not on some shit. Either way, he's alongside with Alchemist and Earl and a lot of the dopest people out. Emcees and producers, he's surrounded by that.
Also, I felt a lot of respect. You know, there's people who know I'm nice in the game–whatever. There's a certain hype and then there's not hype, you know, those peaks and valleys. And me, I was in kind of a low place. So for him, outside of like, oh, this is some good look, you know what I mean? It was no good look for nobody. It was just, this is what I want to do 'cause I think you're a dope emcee and I see you've got potential. I don't think he realized how hard I was going to go. I don't think I realized how hard I was going to go, but it came together real natural, how it happened after that.
I mean, it shows on the record. And now, some of my favorite tracks of yours are from this album. "The Business," as a New York native, that track spoke to me. I know you've dealt with issues like gentrification in your music before, but this was almost like a sermon.

Bro, that's some real shit. I was talking to Duendita about it, and she was like, yo, that's my favorite joint on the thing, you said what needed to be said. It's a bop, but you feel the emotion. And it's not like some fucking lesson on the shit. It's a real feeling. Even people like my man DJ Lucas who's from Mass., he was like, yo, "The Business" is so hard. 'Cause he gets it, he sees it. That shit is hard, because that's a real fucking song. No one makes a song like that–and not for the reason like, let's make a song like that. You know what I mean? Not some dumb shit, like just a real place, you know? So I fuck with that one, and I feel what you mean when you say "sermon." You can always touch on it, and people are like, wow, that was cool. But then it's hard to do a song about it without overdoing it.
To me, this was more like a feeling, and still breaking some of the shit down in that way everyone feels, but you don't necessarily have the words to put it like that. The big one is the community thing. The idea of people being stuck up, but it's like, you don't even act right in the fucking neighborhood. You don't even know how to fucking talk to your neighbor, but you're stuck up about some shit. That doesn't make any sense to me. It's just like a subtle thing–if you were there, you would know. It's not just about the technicalities of gentrification. It's like, yo, have some respect.
Before, you used the word personal and obviously that's personal. But another example on this record that's personal is "Never Fall Off." You tell this story that comes across so confessional. You've often been very direct on your songs, but how comfortable or uncomfortable were you sharing something so heartfelt?

Yeah, I'm always trying to reach that. I think sometimes it's like, alright I'm going to get real personal, I'm going to say it all. But then, sometimes, it just clicks in that place where the writing was just like simple. Also I think the beat was simple. It's just like all you need to make that song, and for me to get my story off, and get that emotion off, and for that feeling to come from me while writing it. There was the whole first part, but when it gets really good is the hook and then the second verse, because then the story just continues with that pause. Like my homie hit me up and he was like, yo, that shit's crazy, 'cause you're like at that moment when you don't know and you say you regret it. The beat brought that out of me, as much as the personal experience itself. Sage was saying the same shit, like, that's mad personal. And you know me, in the back of my mind, I was like, oh, the shorties are gonna love this shit. But I'm just playing...

It wasn't uncomfortable to me. I love those moments where I get to get it off. To me, that's the magic. At the end of the day, you can go be nice–and there's a magic in that too. Like, "Wik Da God" is a magic moment in a different way. But then this shit is like that moment that's like part of the whole thing, laying that feeling and that experience on wax like, oh shit, now that's there. And you can always go back and listen to that shit. It's like some art shit. I don't know if it's like art, but it's even deeper than art. Not like, me, I did it. I'm saying certain songs in this world where you're like, oh, that shit just hit a certain thing.
If I've got my math right, this month marks ten years since the original release of the 1993 mixtape. In retrospect, what are your thoughts on that tape? How you feel it helped shape you or put you on this journey to become the artist you are today?

That's crazy. So it's like a real decade. Now I can actually say that. For me, it's funny, because my birthday's coming up. So I definitely was like, I want to drop on my birthday. That tape was sick.
At that time. I didn't know really what I wanted to do with my music. Ratking was a thing before that, actually. Me and Sport(ing Life) were doing shit, but it never really turned into anything that we made. And then we kind of stopped linking for a minute. I was in high school, uptown and shit. We just stopped working for a little bit and I was just focused on living my life. And then I started writing crazy. I was really honing in with my writing and I was like, I need to make a project. I hit up Sport and I was like, yo, you gotta help me make this project. Sport was very adamant about Ratking like, I don't want to just produce for a rapper, I want to do as a group. early on. But I was like, yo, if we can't do the Ratking thing, if we're not going to do that, you got to at least send me some beats. We met up and he heard all the bars and then he became way more involved in it like, we're going to make this record.
We were on 140th and Broadway. Basically that's where we did the records then. We dropped the record when I was a senior, so I was a junior. I was on community service every weekend, and it was uptown, because I got arrested for some dumb shit. For like a month and a half, every weekend, Saturday and Sunday at seven in the morning, I would be there at the park uptown on Morningside. We would go do community service all around the park, so I was just uptown all the time. I didn't really go out. I would just be up there and I would be working on music and be around other homies in a creative place. And that was what it all came out of.
It's like blessed to be in the city. Eric Yue, who was like a friend of mine who I happened to be in one of his student films when he was at NYU, he did the "Wikispeaks" video. He did [the] "Canal" video. We had these off like, being in the city and knowing people and having those genuine connects. I owe a lot to those videos too, because I think the "Wikispeaks" video really showed the whole shit. It was like, yo, this kid is nice, dusty, city kids is out here, rapping his ass off. It showed the shit and it let people in on it. And then people listened back to the tape and heard the whole thing and were like, whoa, this shit is crazy. So I think that definitely set the tone for who I was.
The growth from there is cool, 'cause it's like your identity as an artist. And it's like, who are you? As you grow, you grow into another version of that. It's the same thing, the same energy, but it's just different. It's always going to be some hip-hop shit, New York shit, but it's like that elevation, you know what I mean? I equate it like, there's "Wikispeaks," and then on this joint there's "Wik Da God." I didn't think about this until way after the fact. Someone probably told me this, I think. 'Cause it's just me rapping ass my off. And then there's like the little hook too, but it's like the hook's even bars, and it's like three verses.
Here's the thing. "Wikispeaks" is me as a teenager, and I'm like bummed. I'm kind of self-deprecating. I'm shitting on myself, but I'm getting it out to, you know, get it out. But that aggression is there, just letting all that energy out. And then I feel like "Wik Da God" is like that but from a path like, oh shit, I got it figured out. You know, a little bit more of a positive twist, like in a confident way. I comprehend myself in a fly way. Grown, but I still feel a type of way and I'm gonna get my shit off. So, it's a dope connector. That was the stepping stone for everything–the original one, not the one on XL.

Yeah, the original 1993.

Because there was a re-release. But I'm saying the original.

That's the one I meant. That's the one that's 10 years old this month. The original.

That's the one. Exactly. That one, I'm happy that that's the record that it was. You look back on classics, or you look back people's first shit, and it's still like, that shit was hard. Even if it was raw or not the most polished thing in the world. I mean, if it was, it wouldn't have been that, you know? I'm hype that it's been 10 years and I'm proud of it, for sure.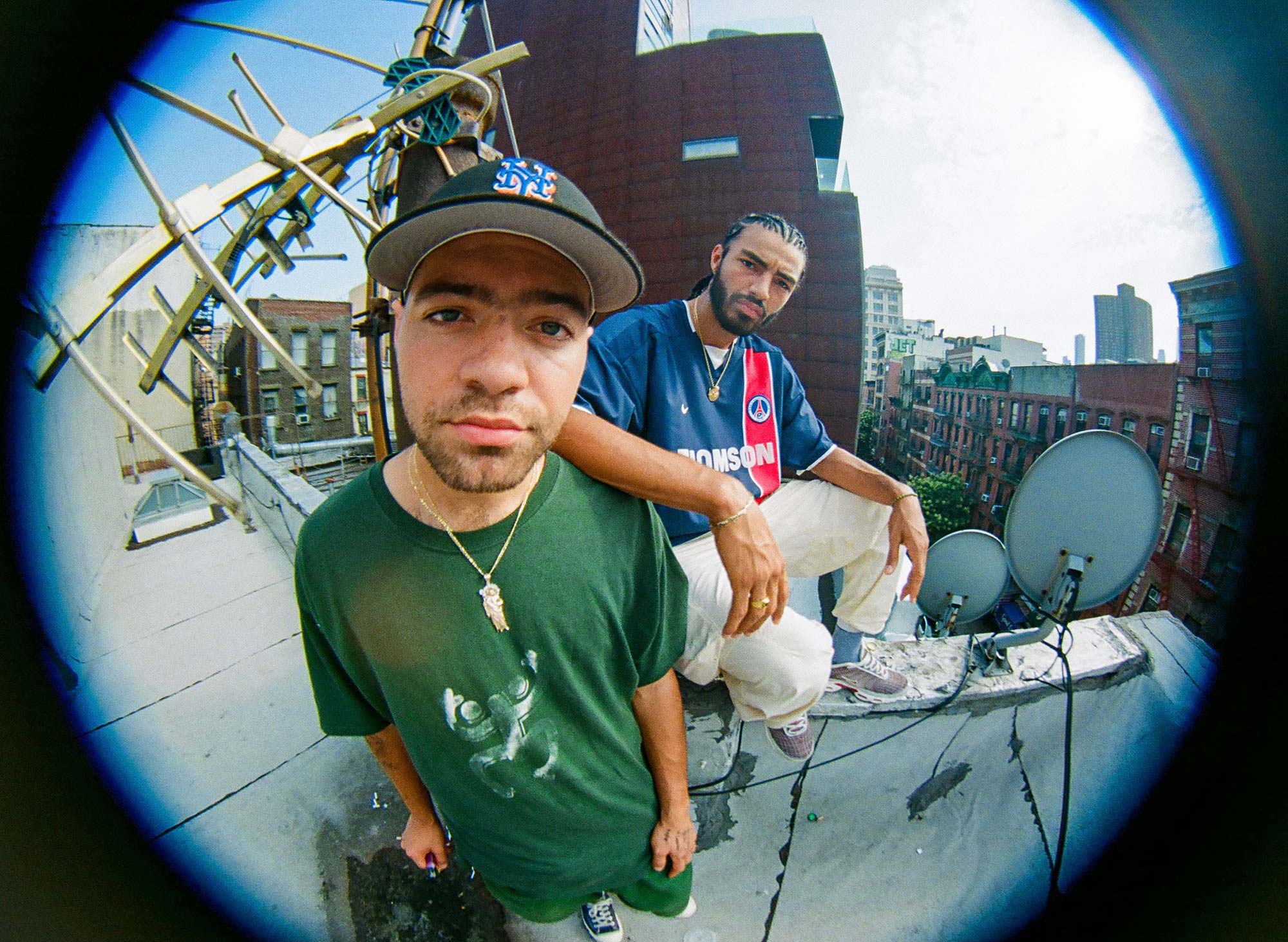 ---
Listen to Wiki's Half God and Telephonebooth on Bandcamp or wherever music is streamed or sold. Catch him on tour with Navy Blue.