Beans Gets The Consortium Back Together—For His Solo Album
The enduring emcee discusses his next solo album amid the long-awaited Antipop Consortium reunion. +Reviews of Shabazz Palaces, Pink Siifu & Zurich Benjy, and Borirock.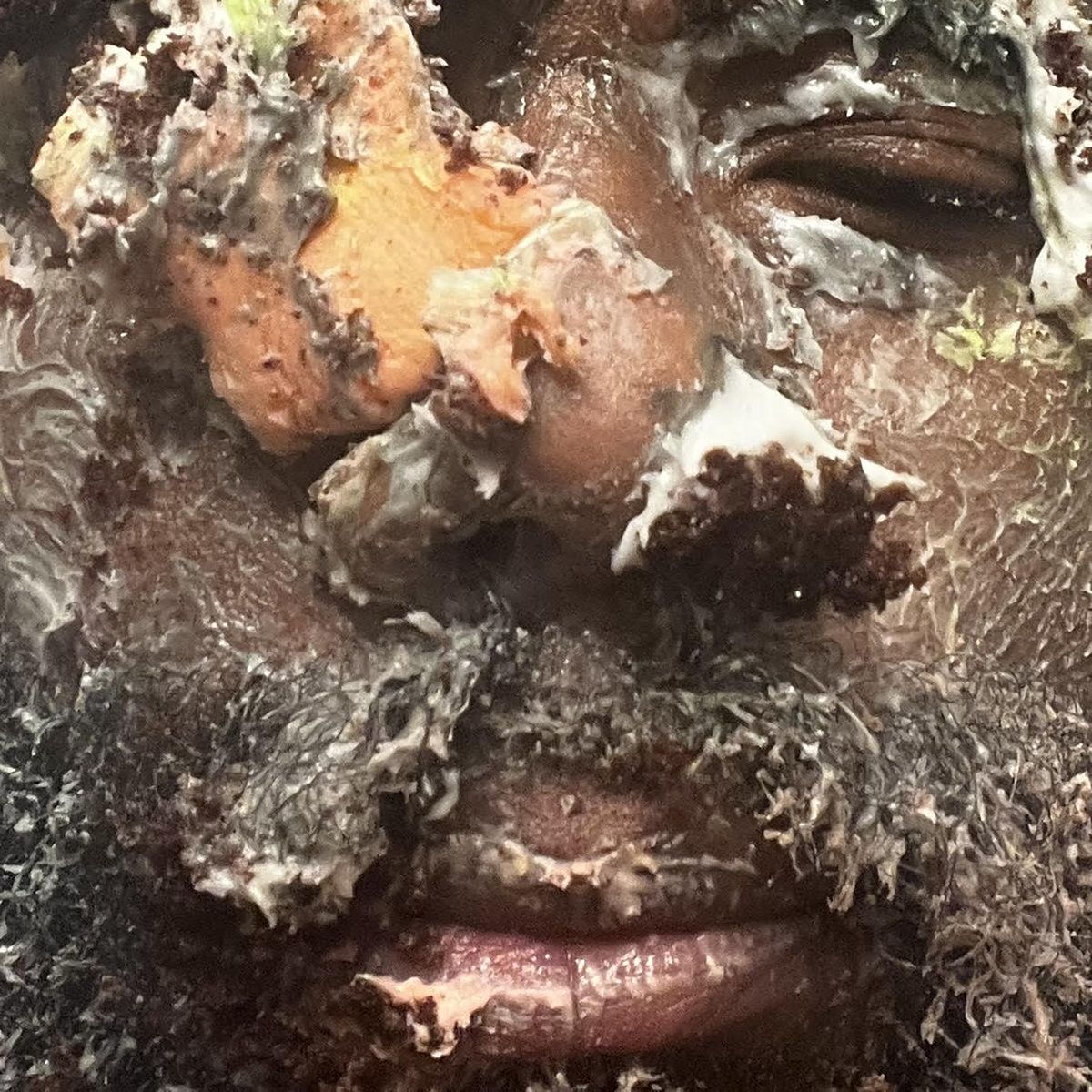 Over the summer, Antipop Consortium reunited onstage for a sold-out Brooklyn gig on a Sunday afternoon. One day earlier, the quartet–Beans, High Priest, Earl Blaize, and M. Sayyid–appeared at The Lot, an Internet radio station broadcasting out of the borough's Williamsburg neighborhood. Between those public appearances and their private rehearsing, that week marked the first time all four men had been together in the same room for some twelve years.
"They were very fruitful," Beans says about the rehearsals. "That excitement of being in the same room together actually cultivated to being on stage, having a good time."
While the road to Antipop's revival proved anything but linear ("It took three years of stops and starts," he says), the signs were there for the eventual return of one of hip-hop's most visionary groups. Pandemic isolation seemed to draw them out into virtual spaces for an Instagram Live happening back in May of 2020, as well as a segmented Weird Rap podcast interview in October of that same year. Zooms concurrently occurred between the geographically dispersed members. "Priest is actually the whole catalyst, the one who set it in motion," Beans says. "I give all praise to him for reaching out to everybody to try and get together to do something."
Priest's initial proposal had been a mixtape reminiscent of how they'd once operated over two decades prior. Each member would do a track of their own, with one or two other songs done with a full group. Priest and Sayyid, respectively, shared beats which sparked further creativity from the ever-inventive crew. The momentum led Beans to organize the material into a 17 track set that would comprise the entire tape. In the midst of this fresh artistic moment, DJ/producer King Britt reached out to Priest about the possibility of the group headlining the Blacktronika Festival he was putting together in Brooklyn at the venue Public Records. With live performances on the horizon and new recordings underway, the Antipop reunion seemed to be in full swing.
"Then the Public Records show happened," he says, "and then the configuration of the group changed."
When Antipop Consortium performed last week at Le Guess Who festival in the Netherlands, they noticeably did so as a trio–without Sayyid. Beans doesn't share the circumstances of his departure and, with a history as long and deep as theirs, the reason(s) are theirs to keep as well. For the rest of us, however, it means that there's a lot of music that will likely never see the proverbial light of day. "Now we have to scrap where we started and start over again," he says of the mixtape plans. "So it may take a little longer, but something's coming."
In the meantime, Beans has renewed focus on his solo career. Last month, he released "ZWAARD_OVER," the first single from his forthcoming album ZWAARD, produced by the acclaimed Vladislav Delay (aka Luomo or Uusitalo for this who recall the Force Inc./Mille Plateaux era). Joining Beans on the mic were his Antipop cohorts, which he insists was done entirely separately from those now-abandoned mixtape recordings. "It sounds nothing like the stuff that we were working on," he says, "I gave them the beat, prior to them hearing my verse. They actually didn't actually hear the whole thing together until we rehearsed for Public Records."
The aftermath of an otherwise inexplicable sheet-cake-to-the-face stunt documented on social media, the ZWAARD cover art seems, at first, playful but, in context, a bit more ominous. Due out in February of 2024, the contents are some of the most personal and bold of the emcee's already remarkable discography. The album's first four songs, which happen to be the ones Beans initially prepared from Delay's batch, contain revelations amid the rhymes, including a vivid depiction on "ZWAARD 2" of a particularly precarious time in his life involving time spent in SRO housing. "Everyone's interpretation will be different after they listen to it," he says of the album's front half. "As you listen further on, I came a little bit more relaxed and tried to do interesting things lyrically towards the end."
Of course, Beans' entire catalog could be defined as doing interesting things lyrically. Take his first solo album Tomorrow Right Now, which quietly celebrated its 20th anniversary earlier this year. Released via Warp Records in the aftermath of Antipop's first dissolution, the project boasted songs like "Mutescreamer" and "Phreek The Beat," which even now feel like they time-traveled repeatedly to arrive there. "I'm not mad at it," he says of Tomorrow Right Now while conceding it's been awhile since he revisited it. "I was just mad young. If I had knew what I know now, it would've been a different album."
Nowadays, Beans releases music at a pace that makes sense to his life as a 52-year-old independent artist. In addition to ZWAARD, his first full-length for his own Tygr Rawwk Rcrds since 2020's Venga, he's got another record coming next year with frequent collaborator Icky Reels and plans for other EPs. This isn't the first time he's followed a period of relative quiet with a string of new releases, but he explains the three year gap that precedes ZWAARD was not exactly idle. "I put out a lot in a short amount of time and I was a little tired," he says. "I needed to refresh and recharge, but I also needed to figure out how I could utilize the best way to put out things."
"For me, if you're hearing one finished recording, I've already have the next two or three lined up to go to just write to."
Beans' ZWAARD is due out February 16, 2024. Pre-order it here.
---

Shabazz Palaces, Robed In Rareness
On the front cover of Robed In Rareness, Ishmael Butler crouches outdoors against a wall. The hip-hop veteran wears designer sunglasses and clasps two golden chains, each with a live, large snake slithering at the other end. To his right, a disused pay phone and an electric horsey kiddie ride help set the bemusing scene of this possible mood board or speculative dating app profile pic. The nature of Shabazz Palaces often leaves listeners disoriented or at least intrigued, a testament to Butler's fly artistry. This collaborative mini-album, his first proper project in some three years, assuredly contains more than anyone will catch on a few playthroughs. Even on the surface level, the divine drip of "Binoculars" with Seattle's Royce The Choice and the caustic clapbacks of "Gel Bait" with Camp Lo's Geechi Suede offer enough clarity on where his head's at these days. Lo-fi and funky, "Woke Up In A Dream" reunites him on record with his son Lil Tracy, while "Scarface Mace" with O FINESS creeps along methodically. Wrapping things up is "Hustle Closers," a more introspective if self-preserving march shrouded in echoes and subversions.
Pink Siifu & Zurich Benjy, IT'S TOO QUIET..'!!
Pink Siifu calls IT'S TOO QUIET..'!!, his full-length collaboration with Turich Benjy, an album experience. Yet just about everything the punctuation-mad rapper puts out warrants the descriptor experiential, from the densely packed and eventful GUMBO'! to this year's immersive neo-soul reboot Leather Blvd. with B. Cool-Aid. The guest list gushes with talents known and obscure, with producers like Foisey, Harry Fraud, Swarvy, and Tony Seltzer also in the mix. Dungeon Family legend Big Rube moves the faded congregation via his late invocation on "Keith Sweat..'!!," while TDE boundary pusher Lance Skiiiwalker enhances the ethereal trap banger "Jeff Hamilton..'!!" with his potent vocal hook. But even without the assists, Siifu and Benjy deliver transfixing performances, ones that suggest their respective stars have hardly finished rising.
BoriRock & DVNTBEATS, IT AIN'T ABOUT ME
Among the handful of Boston-area rappers enjoying heightened profiles in 2023, Dorchester's own BoriRock regularly proves one well worth watching. Coming off the strength of this past spring's WAVY BULLET with Grubby Pawz and the deluxe edition of Y2K, the DVNTBEATS-produced IT AIN'T ABOUT ME gives him yet another showcase for his grimy yet self-aware rhyming. Opening strong with the cautionary "Hole In My Heart," he then rasps and roars his way over the quiet storm R&B of "Noah's Ark" and the New Jack throwbacks "Thundercat" and "You Never Get Chose." These nostalgic vibes jibe well with his knowing bars, as well as those of guests Hunnaloe and Bub Styles, the latter of whom brings something unapologetically profane to "Fuck You Mean."
---

---