Probing Bryson The Alien
+ reviews of Bobby Noble, Deathirl, and Tha God Fahim & NicoJP. This is CABBAGES #126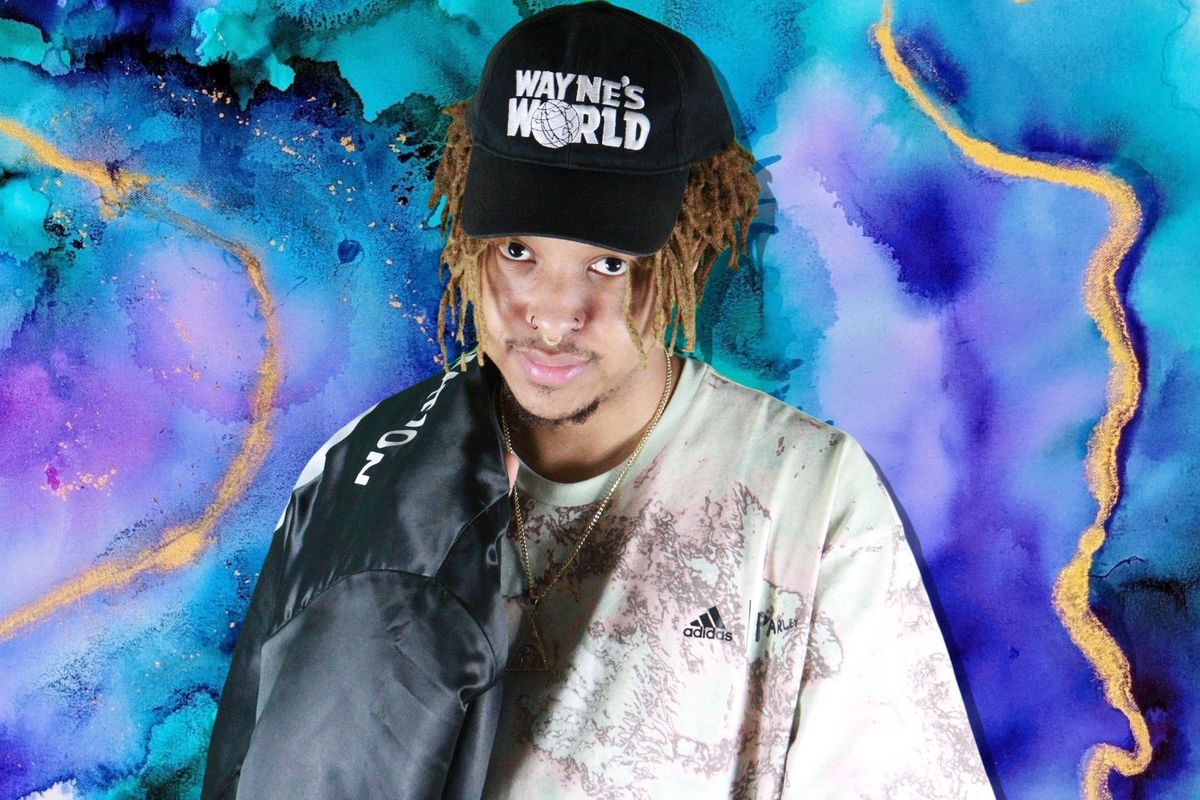 In 2014, a college kid from Toledo, OH headed to Portland, OR for an extended visit at the behest of a friend living there. Done with school, he would move to the Pacific Northwestern city the following year, taking a marked step forward in his artistic journey the way countless aspirants do. With the February release of hail mary, a project recorded in his former city but finished in his newfound home, he made his proper debut as Bryson The Alien.
"I already knew I was gonna try and come here, because I already had visited and had seen a potential that I could maybe have something going here," he says. "My buddy had moved back to Ohio and I ended up taking the lease over at his studio apartment, and that's kind of how I got here."
Before long, the leftfield emcee/producer began experiencing the benefits of joining this creative community, finding a certain kinship with his artistically inclined neighbors while familiarizing himself with Portland's independent music scene. He soon went from attending local shows to hopping on showcases and open mic night stages, building up his name along the way. But even as he became a fixture there, he sought to build relationships online with others whose approaches to hip-hop departed from the commercial or conventional, including Houston's Fat Tony and Seattle's Keyboard Kid.
That digital wanderlust inadvertently served Bryson well when the pandemic hit in 2020, shutting down and setting back Portland the way it did so many artistic enclaves. Most directly, it led to the creation of Unexplained Aerial Phenomenon, a collaboration with Los Angeles' Pioneer 11. "We were all stuck in the house," he says. "I just hit them up, like, send me something. And the first thing they sent me was 'Régine.' We kind of knocked it out of the park."
Fueled by cannabis, psilocybin, and restless energy, the space-minded trio remotely recorded the tracks that became last year's Casual Abductions. An indie-rap sleeper hit with overt extraterrestrial tendencies, the album arrived via POW Recordings, an extension of hip-hop journalist Jeff Weiss' long-running group blog, with features by some of the same people Bryson had been communicating with online pre-COVID. Among its vocal guests are cult icon Lil B The BasedGod, veteran rapper Open Mike Eagle, New Jersey rising star Fatboi Sharif, and the aforementioned Fat Tony.
Sharing the mic with so many artists of that caliber might have inclined another rapper to seize as much spotlight as possible, yet Bryson chose the group over the individual. "I didn't want to do 'Bryson the Alien featuring Pioneer 11' or vice-versa," he says, eager to make UAP its own entity with members thematically in sync. "It was perfect because we all have a space-related sort of situation."
Bryson's distinctive, perhaps even idiosyncratic, approach extends to his other 2022 efforts, which includes the solo LP The Great Adventures Of​.​.​. and its EP-length successor Pen, Wand, Or Laser Gun? with Deep Thought (fka Dama). Though each record retains its own sonic signature and can touch on disparate topics, he keeps things cohesive while following in a certain rap tradition where leaning into one's outsider status or genre unorthodoxy by self-identifying as alien proves to be an asset. "I definitely loved OutKast growing up; they kind of flirted with that a little bit," he says, further citing MF DOOM and Kool Keith as other influences or likeminded examples.
The move to Portland prompted Bryson to lean more into a otherworldly hip-hop persona. "I didn't really know it would go this way, but it just started happening once I came here," he explains. "I'm not from here, so I was already kind of an outsider. It still kind of feels like foreign territory in a way."
Then again, all of this might be more cover story rather than backstory. At times during our conversation, Bryson intimates that he could very well be an alien. He mentions the Men In Black franchise, where all manner of outer space critter has relocated to Earth to hide in plain sight. He posits whether hip-hop is the perfect medium for an artist from another planet to thrive. "I'm portraying myself this way, but what if everything I say is literal?" he says. "Depending on what you believe and how you look about the world is how you're gonna perceive my music. And depending on what you learn, what you find out, or what becomes true or not will affect the lines in the songs."
---

---

Tha God Fahim & NicoJP, Chess Moves
An erstwhile Griselda associate and a favored collaborator for Nicholas Craven, Mach-Hommy, and Your Old Droog, Tha God Fahim grows his sizeable, high quality catalog at a steady if not prolific clip these days. His first of assuredly multiple 2023 projects, Chess Moves pairs the distinctive Atlanta-bred emcee with producer NicoJP for a short albeit standout set. Strategic opener "First Move" sets the tone for what's to come, a sonically cinematic space which the rapper populates with knowing references and a hidden truths. He gets reliably raw over the electric guitar wail of "War Spear" and savvily poetic for the acoustic piano echo of "Tha Dark Saga." Instrumental outro "Jaque" airs out NicoJP's shuffling beat to reveal a layered, spaghetti western-esque richness.  
Bobby Noble, DONGO
Riding high after last year's full-length Spectacular Diagnostics team-up, the NYC-based PENPALS crew kick off 2023 by nudging member Bobby Noble in the solo spotlight. On the nerdily neo-noirish DONGO, our microphone protagonist takes to ye olde barman poet archetype with aplomb, doling out heavy pours past last call over new bap beats by SQ, Lars Viola, Gels, and Moe Sample. He serves spirited references so freely with pop culture mixers and gamer garnishes, resulting in tasty tipples like "Gray Gardens" and "Blasto Maschineguhn." Even when struck with hospitality malaise, Noble so clearly loves the act and art of rapping, confident and near ecstatic on "Cashmere Duster" while decidedly more reserved on "Ned Flanders."
Deathirl, FRESH FLOWERS FOR ILL FRUIT II
Recommendations come my way every day, but few come with the personalized co-signs of Brian Ennals and Infinity Knives, both of whom separately hit me up about Deathirl. The New Jersey-based rapper's latest operates not altogether unlike the boombox-meets-avantgarde sweet spot of the Baltimore duo's King Cobra, but it comes off less righteously furious than existentially gobsmacked. Indeed, FRESH FLOWERS FOR ILL FRUIT II subtly deceives with its big beats and boisterous bars, luring the listener in from the chemically imbalanced "Wake Up Intro" on. Before long, you'll feel deeply embedded in his unhinged headspace, nodding to the cacophonic kicks of "Solo" or bugging out to the scratchtastic pair "Giving Tree" and "Red Scare Blue."
---

---