Butcher Brown Go Solar
The Richmond, VA quintet redefine the terms of their cosmic art. +Reviews of Westside Gunn, Hester Valentine, and Tha God Fahim.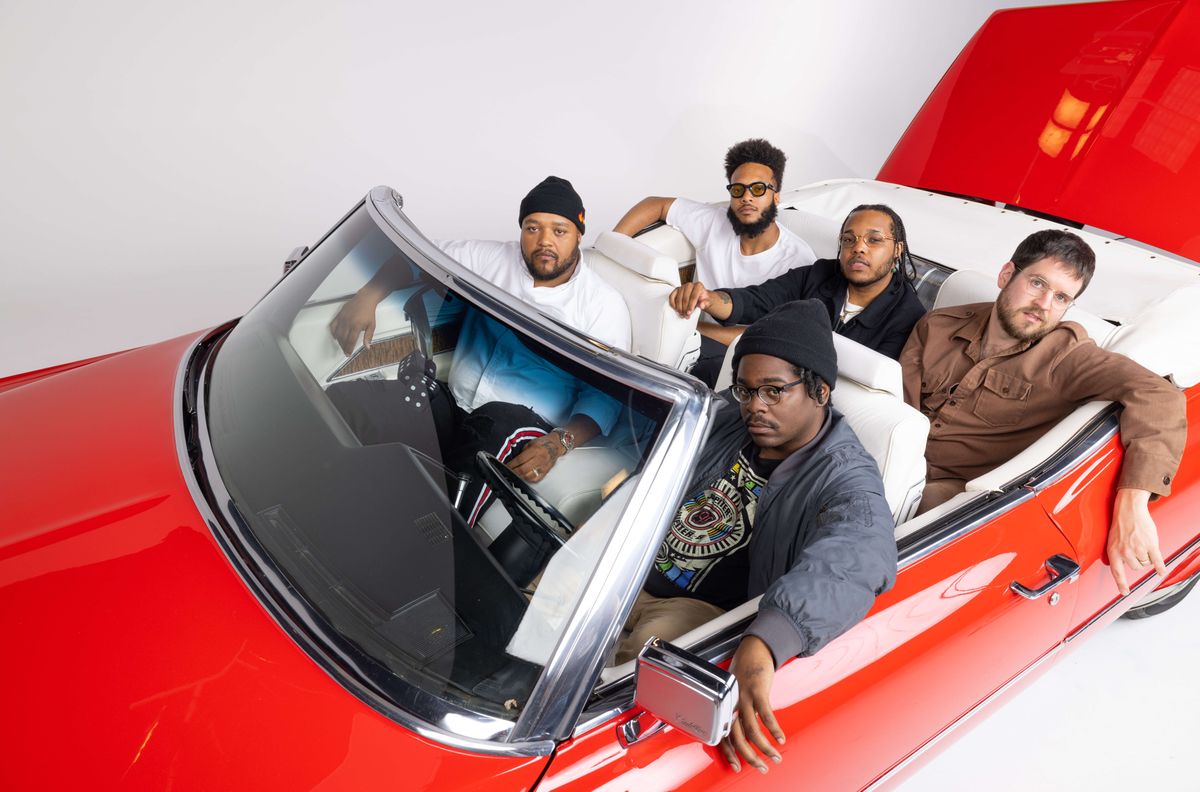 There's no one way to make a Butcher Brown song. Despite the Richmond, VA group's undeniable tightness as a unit, their creative process does not follow any obvious pattern or strict set of rules. In fact, any one of these seasoned multi-instrumentalists can come to a session with a more-or-less fleshed-out piece to present to the others, showing them their respective parts and allowing them space to develop it further. At other times, the members just get in the room and start playing until it makes sense.
And to hear trumpeter, saxophonist, and emcee Tennishu tell it, they all feel just fine about that. "It's kind of all over the map, to be honest," he says, "literally any way a song can become a song."
Producer DJ Harrison quickly chimes in to cite one of the core proficiencies of Butcher Brown as a band, adding, "we can really understand what's going on because we all understand the role of each instrument." Even with that foundational asset, resourcefulness and skill only gets you so far, as anyone who's sat through technically well-executed albeit dull sets from other artists can attest. What makes Butcher Brown's music truly hit comes from something deeper and more profound–more human, really.
"There's a level of trust that we all have, that we're open to different ideas and perspectives on the music," says drummer Corey Fonville.
Butcher Brown first emerged roughly a decade ago, an amalgam of aligned and disparate influences stuffed into a jazz context for the sake of convenience, at least at first. They named their 2014 debut All Purpose Music, a wink, or maybe a wince, at the struggle for self-definition in the face of a sound too inventive and absorbent to reside in any one genre. Yes, multiple members studied music at Virginia Commonwealth University and its Jazz Studies Program, but they are hardly bound to the tenets or perceived bounds of their education while songwriting today. "I feel like the formal training thing can hinder certain situations," says guitarist Morgan Burrs. "Just because we learn music that way doesn't mean it's the best way to communicate music."
Indeed, the group's background isn't necessarily jazz-centric, the members having previously played in all manner of ensembles. Coming out of their particular part of Virginia, the culture dictated the nature of the opportunities afforded to them. "In Richmond, you have to spend your formative years playing in front of people," Tennishu explains, detailing the competitiveness in playing at clubs, parties, and social gatherings.
"Richmond is definitely not a place where jazz really thrives," Fonville says. "We were unicorns in that sense; we were forced to operate and play with musicians at bluegrass gigs, jam band gigs, rock gigs, [and] country gigs."
"You've had three weeks to get these five gigs together, they all have different set lists, and you have to pay your rent with this money," Tennishu recalls. Yet by hustling in fluid configurations, under various bandleaders, and within myriad combos, they earned lived experiences that clearly inform the band they've ultimately joined forces to become. "All of this, Butcher Brown, what it is right now, is encased in years of professional freelance work."
Nowadays, they've adopted a term that they feel best describes their style, and on their terms: solar music. It also happens to be the name of the newest Butcher Brown album, a galvanized 17-track effort that moves beyond grounded expectations and into cosmic magnificence. "I forgot who said it," DJ Harrison says, "but it was like we played everything under the sun."
Despite being released on a jazz label, the formidable 50-year old Concord Jazz imprint, Solar Music exists without a need for conventional tags, its proprietary blend befitting the titular aim. "We're not really here to fit into a box," Burrs says. "We're just going to make what we like, and I think that type of open-ended attitude is totally reflected in how we create music."
Still, hip-hop plays no small role in its contents. Cerebrally dope rappers Nappy Nina and Pink Siifu feature on "Half Of It" and "Eye Never Knew," respectively. In spots, it harkens back to their days smoking blunts while listening to Ohbliv beat tapes. But they've come such a long way, both in studio and on stage, that they're bigger than any one influence. So now, after years of impatiently waiting through a pandemic, they get take this new material confidently into the live spaces where they so naturally thrive.
"Solar Music is like the Charles Mingus moment," Tennishu quips. "You learn the music first and then you find out if you're a musician."
Butcher Brown's Solar Music is out now. Purchase or stream it here.
---

Westside Gunn, And Then You Pray For Me
Anyone who expected Westside Gunn to tether himself indefinitely to the classic Griselda sound misunderstood the assignment. After all, the Buffalo native's ascent from HWH-meets-WWE provocateur to one of hip-hop's most formidable showmen happened in plain sight, with top tier cosigns and even features on comparatively more commercial projects. So it tracks that And Then You Pray For Me, purportedly his full-length finale, doesn't solely on even primarily consist of the SUPER FLYGOD spitting solely over Daringer and Beat Butcha productions. It's more curatorial wish fulfillment than mere victory lapping, boasting collabs with mixtape icons DJ Drama, DJ Holiday, and Trap-A-Holics and mainstays Jeezy, Rick Ross, and Ty Dolla $ign. These flexes may get the immediate attention, but Gunn's inclusion of new era signings like Boldy James, Estee Nack, and Rome Streetz show how he's pushing a future for his musical empire. Stove God Cooks in particular logs a seemingly disproportionate amount of time, all of which he puts to excellent use on the standout pairings "Babylon Bis" and "KITCHEN LIGHTS." Of course, Conway and Benny make appearances too, combining in trio mode for the Tay Keith trap banger "Kostas."
Hester Valentine & Outside House, I Can't Cut Your Hair
A Bronx native with apparent experimental taste, Hester Valentine fits in nicely with all those Karma Kids misfits. Not unlike his labelmate miles cooke, who appears here on the stuttering "Howitzer," he traffics in anxiety and self-awareness on his audacious yet concise debut I Can't Cut Your Hair. Belgian noisenik Outside House presents turbulent instrumentals that most rappers would steer clear of. Yet Mr. Valentine counterintuitively flourishes under the wonky cacophony of "Greta" and the jazz collapse of "Gelded," the latter a rather personal unburdening. He both spits and gags over "Usher," waxes profane on "Panic," and says it with his whole chest on "Blood War." After 14 exhilarating minutes, it's all over.
Tha God Fahim, The Supreme Hoarder Of All Pristine Wealth
After so many years at it, with a workmanlike manner and prolific release pace, Tha God Fahim has forged his golden lyrical ore into an efficient blade. With his longtime collaborator Camoflauge Monk on the beat, The Supreme Hoarder Of All Pristine Wealth enables the Atlanta emcee to demonstrate his unique style once more. Perhaps it's the laidback loops that so sublimely suit the Dump Gawd's freeform musings, streamlined rhyme schemes, and mantra-like repetition on "Da Bottom" and "Lone Warrior." Or maybe his ever-temperate delivery, so disciplined and tonally consistent that it approaches a monastic warrior's stoicism, holds the secret behind the appeal of "Big Money Talk" or "Crisis." Whatever the reason, he remains one of rap's most enigmatic talents.
---

---