Will Farruko (And CJ) Bring Latin Drill To The Masses?
+ reviews of the latest from Jason Griff, Hajino, and Penpals. This is CABBAGES #067.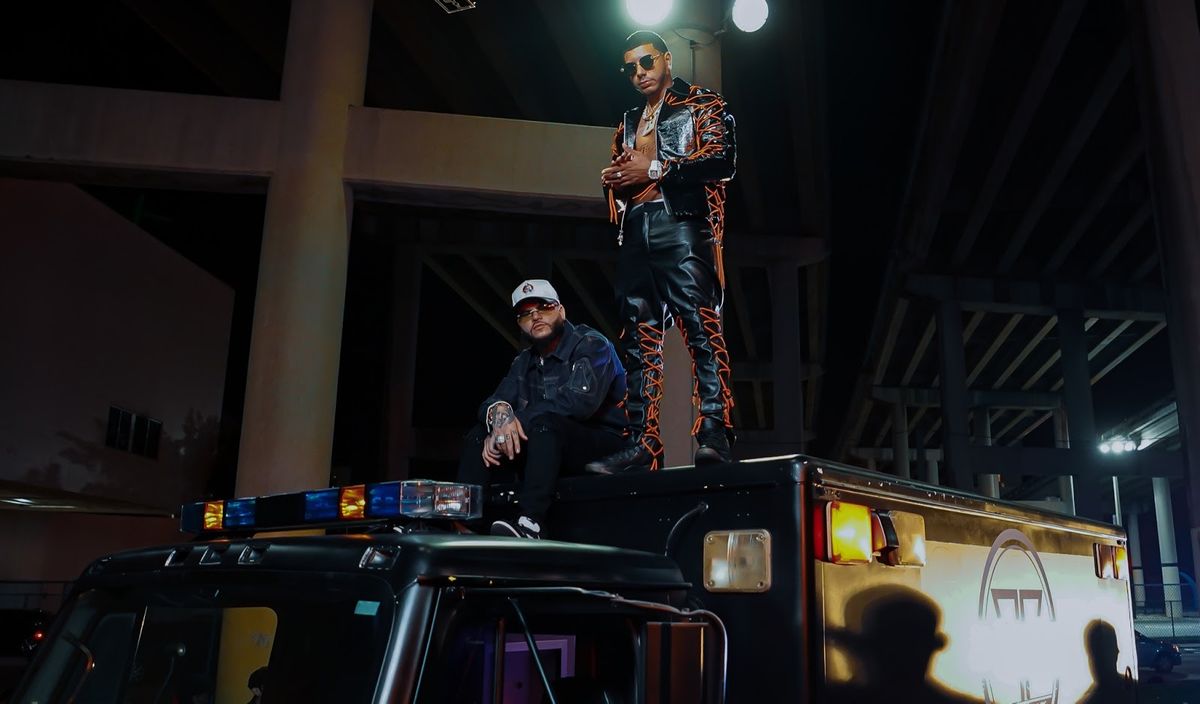 As Latin music somehow remains insulated from broad calls to remove the loaded term "urban" from the music industry's lexicon, the genre grouping still maddeningly dubbed música urbana continues to serve as the predominant Spanish-language sound. Reggaetón's evolution from underground-derived factionalism to global pop powerhouse means it still reigns supreme, as trap maintains its solid Balenciaga sneakered footing as superstars Bad Bunny and Anuel AA—alongside a thriving set of second- and third-tier acts—further mine and refine its Latin iterations. Yet much like Farruko's Billboard Hot 100 charting "Krippy Kush" remix with Nicki Minaj set the stage in 2017 for that latter genre's subsequent stateside mainstreaming, today's reggaetoneros and traperos continue to find themselves drawn towards drill.
Though precedent does exist, in Chicago, New York, and elsewhere, for Latinx drill rappers to spit that bilingual shit, the move in 2021 has largely been a Spanish-language one. Some three months back, CABBAGES published a piece that highlighted some of the most notable examples up to that point, including the high-profile J Balvin x Eladio Carrión single "TATA" as well as comparatively less visible work from Jon Z, Ovi, Tali Goya, and Tempo. These artists all seemed to happily embrace the same type of bass-warbled beats favored in Brooklyn and London while spitting more or less exclusively in their native tongue.
While we've yet to see any of these Latin drill singles touch the Hot 100, nonetheless the probability of it happening before year's end is fairly significant. And if/when it does, it will almost certainly come from a bilingual collab. This past Friday, we heard one of the first major steps towards making that a reality, via a symbolic and rather auspicious pairing. "Love 66," a joint cut from Farruko and CJ, seeks to bridge the historic hit making of the seasoned former with the "Whoopty"-derived momentum of the markedly junior latter.
Given his clout in Latin music, one might wonder why Farru chose to partner with the relatively unproven CJ, whose coincidentally passing likeness to Anuel AA and copycat criticism from Brooklyn drill gatekeepers hasn't exactly helped in the wake of his breakout moment. Some might accuse the scene elder of trend hopping here the same way others have done, quite loudly, with the Staten Island youngblood. But chameleonic change has been part of the Carbon Fiber Music boss / Sony Music Latin signee's modus operandi for years now. He pivoted almost effortlessly from the gangster-fied style of 2017's hardened TrapXficante to the oft-romantic reggae vibes of 2019's breezy Gangalee. As such, hearing him over a drill beat should elicit only mild surprise. Truth be told, he sounds entirely comfortable on the track, back in his zone as a rapper after a few years on a tropical pop tip.
There may be some small risk for Farruko in linking with CJ, but it's worth nothing that while he boasts name recognition in Latin music spaces, he lacks such attention beyond those bounds given in the U.S. to the likes of Karol G or the aforementioned Balvin. And as evidenced by the recently released singles from his just-announced album La167, he's hardly planning on a hard pivot into the sound. The relaxed dancehall hybrid "Oh Mama" connects him with Myke Towers, the Puerto Rican trapero-turned-sensation whose accelerated come-up over the past couple of years makes him the likeliest to give Bad Bunny a run for his money in the next few years. A team-up with Dominican dembow don El Alfa, "XOXA" freely plays with genre as well, with beat switches galore that speak to both artists' respective strengths.
Even if "Love 66" doesn't land Farruko his sixth Hot 100 hit and CJ his second, the single portends more to come from Latin drill. Look no further than fresh-faced reggaetonero Lunay, for instance, who opened his recently dropped sophomore album El Niño with an opening title track sporting a drill beat produced by Dímelo Ninow, Chris Jedi, and Gaby Music. Seeing how those three are existing hitmakers in the reggaetón world–for Lunay and otherwise–the ease with which they've fused drill into their portfolio bodes well for future cuts. Additionally, choosing to start a major label project this way, rather than burying it deep in a 15 song tracklisting, feels like a signficant choice. So too does Myke Towers' album from April, LYKE MIKE, which included "Balas Locas" with Jon Z  on its front half. With Bad Bunny suddenly dropping new street-centric music and recent singles from other big timers setting the stage for prospective album campaigns, we may very well experience some seismic drill reverberations over the next seven months.
---

Penpals, II: The True Sequel
Consisting of producer Squires and emcee dudes Rapswell and Bobby Noble, Penpals do that sort of indie lyrical bap that massages the temples with aromatic rap oils and soothes like chicken soup for the hip-hop soul. On a roll with projects and permutations of late, they properly follow-up their 2015 album debut with II: The True Sequel, a guest-laden red sauce rap noir. And, well, it works, ferrying ANKHLEJOHN up from D.C. for the naughty talk of "Gene Parmesan," feasting with Quelle Chris for the supper club jazz abstracted "Razor Clams," and scheming alongside billy woods for the big score of "Thick As Thieves." On the handful of cuts where they stick solely to the core trio, including the cinematic and mission-defining single "Dune Messiah," the crew stands formidable.
Hajino, How I Swing, Vol. 1
Brooklyn producer Hajino has previously made beats for rappers such as GF Anon (fka Darnell Little) and New Breed Dexx. For How I Swing, he eschews the emcees and puts some of his resplendent instrumentals up on the pedestals where they rightfully belong. Hajino draws from a range of apparent influences here, with a sample-delic taste for global grooves and a Knxwledge-esque eagerness to build by dismantling. Less adventurous producers wouldn't dare mix joy, whimsy, and damage the way he does on "Cream Soda" or "The Love She Need." Over its 2m20s course, "Juxxed" takes a journey in fits and starts, flitting between speech snippets and reverb-laden MPC thuds for something psychedelic and trembling. I got a few Roc-A-Fella chain chills off "Jean Paulo Flip" and "Reach Out High," for real.
Jason Griff, Fireside Chats
Some may recognize the D.I.Y. origins behind a few of Jason Griff's beats here, but what truly makes Fireside Chats enjoyable is what he and his rapper pals like Defcee and the late Scorcese (R.I.P.) do to transform the source material beyond trainspotting thrills. Ice cold opener "Rage!" has more in common with Run-DMC classics than anything else, with help from the ad hoc intercontinental trio of Alex Ludovico, Juga-Naut, and ex-Hangar 18 head Alaska. Wrecking Crew fans get plenty of pit fodder from their faves here, with Curly Castro filling the void with bars on the swirling "Never Iscariot" and Zilla Rocca reveling amid the refracted riffage of "Sun Will Still Shine." The rehearsal studio drum echo of "Turtles" with a characteristically breathless billy woods feature begs for a full album from the pair.
---

When Antipop Consortium dropped their reunion album Fluorescent Black in 2009, hip-hop still hadn't caught up to the avant-awesomeness of their def jams. No matter, as the single "Volcano" offered a fresh take from the refreshed futurists, with M. Sayyid, High Priest, and Beans wrecking the mic unapologetically. While the project proved to be their last as a complete unit, it's a self-made elegy for themselves that's full of life and energy.
---