The Wonderful World Of Fielded
Backwoodz Studioz's semi-reluctant R&B diva speaks on her musical journey. +Reviews of AJ Suede & Steel Tipped Dove, Jay Worthy & Kamaiyah, and Roper Williams.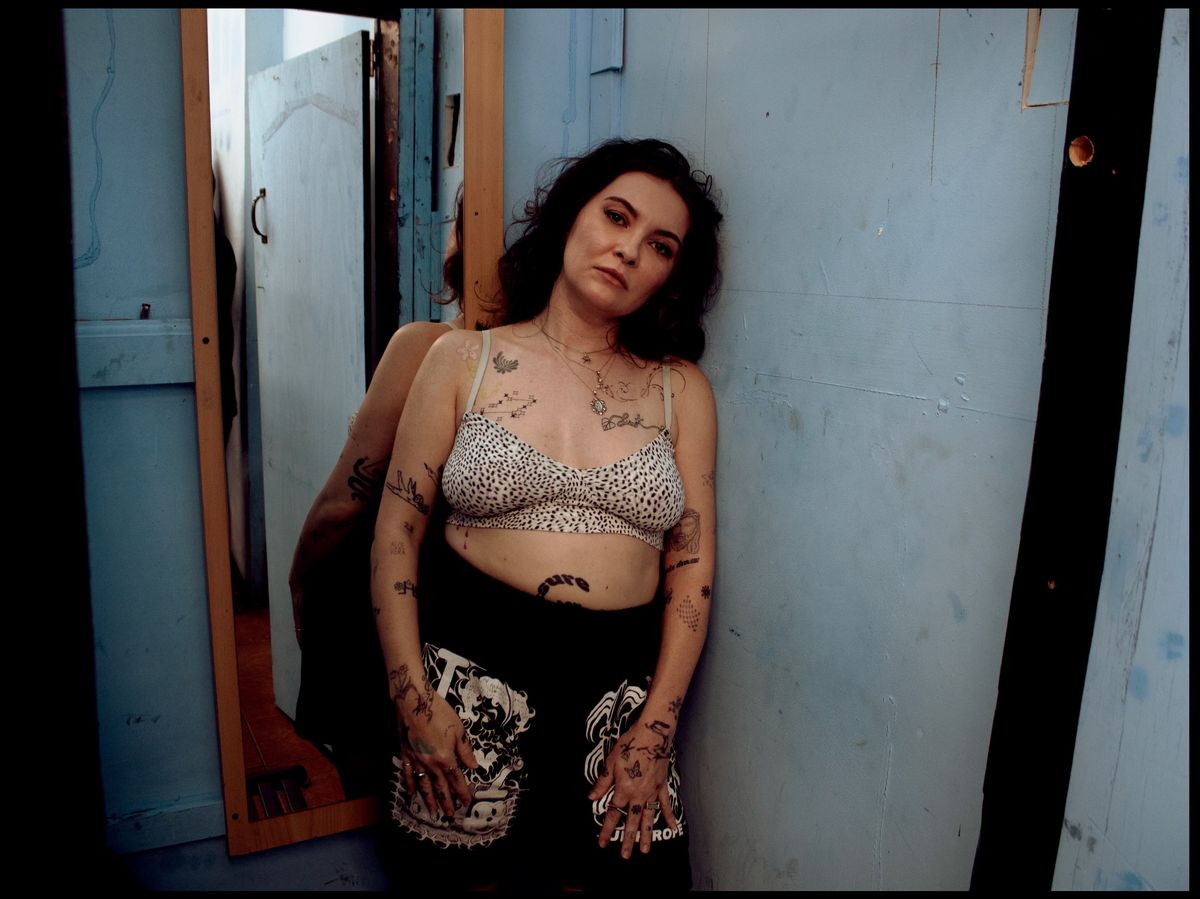 Rap and R&B have quite a bit of history together. Yet even in hip-hop's much-ballyhooed 50th anniversary year, there's been a feeling of forced separation between these sounds and their shared touchpoints. For those who remember when when Meth met Mary J., Nas dreamed with Lauryn, and Pun recruited [not Fat] Joe, there's something inextricable about the two genres. Labels such as Murder Inc. and Roc-A-Fella dropped hit singles with singers on the hook or, conversely, rappers on the verse, in a tried-and-true tradition that continues still with Offset's just-released SET IT OFF collabs with Chloe Bailey and Don Toliver.
It is within this decades-spanning lineage that you'll find Fielded, a non-binary Brooklyn-based singer signed to Backwoodz Studioz. Those tuned into the work of rapper billy woods know her voice from his solo albums Church and Terror Management, as well as the Armand Hammer efforts Haram and Shrines. On her new album, Plus One, he returns the favor, both as executive producer and via two features that respectively bookend the project.
"I'm sure that there are some people who scratch their heads at my existence even now on the label," Fielded says of her tenure at Backwoodz. Yet it was at her own prompting that she ended up there. Genuinely stunned by Armand Hammer's 2018 album Paraffin, she emailed both woods and ELUCID to see if they might have need of a singer to guest on some of their future music. Before long, she recorded two tracks with woods, "Suzerain" and the Terror Management single "Western Education Is Forbidden," which led to him offering to put out her next solo album.
Though the subsequent 2020 release of Fielded's Demisexual Lovelace introduced her to a new and growing listenership, it was far from her musical debut. A New Jersey-raised child of musicians, including a father who'd once been in a band with a young and then-unknown Bruce Springsteen, she was more or less compelled into the family business. "As soon as I turned seven, basically my dad was like, okay, you're a drummer now," she recalls, subsequently picking Nirvana's seminal Nevermind as the first LP to try and emulate. "I could still probably drum through that album to this day."
With her parents' encouragement, she recorded her first album at the age of 17 and went on her first of multiple European tours at just 18. In the mid-to-late 2000s, she signed with JEFF The Brotherhood's Infinity Cat imprint as Cake Bake Betty and formed the freak folk duo Festival with her sister. Then living in Chicago, she launched Fielded as a solo noise project driven by vocal experimentation. But at some point during the first half of the 2010s, her focus shifted towards pop and R&B. "I'm always evolving," she says, now 36 years old and some two decades removed from her initial recordings. "It's always going to be something new, because that's how I am as a person and an artist."
Creatively speaking, Plus One reflects yet another evolutionary step for Fielded. On releases like 2015's emotional Boy Angel and 2018's hip-hop influenced Drip Drip for Deathbomb Arc (then-home to JPEGMAFIA and They Hate Change), she served not only as singer-songwriter but also composer / producer. Here, however, she ceded a certain amount of that long-held control. "It felt like my inner child got ignited," she says about the process and working with behind-the-boards Backwoodz familiars like Child Actor, Kenny Segal, and Steel Tipped Dove. "I get to just sit back, listen to beats, pick the people I want to be on the songs–and hopefully they say yes. They all did, which I feel really grateful for."
Among those who guest on Plus One include labelmates Fatboi Sharif and PremRock, as well as fellow singers Felicia Douglass of Dirty Projectors and Saint Mela's Wolf Weston. "I chose to work with those vocalists for a reason," she says of the latter two. "I knew they're super intuitive people." Elsewhere on the record, "Move It Like" with A. Billi Free reunites Fielded with producer The Lasso, with whom she'd previously collaborated with on Small Bills' Don't Play It Straight opposite ELUCID. "You fucking killed it," she says, directly addressing Free. "You have a beautiful voice. You do not need auto-tune ever in your life."
Without much prompting, Fielded succinctly sums up the Plus One experience as "fun," but stresses that previous experiences making music almost entirely on her own felt more instinctually urgent than outright enjoyable. "I generally feel very tortured while I'm making a record," she says. "I am addicted to it. I have to do it for my survival."
These aren't words Fielded throws around lightly. She values and protects her mental health, having been diagnosed with bipolar disorder some years back. Highly cognizant about how that impacts her creative drive, she vividly recounts a particularly significant manic episode that sharply disrupted her musical and personal lives for eight months in the 2010s. "The most productive person I knew was myself, and also the most on-fire person I could think of was myself," she says. "Then everything came to a screeching halt. I had to move back in with my parents. I was on a heavy dose of antipsychotics; I was basically drooling."
Thankfully, returning to music aided in the rehabilitation process. She started a record label of her own called Universally Handsome, and put out Fielded's aforementioned Boy Angel as its first release. "That was when I really started writing from the heart," she says of "I Choose You," the EP's second track. "It was the first time I felt like I was really connecting deeply with my emotions, and I was able to create a narrative that made sense from beginning to end."
That commitment to personal lyrical quality gives Plus One its pulsating and organic center, a far cry from oft cynical and commercially-minded major label rap-meets-R&B moments. Naturally, that level of honesty opens Fielded up to a kind of public scrutiny that, say, her days making noise music conveniently obscured. Being the rare singer on a buzzing label otherwise populated by rappers and hip-hop producers certainly adds to that. Yet she expresses immense gratitude for the sense of community that comes with it, a community that she admits proved elusive for some time in her career. "It's been an awesome journey to be on Backwoods," she says. "It's opened my mind and opened my life in ways that have been really incredible.
"This is kind of existential, but just the idea of taking up space and this idea of being the diva, it trips me out. I'm getting more and more comfortable with it."
Fielded's Plus One is out now. Purchase or stream it here.
---

AJ Suede & Steel Tipped Dove, Reoccurring Characters
Though their songs and sessions date back to 2022, this duo affair from rapper AJ Suede and producer Steel Tipped Dove couldn't feel more grounded in the here-and-now. On "Kluxbusting" or "Sour Disposition," the Seattle-based Suede God continues prove a microphone marvel. His "Hovercraft Jeep" synthesizes Max B, Martin Scorsese, and Parliament-Funkadelic while "Dreads At The Monastery" navigates through a seamless series of cinematic and socio-political themes. Dove's Brooklyn-birthed beats on Reoccurring Characters differ from the unsettling spaced oddities of his recent Decay with Fatboi Sharif, instead evoking a noirish vibe akin to a late night jazz joint. This manifests through the molasses-paced bap of "Automatic Amnesty" and the closing time shuffle of "Cold Hue." The guest list impresses too, via the self-aware musings of Duncecap on "Excessive Celebration" and the one-two lyrical punch of Premrock and Sharif on "One Way Ticket."
Jay Worthy, Kamaiyah & Harry Fraud, THE AM3RICAN DREAM
Harry Fraud may have built his brand with Coke Boys and Curren$y tapes, but his recent work with Jay Worthy ranks among his best as a producer. Building on prior joint efforts like You Take The Credit, We'll Take The Check and collabs with Larry June and Roc Marciano, their latest levels up by bringing Oakland's own Kamaiyah into the fold. In case the Isaac Pelayo portrait of Iceberg Slim on the cover wasn't clear enough, Worthy's dogged persistence in pursuing a pimp rap path comes through in a big way on "Figueroa Fortunes" and "Money In The Bag." An irresistible homage to Ice-T, opener "9AM" brings back the essence of what we used to call gangsta rap, with both rappers hitting their stride from jump. Kamaiyah sounds her best in years over Fraud's sleek beats, dominating the breezy "Entrepreneur" and providing food for thought over the closing "Streetlights." Max B's jail phone hook on "Good Shit" only amplifies the track's The Mack-esque qualities, as does Ty Dolla $ign's casually cool chorus on standout cut "Pull Up."
Roper Williams, Infinite Victory Loop
If you happened to be looking for an entry point into the current state of the New York-New Jersey hip-hop underground, go ahead and thank Roper Williams. For this understated yet significant mixtape, the enigmatic producer assembles familiars AKAI SOLO, Fatboi Sharif, Pootie, and YL in order to better showcase these rising rappers. Beginning with the mellow yet eventful "Blow My Mind," Infinite Victory Loop revels in the awesome power of the posse cut. Williams rewards both the vocalists and his listeners with decadent and sample-laden beats, the grace of gospel enveloped in echoey boom bap for "From Lords," such dank blues quietly eroding under "Sunday Morning Funeral." Each emcee brings their own character and quirks to the function, with Sharif creeping nimbly around the smoothed-out jazz of "Palace" and YL unleashing a minute's worth of straight-from-the-dome rhyme play atop "Ricky Lake."
---

---