Jazz Drummer Gregory Hutchinson Pursues His Hip-Hop Destiny
A sideman steps into the spotlight. +Reviews of Hemlock Ernst & Height Keech, Lando Chill & The Lasso, and Estee Nack.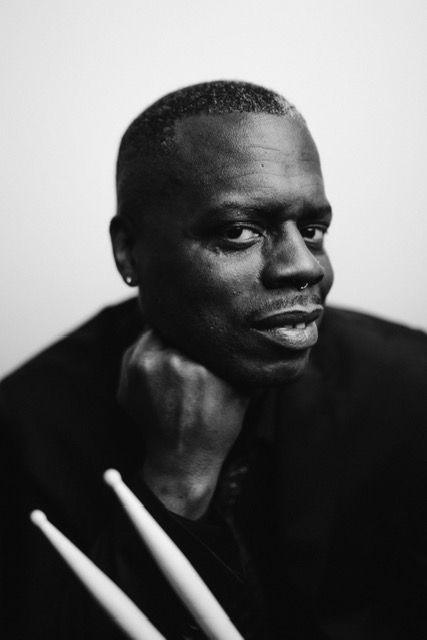 At the age of 53, Gregory Hutchinson has only just recently released his debut album, Da Bang. That word debut right there, admittedly, is a bit of a misnomer, as the world-renowned jazz drummer's discography spans somewhere between 150 to 200 releases since 1990. His credits come largely as a session player, live sideman, or ensemble member, on full-lengths headlined by everyone from Roy Hargrove to Joshua Redman to Ray Brown, and so on.
What separates Da Bang from the rest has to do with it being Hutchinson's first solo album, a term which, like debut, too feels somehow imprecise and almost unfair. After all, few artists get the privilege of releasing their first set as bandleader or central musical figure after such a storied career as his. In addition to the decades worth of recordings, he boasts an exceptional concert performance history, extending beyond the realm of jazz and into touring with Common and gigging with Erykah Badu. That very same hip-hop essence buoys Da Bang, with a lifelong inspiration that extends from his Brooklyn youth at the genre's dawn into the modern day.
"I don't need to do a jazz record because everyone knows that I play jazz," Hutchinson says. "I don't need to do a record that's me playing a bunch of drums." That formidable sense of artistic independence after so many years of proving himself behind the kit feels more than justified, as does seizing the opportunity to make Da Bang speak more about him and his passions than putting on some technical workshop. "I wanted to make a record that makes your grandmother dance, that makes your kids dance, that makes your wife [and] your dog dance."
To Hutchinson's credit, Da Bang thoroughly backs up those full-throated intentions. Recorded with his longtime friend Karriem Riggins, a fellow jazz drummer and hip-hop producer who previously worked with J Dilla and Madlib, the album exudes hip-hop vibes, broadly incorporating boom bap structures and neo-soul sonics throughout its 15 tracks. "I've known Karriem since he was super young," he says. "Every gig I left, I got him on the gig. I played with Roy Hargrove; when I left, I got him on the gig. I played Ray Brown; when I left, I got him on the gig." Their relationship has been mutually beneficial, to be sure, with Riggins making the connection with Common to get Hutchinson in the live band for the Like Water For Chocolate tour dates.
"It's a different thing when you have a producer who actually plays the instrument and knows how that works," he says of recording with Riggins. "Dilla was great at that, Black Milk is great at that, MF DOOM was great at that. So I take my influence from all those great guys and then bring my own flavor to it."
Among the guests on Da Bang are The Roots' James Poyser, who contributes to "When They're Gone," and Vernon Reid of Living Colour fame, who joins in on "My Turn Now." The diversity of Hutchinson's chosen collaborators mirrors the breadth of his own musical upbringing in New York. As a child of Caribbean parents, it began with reggae and extended into an admiration for the likes of hip-hop stars The Furious Five, Busy Bee, and Kool Moe Dee. "The groove made me gravitate towards that, and the freedom in how you can shape the groove," he says of this pivotal period in music. "At the same time, I was infatuated with this nonstop way of playing the beat." Before long, he came under the tutelage of Marvin "Smitty" Smith and, a bit later, Justin DiCioccio and Kenny Washington, all drummers who educated him in the ways of jazz.
"The first time I heard Leaders of the New School or the Tribe stuff with Q-Tip– one of the all time great producers–my mind was blown," he says. "And then The Pharcyde with Dilla? Nobody knew who Dilla was. It felt different than 'Rock the Bells' and all that. The drums moved differently."
All of this and more informed Hutchinson's playing philosophy. And when it came to making Da Bang, his strongly held opinions naturally came to the fore. "There's something about the bass drum and snare drum that, when you hit it the right way, people move," he says of his approach. "When I'm playing to 5,000, 10,000 people, you feel immediate feedback." In conversation, he nimbly mind-maps his way from Art Blakey and Elvin Jones through John Bonham ("'Moby Dick' is a jazz drum solo"), expounds on rap's island roots ("Reggae music is the essence of what hip-hop is."), and extolls the virtues of a dancefloor friendly drum beat ("That shit is not the same in swing–no offense.").
Currently based in Rome, Italy, Hutchinson acknowledges how much midlife changes like his divorce impacted the making of Da Bang. "This record is just my inner feelings of how I felt as a man trying to develop just being better," he says. "I'm not perfect. I made a lot of mistakes." With a desire for self-reflection and self-improvement, he would sit in the park every day and write his thoughts down, later putting rhythms to the words and making the feelings more visceral in the process. That also helps to explain why, in addition to guest singers Leona Berlin and Samora, he's taken this opportunity to step to the mic himself on multiple tracks.
Yet even beyond that, perhaps the most dedicated love letter to hip-hop on Da Bang comes via its skits. "I'll be honest," he says. "I smoked a joint one day, went in a room, and I was like, I'm going to tell a story about what happens when you have friends that fuck over other friends." These two throwback moments to what once were rap album fixtures find Hutchinson being playful and poignant about relationship drama. Even still, he leaves his listeners to wonder how much of it might actually be true.
"I'm a jokester," he remarks coyly. "I like to have fun."
Gregory Hutchinson's Da Bang is out now. Purchase or stream it here.
---

Hemlock Ernst & Height Keech, The Fall Collection
If coke rap is a spectrum–and it most certainly is–with Pusha T at one end effusive and luxuriating in a powdery glow, then somewhere further down that white line in the opposite direction lives Hemlock Ernst. His is the survivor's perspective, conveyed both in retrospect and memoriam across a good portion of his latest album The Fall Collection. Having previously built with Madlib and Kenny Segal, here the North Carolina native teams with Baltimore's Height Keech, whose beats recall Rick Rubin or Blue Chips-era Party Supplies in the best type of way. A departure from Keech's nerd-bait collab with Darko The Super, his rock-out productions for "40z On The Front Porch" and "Suspicious World" feel even more massive under the weight of Ernst's browsweat reminiscences. That sonic heft makes moments like "Eulogy" suffocatingly solemn, but also helps soften some of the album's relationship-based blows and self-effacing guilt trips.
Lando Chill & The Lasso, Casting Spells
One of the more outré producers in hip-hop today, The Lasso operates by his own rules, as evidenced by his engrossing full-length collabs with adventurous emcees ELUCID and Psypiritual. Compellingly contemplative rapper Lando Chill pairs perfectly with his sonics, evident on prior albums Black Ego and The Boy Who Spoke To The Wind. This new joint EP continues their captivating work with a half dozen tracks conceived during respective bouts of relationship collapse. Personal woes feel most prevalent amid the silky yet melancholic funk of "How Do I Delete You Off My Phone" and the fluid psychedelic soul-bap of "Casting Spells." Lando majestically expounds on the existential for the woozy and warbling "I Wrote My Own Obituary" while Lasso submerges listeners in ambient bleeps and bass pulses on contemplative closer "If You Feel Different."
Estee Nack & Mike Shabb, Live At The Tabernackle
Even with one of 2023's best albums, the Griseldan outing Nacksaw Jim Duggan, still gleaming like a championship belt, Estee Nack has kept up an unreasonable release pace. Following the self-produced #MINIMANSIONDUST Vol. 6 and .357 with Machacha, plus the Nicholas Craven-helmed Gia... À La Carte EP with Raz Fresco, the Dominican dynamo locks in with Mike Shabb for the mischievously named Live At The Tabernackle. The Quebecois artist's moody, sample-centric beats suit the Massachusetts rapper's narco snark and snarl, meshing particularly well on Wu-esque "BLACKBABIES" and trop-jazzy "DOMINICANBEACHES." Unlike some of his grimy competitors, Nack's unapologetically violent lyricism ascends to high art, his street poetic vision laid out with consistent candor on "STOMPTHEYARD" and the drum-free "THUNDER." Fearsome friends and formidable familiars like Raz Fresco and Stove God Cooks pop in with their own distinct voices too, though Rome Streetz's "HORACIO" verse in particular demands a rewind.
---

---