From Little Rock To H-Town, Kari Faux Makes Southern Rap
The Arkansas native pays homage to Southern rap. + Reviews of Kassa Overall, Goya Gumbani, and Estee Nack. #137.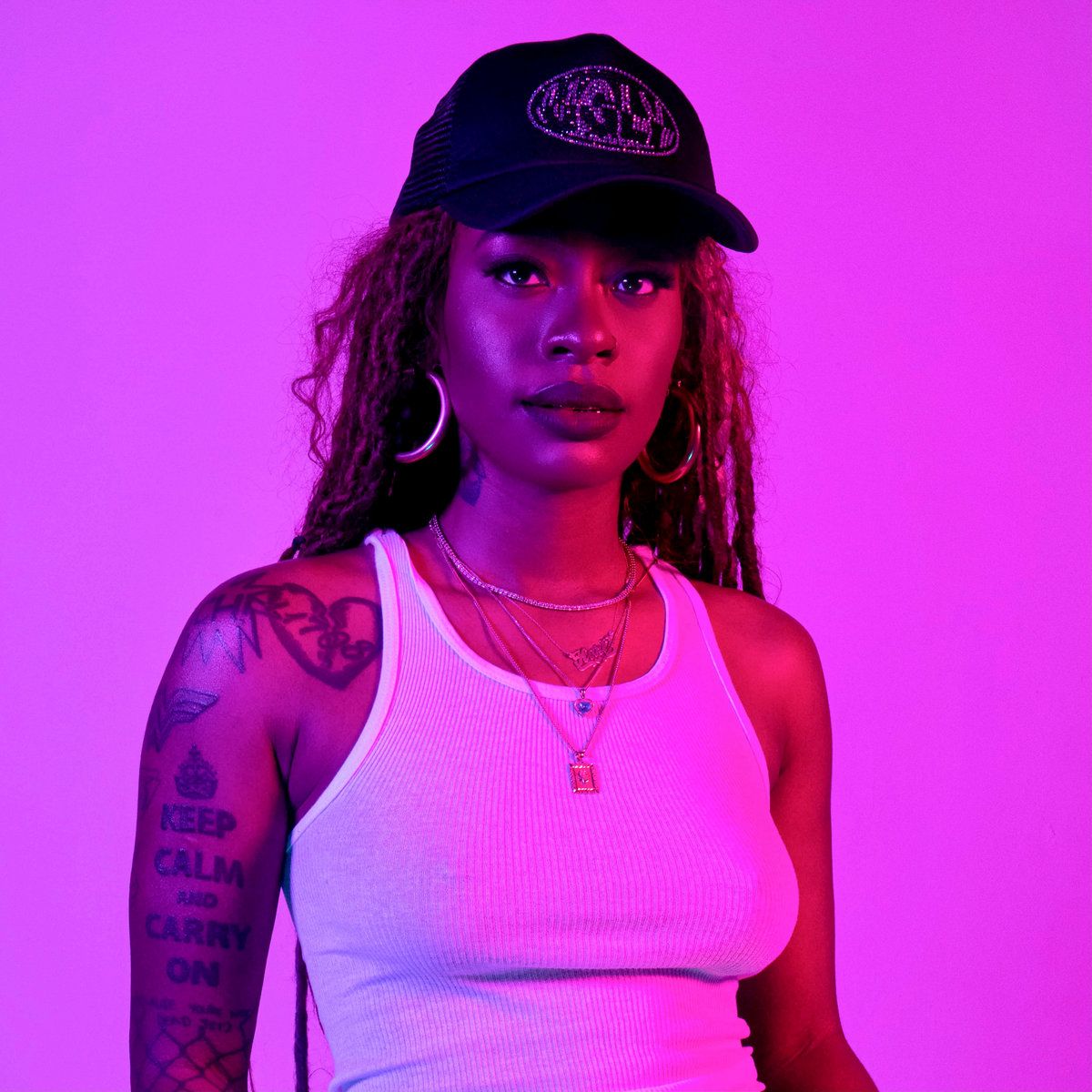 "Most people don't know where Arkansas is on a map," Kari Faux says with a laugh. If they did, this Little Rock native suggests, they wouldn't find it all that surprising that the rapper would take up residence in Houston. Those who know the 30-year-old artist from her years in Los Angeles or even from her peak pandemic mixtape Lowkey Superstar surely had to notice the Southern accent present in her immensely confident delivery.
Being Texas-adjacent as a youth meant early and frequent exposure to the state's hip-hop scenes and sounds, along with those of other geographically closer ones like Memphis, a mere two hour drive from her hometown, and those further afield such as Atlanta and New Orleans. Born into the crunk era and coming of age as trap exploded into the mainstream, Faux's musical education came from a wide region of America that had long had something to say, and was finally able to say it loud enough for all to hear. She cites numerous acts that contributed to this rap curriculum, including legends The Geto Boys, Scarface, and Devin The Dude.
"This entire album is about how Southern rap has influenced me and how it inspired me to even wanna start making music," Faux says of her brand new full-length REAL B*TCHES DON'T DIE!. Part homecoming, part homage, this full circle moment represents a formal break with the version or perception of her as an L.A. artist and a reclamation of her heritage. One can hear how this proverbial change in latitude has impacted her lyrics, her delivery, and her songcraft, via the sex positivity of "ME FIRST" or the bundle stacking of "H-TOWN."
While she freely admits to immersing herself in Houston in all its culture and glory, Faux is quick to clarify that it isn't the only city she's showing love to on her latest work. "For me, the beauty in Texas rap, and Southern rap in general, is that it's not necessarily about the speed in which you say things," she says. "It's more about choosing your words carefully and precisely enough to create something–a picture or a feeling–and being able to give that to the listener in the smallest amount of words or in a slower, laid back, kind of relaxed tone."
To this end, Faux recruited a handful of Southern rap notables to aid in her efforts. Mississippi's own Big K.R.I.T. features on "TURNIN' HEADS," a braggadocio-laden cut that finds both artists operating effficiently at noticeably different tempos over a rubbery funk rhythm. The aforementioned Devin The Dude turned up–beers in hand–for "DOG," a deceptively mellow track that plays out like a friendly if heated debate between the female and male rappers. "He just went in there and just did his thing," she says. "Watching him work was really cool because you could tell that that's what he does: he raps for a living!"
The late Gangsta Boo of Three 6 Mafia infamy appears on one of the album's highlights, "WHITE CAPRICE," their first collaboration after knowing one another for nearly five years. In conversation, Faux speaks of her in present tense, a subtle yet respectful and reverent nod aligned with the grief themes woven throughout the album. "She's always been super supportive, just always shown love, always been super sweet," she says of their relationship.
Furthermore, when Gangsta Boo pulled up to record "WHITE CAPRICE," a song Faux personally selected for her, she had the chance to witness the veteran rapper's creative process firsthand. "She's old-school; she had a pen and paper," she says of their tequila and smoke fueled session. "She actually asked me to come in the booth with her and just sit with her while she recorded her verse. It was great."
Interestingly, Faux waits until the REAL B*TCHES DON'T DIE! closer to fully address what's been weighing on her most. A heavy yet profoundly hopeful song, "BORROWED TIME" grapples with loss and meaning from a place of lived personal experience. "That song took me the longest to write–and it was the last song," she says, indicating it was a months-long effort. "I had knew that that song was going to exist at the end; it just hadn't been made. I knew that we had to get the right sound for it."
Given that it address people who were close to her, Faux admits that she's not always capable of listening to the track–and thus, the album–all of the way through. "Grief is not like a one-and-done thing," she says. "I can have my moments where I'm feeling like this and I'm gonna allow myself to feel how I feel and then I have to keep living and keep trying and keep showing up and doing the best that I can."
Sloughing off the party vibes and afterparty moods of the preceding material to engage directly with her feelings, the timing of "BORROWED TIME" on the tracklisting is, not surprisingly, deliberate. "As much as this album is a homage to the South, it's also a story about feeling like you that bitch and you on top of the world and you just got paid, you don't give a fuck–and then, in the middle of the week, you're fucking crying and the world is shit," she says. "That's life, its ebbs and its flows."
---

---

Kassa Overall, Animals
Enigmatic yet affable, Kassa Overall has spent years bobbing and weaving seamlessly through jazz, hip-hop, and other genre circles as drummer, producer, vocalist–you name it. If you've never experienced him in a live setting, you'd be justified in wondering how names like Lil B, Francis & The Lights, and Vijay Iyer all fit into his universe. Yet his Animals LP appears to reflect this recondite artist's brain, synapses splendidly frenzied and resplendently aflame. "No It Ain't" vamps to a familiar tune passed from Marvin to Meth, albeit with added 808 bump, while "Maybe We Can Stay" plucks something from the ether that enlightens Kassa's lithe lyricism. Danny Brown and Wiki navigate nimbly through the spurts, gurgles, and sighs of "Clock Ticking," a playful bout of boom bap minimalism. Theo Croker's formidable trumpet echoes through both the frenetic "The Lava Is Calm" and the Nick Hakim assisted groover "Make My Way Back Home."
Goya Gumbani, When The Past Bloomed
A known quantity among discerning hip-hop heads, London-based Brooklynite Goya Gumbani has been on the verge of breaking through for some time. His work with producers like Kiina, Subculture, and Joe Armon-Jones positions him in a sorta-leftfield jazzy pocket, yet his agile delivery and intelligent lyricism suits all manner of beats and musical beds. This is so evident across When The Past Bloomed, a taut EP where he jibes with August Fanon's limber funk ("Cloth & Polish"), droppedmilk's sliced-up summery soul ("TwentyThird"), and Cleto Maréz's bass-heavy drift ("Till Then"). The likeminded Pink Siifu drops in for the doo wop deconstruction "Hardaway," a closing affirmation of blessed life amid ample weed smoke.
Estee Nack, Nacksaw Jim Duggan
Last year's Westside Gunn outing Peace "Fly" God quickly revealed itself to be a backdoor pilot for two next-gen Griselda rappers–Stove God Cooks and Estee Nack. The latter of these now receives his first proper album under the Buffalo artist's executive imprimatur, a full-length comprised of ambitiously odd beats and  unshakeably authentic street themes. The supremely gifted Lynn, MA spitter proudly pushes his hustler's code and Dominican heritage via bilingual references and nods, as on "ANGELDIOR" and "WEMADEHISTORY." Camoflauge Monk's "GREENCELOPHANE" loops a relentness refrain behind some highly volatile coke rap, while Conductor Williams' "BONDUCTORWEHAVEPROBLEM" offers a brutal barrage of breathless bars over bass, adlibs, and noise.  
---

---