Kid Koala Wants To Play A Game
The master turntablist discusses his new LP. + reviews of Alaska & steel-tipped dove, defprez, and OG Aboriginies. #134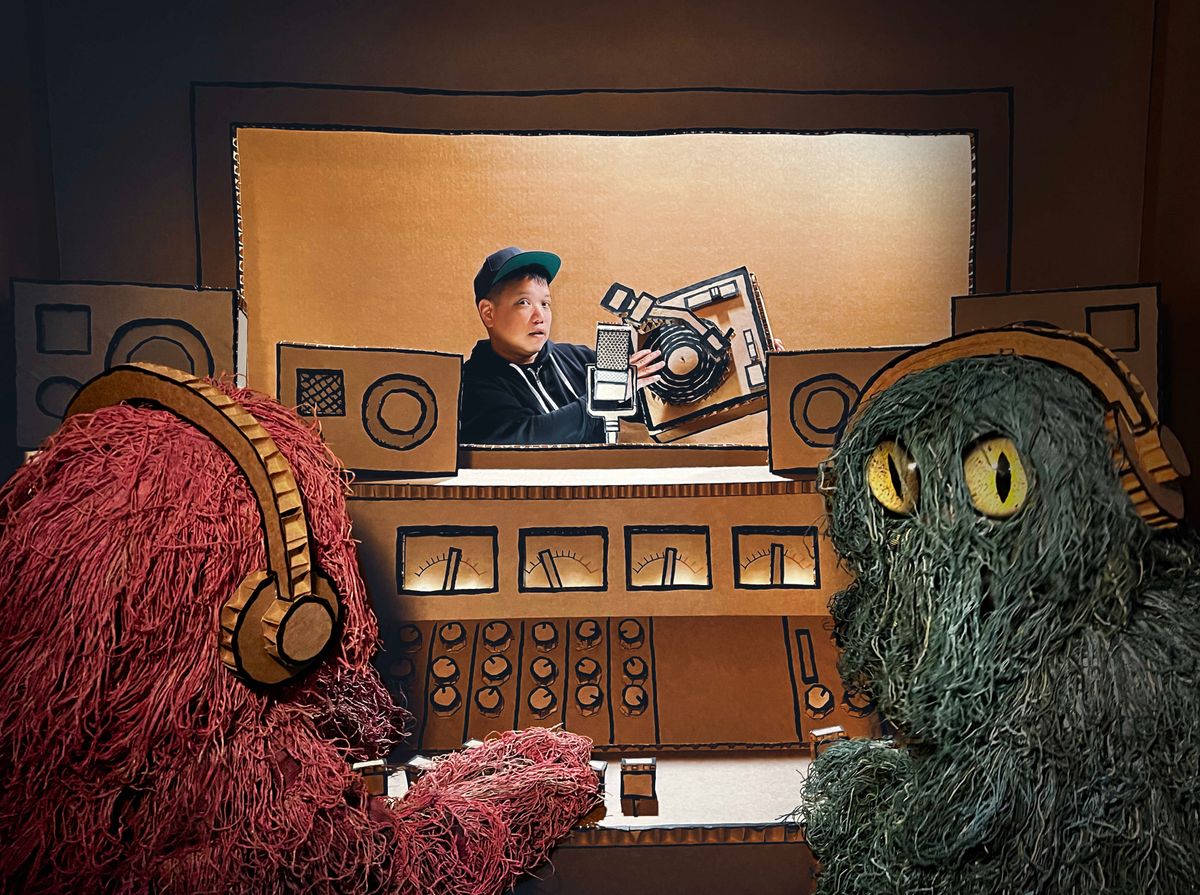 Back before dazzling in Deltron 3030 and grooving with Gorillaz, Kid Koala got some real world creative experience courtesy of Money Mark.
The Beastie Boys collaborator tapped this young Canadian turntablist to join his 1998 tour in support of Push The Button, an eclectic and popwise departure from the preceding lo-fi funkfest Mark's Keyboard Repair. Despite lacking any official releases at the time, the DJ born Eric San had built a respectable cult following for himself among scratch aficionados, something he demonstrated nightly with extraordinary dexterity and chaotic grace with short sets ahead of those of other opener Buffalo Daughter. During Mark's headlining performances, he would sit in, tasked with incorporating his untraditional instrument into the live ensemble. Compared to his solo time behind the proverbial wheels of steel, the job presented some considerable challenges.
"I was like, I guess I could just scratch like some some real subtle percussion stuff underneath and keep the beat moving and then play off the drum machine," San says of tackling the balladic single "Cry" during rehearsals. "Eventually it was more like, no, you should try to find some way to bring what you're doing, but then actually support the feeling of the song. I actually ended up being delegated the bass part, so I learned how to pitch the descending baseline off the turntable–and Mark really liked that."
Now based in Montreal, San sees similarities, or at least parallels, between the work of his mentor Money Mark and the just-released Kid Koala album, Creatures Of The Late Afternoon. "I would say this record [is] completely inspired by Mark's Keyboard Repair, inspired by Check Your Head and that era," he says. "There would be the hip-hop tracks, and then there would be these instrumental things that went to other places, and all kind of work together in a fun adventure."
Fans of his those cited efforts will certainly find some of that hip-hop spirit embedded in this new project. Yet its self-sampling ethos helps disrupt any convenient genre categorization, having recorded the music himself in studio only to deconstruct and radically reconfigure it with the turntables as his choice of primary instrument.
"Sometimes, it's more like an architectural thing," San says of his approach. "It's something about enjoying the process, that you're not actually gonna see the whole thing right now. It's gonna slowly come into focus, like building crazy things out of Lego or making records out of tiny bits of audio."
With that in mind, San likens this full-length to his debut, Carpal Tunnel Syndrome, released via Ninja Tune back in 2000. "Albums like Carpal or Creatures, it's a little bit more like a radio play in the '50s or something," he says. "This is a whole kind of universe with sound effects and characters and stuff. If you choose to go into that, hopefully you'll get a kick out of it."
The idea for Creatures Of The Late Afternoon was born from a mind-mapped mutagenic mix of his affinity for 1950s monster movies and spending quality time with his daughters, watching nature shows about endangered animals and then painting them together. "I started drawing them with musical instruments, because half my brain always goes to music regardless," San says. "All of a sudden. I was surrounded by all these canvases." Eventually these stick insects and mantis shrimp became characters in an original board game, with the board built into the design and packaging of the vinyl record.
"I was in the studio trying to give each one of them a voice, so to speak," he says, pondering how a sloth might speak or write a line for fuzz bass. "It was a fun jumping off point to, to play around in the studio." Not surprisingly, he intends to develop Creatures Of The Late Afternoon into a stage show like his Chaplin-esque The Storybook Mosquito.
Kid Koala fans will know that gamification and world-building play a substantial role in the way San approaches his art. Versions of Some Of My Best Friends Are DJs, which celebrates its 20th anniversary this fall, came with a chess board; several years later, he helmed the soundtrack for 2017's breakdancing themed video game Floor Kids. "It's just a tactile thing, a presence thing," he says of his attraction to gaming. "You actually have to play a board game."
There are practical reasons behind adding this playable component to the Creatures Of The Late Afternoon experience. "Vinyl is a great format for storing audio, but I realized I only had this much per side," he says. "What can we do with that extra band of time? That's the reason I said, let's make it more interactive." Beyond the record's locked groove lies the game audio, inspired in part by his time working on Floor Kids. "The devs were like, you need music for the menu. You need music for the option screen, you need this for that. So all of a sudden I was like, what if there were moments in the board game that had music? How do we make that augment the experience?"
Above all, San clearly seems to be having a great deal of fun. If not, he certainly wouldn't have named his album Creatures Of The Late Afternoon. "It resonated with my late night schedule in the studio," he says with a laugh about the punny title and how it speaks to the lifestyle of being a daytime dad and a nocturnal artist.
"Even if I'm up early these days, which I am, I don't think I'm fully awake awake until the late afternoon."
---

---

Alaska & steel-tipped dove, The Structural Dynamics Of Flow
Pairing a half-lifed Atoms Family element with one of indie rap's most inescapable boards-men might not seem like an obvious choice to some. But as Alaska's fans know, the vet only seems to have gotten better (and embittered) with age. Unlike some prior projects that boast those double-time flows, the erstwhile Def Jukie opts for a more deliberate, less acrobatic pace for this steel-tipped dove set. His intentions become alarmingly clear before long, as he elucidates the symptoms of life under the sickness of late capitalism on cuts like "Pack A Blunderbuss" and the chilling gentrification explainer "Push It Along." Unobstrusive yet alluring, Dove's productions provide a sturdy pulpit for his rapping cohort to ideologically thump, particularly on "Fuck George Lucas" and the screwed blues trip "Monsters Of Imbalance." When Alaska points his accusatory finger inward, the album peaks.
defprez, It's Always A Time Like This
Lyricists with respective flows that both ease and engage, Chicago dudes Defcee and CRASHprez are impressive enough as soloists. As a duo with a conveniently mashed-up moniker, defprez accentuate one another's positives with authentic chemistry and friendly competition. Produced entirely by knowsthetime, It's Always A Time Like This tunes things to the right frequency between subdued and slapping on cuts like "Always" and "Wake." When the music shifts towards aggro, specifically on "Keep That," the rappers adapt and thrive. Conversely, they maintain enough energy for the uneasy and reflective "Endless." It gets dark and real on "Cold Wax," its stark, beatless mix of guitar wail and escalating rap narrative compounding the stakes. Instrumental players Jamie Breiwick and Dillon Treacy send the guys off properly on the aggrieved closer "Deserve."
OG Aborigines, The Man With The X-Ray Eyes
Another PENPALS permutation, OG Aborigines combines emcee Rapswell with beatsmith SQ for a lean sub-unit within the New York crew. For The Man With The X-Ray Eyes, the pair pay homage to Roger Corman's cult catalog with their own presumedly low-budget ethos. This loose, sometimes kitschy effort takes evident delight in its schlocky setting, with SQ enjoying the hell out of himself on psyched-out diptych "Very Groovy Boots" and "The Trip." Rapswell rises to the cinematic occasion as well, spitting with rapid intent on the title track and the standout "Pootie Tang." As per usual with his features, Zilla Rocca drops in with another marvelous series of bars for the consequential "Death Race 2000," while Bobby Noble quenches lyrical thirsts with his "Cask of Amontillado" verse.
---

---