Kool Keith, Still Funkin' Heads Up After All These Years
The rap legend talks about Black Elvis 2, his production preferences and pet peeves, and a lifelong love of funk.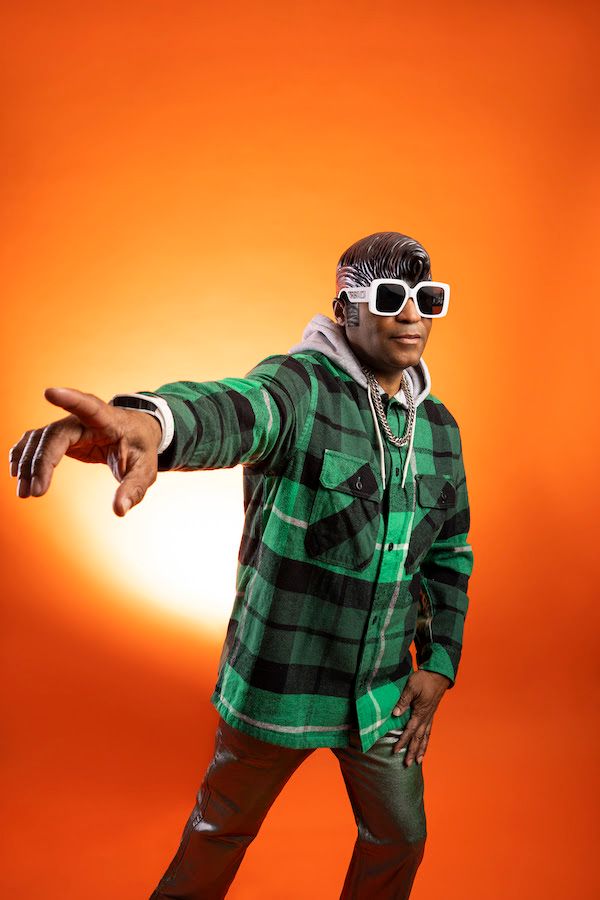 In a deluge of nostalgia related to hip-hop's 50th anniversary year, one of the starkest observations is how few of its pioneers remain active. Though festivals like LL Cool J's Rock The Bells and any number of institutions' commemorative programming have brought some dormant greats out of the proverbial woodwork, either to perform or at least appear and comment on this auspicious occasion, most stay away from the studio and the demands of the new music industry.
Never one for early retirement, the ever-prodigious Kool Keith offers a unique  perspective that speaks to his uncommon position in hip-hop. A rare breed in an industry mostly fixated on the next big thing, he endures and even thrives with a workmanlike ethos that often yields multiple albums in a single year. Taking a longview of his nearly 40 year career, beginning with the Ultramagnetic MCs, both that drive and his idiosyncratic vision continue to serve him well.
"When we was coming up, we had the albums The Four Horsemen and Funk Your Head Up, but we stuck in our lane," Keith says. "Most of the stuff from that era was more on the happy side. Everybody besides us probably was happy except Marley Marl."
From his 1980s beginnings with that groundbreaking group through his prolific, highly collaborative, and ongoing career as a solo artist, Keith has enjoyed a status somewhere between vital insider and defiant outsider. His disinterest and, at times, disdain for how others in hip-hop operate are inextricably tied to the way he operates, from the cutting disses on his records to his conversational remarks on what differentiates him from generational peers.
"I was funky from the beginning," he says. "Everybody was being jazz, little xylophones and stuff like that, upright bass. I wasn't really following all of that stuff." While many from hip-hop's Golden Age and its subsequent boom bap successors turned to the likes of Blue Note and Prestige for inspiration, Keith expresses a near-willful ignorance of the genre. ("I didn't know about Ron Carter. I wouldn't collect stuff from Don Sebesky.") Instead, he proudly proceeds to rattle off a litany of 1970s and 1980s funk acts whose records he owned, names like Brass Construction, Heatwave, Ohio Players, and Undisputed Truth. "That inspired my music since day one, since I was with Ultra. Those sounds rubbed off on me."
The springy and sexualized thread of funk carries through a great deal of his material, a signature of his turn-of-the-century effort Black Elvis/Lost In Space and its long-awaited 2023 follow-up, Black Elvis 2. As righteously romanticized as 1996's Dr Octagonecologyst with Dan The Automator remains, Black Elvis was Keith's first and only album–including his seminal work in Ultramagnetic MCs–to reach the Billboard 200 charts, debuting at No. 180 in the summer of 1999. Unlike its predecessor, his sole full-length from Ruffhouse / Columbia Records primarily featured Keith at the production helm, working with "Kut Masta Kurt" Matlin under the Nightcrawler pseudonym on a number of its tracks and featuring guests like rapper Black Silver and funk legend Roger Troutman. In short, it became a hallmark of his career, a project that all but defined him as an artist for many listeners, both then and now.
"My work ethic couldn't sit and wait," Keith says of the just-released Black Elvis 2. Arriving nearly two and a half decades later, this time for the indie Mello Music Group, it marks the latest in a years-long string of sequels–some authorized, some less-so–that capitalize on Keith's beloved originals. Given his documented dissatisfaction with 2018's Dr. Octagon reunion record Moosebumps: An Exploration Into Modern Day Horripilation, it makes sense that he'd exert greater control over this long-awaited return to one of his most admired rap monikers.
To that end, one of the most prominently featured collaborators on Black Elvis 2 is Marc Live, a fixture of Keith's discography and an official member of groups like Analog Brothers, Clayborne Family, and KHM. "His work coincides with my work," he says of their longstanding creative relationship. "I do my own production, Marc does his own, but Marc understands the sound that I need for myself. We just stay relatively close with the sounds of each other so we know where we at." He likens their process to The Neptunes: "Marc is Chad Hugo and I'm Pharrell," he quips.
For Keith's longtime listeners, Black Elvis 2 features the closest thing to an Analog Brothers reunion in "The Formula," a trio cut with Ice-T joining him and Marc. "A lot of people try to get him to do narrator stuff and talk on a song 'cause of his voice, but I like when he raps," he says of getting the gangsta rap icon to rhyme on the record. Keith speaks of Ice with a high level of respect, having recently attended his Hollywood Walk Of Fame star ceremony and surrounding celebrations. "You've got to change your temperature working with him. You can't be playing around."
Keith acknowledges that some of the records bearing his name over the years have perhaps been more about business than about executing his artistic vision. "I don't have a problem figuring it out if there's money involved," he says. "But for myself, when I'm working in my own comfort, I like to have beats that I feel like it's not a math problem to figure out how I'm going to rap on top of it." Even so, he retains strong opinions about music, holding these often one-time collaborators to certain quality standards. "Other producers, they tend to just be so musical, a lot of stuff over your voice and all that," he says of some of the studio suitors he's passed on. "I think they really want to make instrumental albums."
What especially seems to irk Keith is the number of beatmakers who come to him with tracks in that aforementioned jazzy vein he's long avoided. "I'm kind of getting haunted by a lot of the work I'm getting now," he says of these solicitations. "They want to see me go out of the pocket and rap on the tracks that they dreamed of me to be on from the beginning. It's like they're getting to jack off to that now."
Even as Black Elvis 2 enjoys its first week out in the world, Keith has a number of other records in its orbit. There's Broadway Billy, a Roc Marciano team-up apparently held up over sample clearances, and a Czarface collaboration with Esoteric and Inspectah Deck. A vinyl-only album with Ultramagnetic MCs' Ced-Gee dropped in tandem with the current iteration of Ruffhouse, mere days before Black Elvis 2's release date. And there's something clearly near and dear to his hip-hop heart that's still on his funked-up bucket list.
"I haven't really gotten to my full 100% solo project."
---

---

DJ Rude One & RXK Nephew, THEONEderful NEPHEW
While RXKNephew never fails to dazzle and bewilder on the mic, his production choices can prove as erratic as his subject-changing lyrics. So an entire project helmed by veteran hip-hop DJ/producer Rude One sounded auspicious from the jump. Indeed, The ONEderful Nephew puts the unconventional New York rapper in a similar sonic space as the beatmaker's recent Closed Sessions 7"-es with Griselda greats. Yet Neph bristles at the notion of following their flow, saying as much (and plenty more) over the rumbling bass of opener "Fuck Yo Set." His canonically stream-of-conscious style works just as well over these raw boom bap rhythms, with "BB Belt" and "Black Ice" lining up exceptionally well. The short-lived pair accomplish a great deal over just nine songs, pushing austere coke rap on "Raw Dope" and splashing scalding hot Haterade on "No More Dreaming."
Primo Profit, MedeBean USA
With the rise of Estee Nack and off the strength of recent releases by Crimeapple, Eto, and YL, to name but a few, it's hard to resist the risk of declaring a Latin rap renaissance in the hip-hop underground. A Boston native of Colombian descent, Primo Profit would deserve to be included in that theoretical proclamation. One need only peep his latest project, MedeBean USA, to catch up with his street savvy sensibilities and not infrequently Spanglish bars. The title track establishes a grimy raison d'être, his somewhat grizzled voice masking a lyricism deeper than rap. He speaks to his fellow hustlers on rugged cuts like "Patrick Ewing" and "Vintage Kilos," his defensive realness in the face of fakes recurring throughout. Elsewhere, he shifts focus to the object of his affection on the quiet stormy "Time And A Half" and tightens up his circle on the shimmering "You Don't Love Me."
Zoomo, Riezu
The production core of the RRR crew and a reliable beatmaker for the likes of ANKHLEJOHN and Big Kahuna OG, Zoomo is soundtracking some of the best rap music you hear today. Still, his intricate music can sometimes get lost beneath the verbose wordsmiths who go to him, which makes the instrumental Riezu such a rewarding listen. Inspired by a trip to Spain, this beat tape supplants those boisterous vocalists with more ambient voices, ethereal coos and ahhs drifting over the gentle bap of "Valle De Yerri" and "Plaza Del Sol." It's less about the samples themselves than the way he so skillfully manipulates and deploys them as textured layers, via the post-Roc-A-Fella soul flips of "La Fuente" and the jagged melodies and pulsing kicks of "Arraba."
---

---