Lance Skiiiwalker Goes From 'Introverted' To 'Audiodidactic'
+ reviews of King Vision Ultra, ORA77K, and Stik Figa. This is CABBAGES #128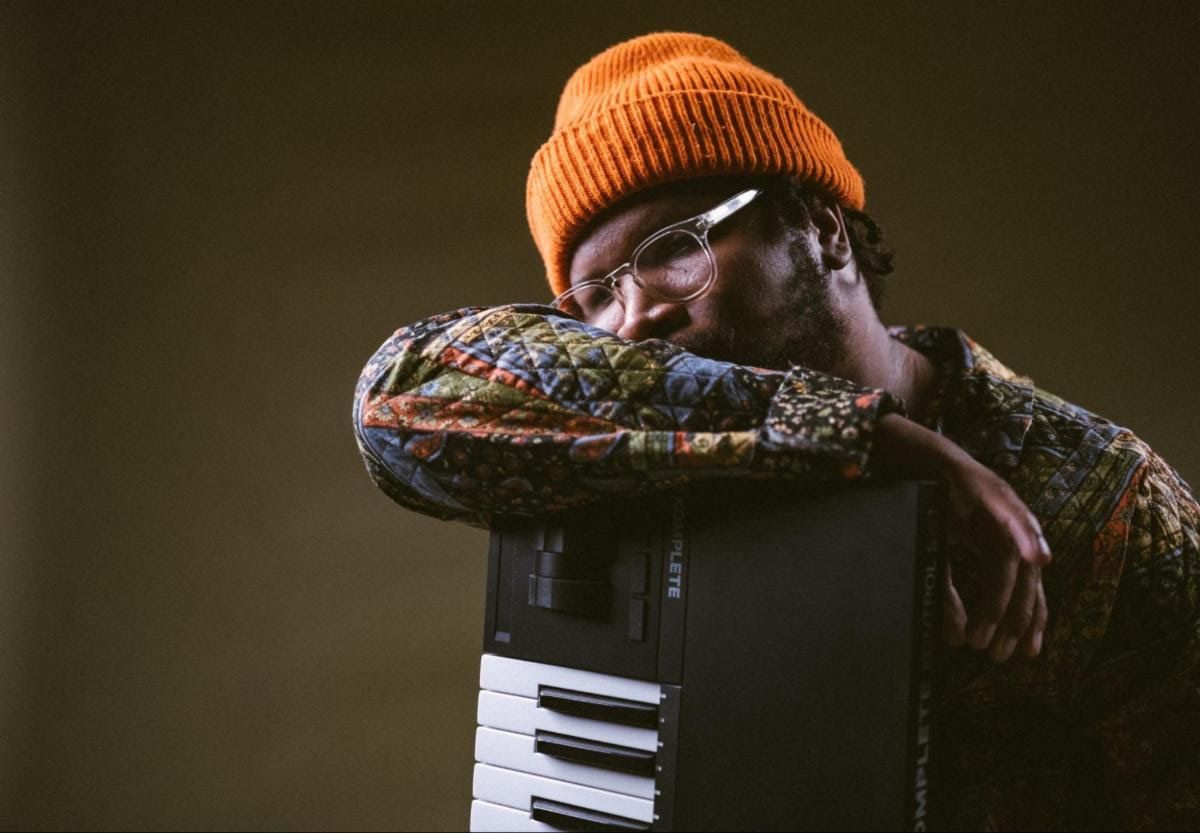 When approaching and engaging with the work of Lance Skiiiwalker, assumptions will inevitably arise. Signed to Top Dawg Entertainment, his subtle ubiquity across many of the label's releases–including and beyond his own–coincides with the concurrent challenge of pinning down his sound. Terms like alternative and psychedelic sometimes enter the conversation, as does experimental and even lo-fi. Yet regardless of such tags or descriptors, one must suspect this unpredictable and eclectic artist comes from some sort of musical upbringing, perhaps from a home where classical training was at least encouraged if not downright mandated.
How wrong they would be...
"I didn't really learn a lot from home," Skiiiwalker says, matter-of-factly. "I came from a family who wasn't really meant to be a family, from parents who wasn't meant to be parents. But it worked its way out to me becoming who I was."
This Chicago-bred, Los Angeles-based virtuoso casually and deftly defies any such narrative one might hope to pin upon him. He describes childhood in introverted terms, of playing video games and listening to music in headphones while his four siblings "made an outside world for themselves." Even when he made the transition from beating on tables at school (and elsewhere) to working odd jobs in order to afford cheap keyboards to making sounds in the drum machine / digital audio workstation Fruity Loops, he kept his creativity as private as he could.  
"Maybe one or two people from high school, they would come over sometimes, but not often," Skiiiwalker says. "It was just really me, exploring with myself, saving these ideas and moving on to the next."
Growing up, his tastes in music ran fairly broadly, and so too did the sounds he was creating with these tools he'd cobbled together. "Hip-hop was cool, but it wasn't major in my music listening," he says. "When I first started making beats on Fruity Loops, it was just anywhere my brain would take me, just having fun. (He specifically cites Elton John's "Rocket Man" as a favorite from his youth,  foreshadowing his subsequent tenure under the moniker Johnny Rocket in the hip-hop duo The Rocketeers.)
Fast forward to the present where, despite being on the same label as some of hip-hop and R&B's most respected talents, Skiiiwalker still isn't bound to any particular genre or approach. Nowhere is that free-spirited ethos more represented than on his new album Audiodidactic. Due out this Friday through TDE, the project adopts a clever portmanteau for its title that reflects his self-taught musical background. "I wanted to put out a sonic maze," he says. "I love trying to find sounds that make sense–like a puzzle."
Boasting appearances by labelmates Ab-Soul and Isaiah Rashad (whose respective albums Herbert and The House is Burning he previously contributed to), it also marks his first full length since 2016's Introverted Intuition, and is, to be clear, no retread of that record's path. "Honestly, I really felt like I needed that time to understand myself, grow as a human being, and mentally put myself in a better place," he says of the nearly seven-year gap between those solo releases, albeit one interrupted by a pair of 2021 EPs. "At times back then, just coming from my background, it was easier for me to go in darker places with my mind. I didn't wanna come off mean to people, knowing that's not really who I was."
At the same time, Skiiiwalker used those years to improve his craft. He focused on learning piano chords and working on his vocals, in tandem with advancing his technical prowess with plugins and other equipment. "It's a big world; I wanna be able to take my music as far as as possible," he says. Even the way in which he writes lyrics changed, moving away from pen and paper to just taking it straight to the microphone. "I moved that third party out the way. It's not coming out all perfect, but I get better ideas now when I'm speaking from the heart as opposed to writing it down."
The other TDE projects Skiiiwalker worked on during this period further impacted his creative outlook. "I think it helps seeing other people perspectives and their art and the way they paint, trying to understand their minds in a way," he says of those experiences. "Coming back to my world, it gives me a broader view."
Beyond what Audiodidactic reveals about Skiiiwalker's growth and development, evident on the charmingly shambling pop of wistful lead single "Beantown," one exceptional thing about the album is what he's managed to coax out of his rapper guests. The nature of Ab-Soul and Isaiah Rashad's performances here may very well surprise even those rather familiar with their own inventive works. The former imbues the piano-led piece "Church" with sparse spoken word musings, while the latter dwells on process for the "Sample Talk" dialogue. These are no mere sixteen bar features conveniently slotted into open spots; this is artistic risk-taking only possible based on mutual respect for and trust in one another.
"It comes from us forming a friendship with each other and seeing who he really is," he says specifically of the track with Rashad. "I want to have that as part of my music, so people can see that the other sides he may not necessarily show in his music. It plays so well in what I'm doing as well."
If you're expecting Skiiiwalker to take Audiodidactic out on the road this year, think again. "Live would be probably the last thing I'm thinking about," he says, dismissively. "I'm really more of a scientist at heart. I just love the process of the creation more, like, where can I go next?" In the meantime, he'll either be in the studio or at home, where he has an upright piano from 1846 that gets quite a bit of use these days.
"I'll play it sometimes, and my four year old, when I'm about to close it down, he's like, can you keep it open?" he says, casually divulging the type of musical household he has now that he didn't have growing up. "And my daughter as well. It's a great feeling too, having a family to see that and inspire them for that.
"That plays a role in keeping me going, knowing that they really see you as a superhero, because you're out here in the world really doing what you want to do."
---

---

Stik Figa & DJ Sean P, Pookey: Stik Figa Finds Himself​
Though he now operates out of Fort Worth, TX, rapper Stik Figa will forever rep his Topeka, KS hometown. On Pookey, the third and final volume of a trilogy that dates back to his early Mello Music Group days, he returns to the city once again for a vivid recollection and reclamation of his past there. Beginning with "The Skinny, Pt. 2," he frames this erudite meditation on masculinity through a personal lens the way great novelists and filmmakers do. Hip-hop, however, is his chosen medium, one which he wields with the lived-in knowledge and learned dexterity of an emcee pushing 40. Peppered with interludes, anecdotes, and reflections from his family, friends, and community, this early album-of-the-year contender journeys through Topeka's streets and landmarks as he expresses joy and pain as inextricably intertwined forces of life. Beyond the bars, this echoes in a eerie litany of R.I.Ps on "Intersections" and via cautionary bleeps on "Wannabe."  
ORA77K, C0DE$W1TCH 2: Night Owls Only
2023 ought to be ORA77K's year. Even without the auspicious co-sign of Death Grips' own Andy Morin, whose A2B2 put C0DE$W1TCH 2 out into the world, their music stands out for its renegade approachability. By which I mean this: the big beat revisionism of "Racing" and alluring alt-house behind "Silly" lure listeners towards the album's bold, insurgent core. Their lyrics whiz by like bullets on "Color The Storm," the poetry grazing and penetrating as the inscrutable breaks and feverish bleeps contribute to the chaos. More direct is "Prison Wife," an industrial rap anthem that ruthlessly redefines and radicalizes the ride-or-die trope into something in the disorienting space between romance and menace. Similarly norm-crushing, "Drop Inna Bucket" asserts dominance by grinding its target(s) into dust over a trap deconstruction accented by cash register rings and literal water drops.
King Vision Ultra, SHOOK WORLD
You don't have to be from NYC to appreciate SHOOK WORLD, but you're bound to miss a lot if you're not. Atoms Family alum turned sonic architect Geng can't help but fix his gaze upon the five boros, his deep and insular understanding of local hip-hop legend and lore making him one of the city's most subversive historians. As King Vision Ultra, he immerses listeners in the details to the point where the lazy or untrained ear will simply hear noise on this hourlong mixtape that shares data/DNA with rock geniuses Algiers' upcoming album. Indie rap devotees will obviously gravitate to verses by the likes of Amani, Bigg Jus, and ELUCID, in the process hopefully becoming enchanted with or indebted to locals DESDE and Nakama. Perhaps the most insightful commentary on the album comes not from the vocalists but instead in KVU's intentionally revolting sample selections of influencer-gentrifier types on the pointedly named "Please Leave."
---

---