Life After The Majors: Iggy Azalea & Desiigner
This is CABBAGES #064.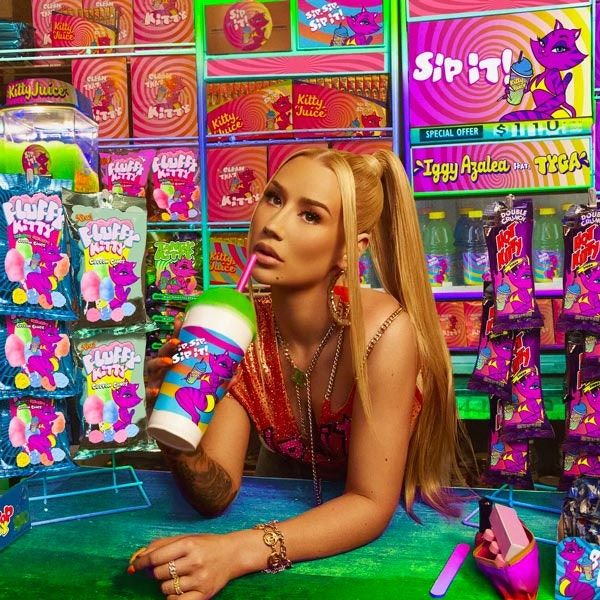 If we've learned anything from the meteoric rise of CJ's "Whoopty,"1 drill no longer belongs solely to the drillers. Given the fact that everyone from French Montana to Anuel AA has already hopped on that wave, hearing Desiigner follow suit comes as no surprise. Thankfully, the onetime "Panda" rapper doesn't bother with some throwaway freestyle over that now well-worn beat, but comes original with "I Get That." Produced by Razy, who recently worked on cuts by Drakeo The Ruler and Quando Rondo, the barely two minute track finds the former G.O.O.D. Music / Def Jam recording artist flowing over the bass warble with no shortage of breathy boasts.
Now if you're preemptively rolling your eyes without having heard "I Get That," take a moment to consider this:
Now, if for some reason the name AXL Beats is unfamiliar to you, he is hands down one of the contemporary architects of Brooklyn drill. The UK-based beatmaker produced Sheff G's seminal "No Suburban," the Pop Smoke x Travis Scott JACKBOYS collab "GATTI," and, Drake's "War," to name but a few highlights. So this endorsement carries some weight that should counter, if not negate, any knee-jerk criticism of Desiigner's latest move.
However, having listened to "I Get That" a few times, I can't say I quite share AXL's enthusiasm. It's a fairly straightforward if unremarkable execution from the rapper, whose last appearance on the Billboard charts was via a 2017 remix of a BTS single. Naturally, he probably stands to take home more of his money as an independent artist than he would languishing under Kanye West's imprint.2 But, admittedly, the optics are not exactly great when you kicked off your breakout run with people calling you a Future clone and you're now out here uncharacteristically doing drill.
That said, Desiigner deserves some recognition for the self-awareness displayed on "Amen." A superior single compared to "I Get That," the exuberant track finds the rapper directly dismissing the dead horse definition of him while nimbly appropriating from the Freebandz honcho's thematic bag of tricks. He spits about diamonds dancing (seriously!) with such ease and innate wit that it solidifies into a verifiable catchy chorus as he performatively hops in and out of Lambos and Wraiths. If he's every going to get out from behind the proverbial eight ball, this sure seems like the way.
Desiigner's not the only one freed of Def Jam serfdom with new music on display this week. Iggy Azalea opened 2021 Q2 with two tracks, her first since last summer's underrated Tinashe team-up "Dance Like Nobody's Watching." Of the pair, the quirky "Brazil" comes closest to the EDM-adjacent sound of her Diplo x 1st Down-helmed TrapGold, a mixtape that endeared her to a cultured club scene and primed her major label success.
We all know, of course, how her problematic tweets resurfaced and torpedoed that career trajectory. Some will never forgive nor forget, and they're well within their rights not to. But it would be naive not to acknowledge that Iggy's 2013 - 2016 run foreshadowed the majors-backed female-centered hip-hop revolution currently underway and thriving. And even though she doesn't deserve the credit for leading that charge, especially when white privilege comes into play, her approach—sex-positive and dancefloor-ready pop-rap—nonetheless provided a contemporary pathway that others now pursue with more credibility.
That set of circumstances makes her other new one "Sip It" vastly more interesting. Two years after her last Hot 100 hit "Sally Walker," so much has changed that she's now competing with rappers like Cardi B and Megan Thee Stallion who're doing a better version of what she used to do. This isn't to say that "Sip It" mimics those artists' recent output, but in the seismic aftermath of "WAP" and with their fresher hits "Up" and "Cry Baby" thriving on the charts,3 the bar has been raised. But even more than that, there's an abundance of songs like hers out there right now.
One person that Iggy still has in her corner is Tyga, who guests on this would-be cunnilingus anthem and features amid the candy-coated erotica of its music video. As hip-hop's most cunning opportunist, the seminal party pop-rapper survived slumps and shifts while most of those he came up with concurrently never rebounded.4 With that in mind, one should recall that the last time he and Iggy got together, they did not miss. Her Island Records swan song, their 2018 single "Kream" went RIAA platinum. While their reunion on "Sip It" may or may not achieve such heights, it keeps her very much in the conversation, whether her haters like it or not.
---

Bo Bundy, El Único Desmadre De Mi Madre
Regional Mexican powerhouse Rancho Humilde has put a lot of resource behind Cuban trapero Ovi, but labelmate Bo Bundy out of Houston is the one to watch. After breaking out with 2020's hazy fave "Mi Barrio," the Mexican-American rapper dropped this diverse and bilingual full-length on a damn Saturday like a thief in the night. Proficiently spitting in both Spanish and English, his easygoing monotone flow carries strong Vaccid-produced cuts like "Colorados," the booming "3 Noches," and powerful closer "Magenta." As should be expected, he leans heavily on hometown and heritage here, evidenced by the slab-ready "Nawfside" and the trapcorrido "Que Caramba" with locals Grupo Zaaz. Other guests like Sauce Twinz's Sancho Saucy and the unmistakable Riff Raff similarly rep for Texas while demonstrating Bundy's rep, reach, and promise.
Manslaughter 777, World Vision Perfect Harmony
Reminiscent of the far-out old days when acts like Techno Animal and Scorn experimented with industrial strength hip-hop, among other percussive forms, World Vision Perfect Harmony would sound like a throwback were it not so forward-thinking. This bespoke duo of drummers Lee Buford (best known from The Body) and Zac Jones fixate on splicing together rhythm and noise to produce some of the heaviest beats of our time. Whether blowing out boom bap for "I Can Not Tell You How I Feel" or mutating techno and funk for the distorted "Gainax," Manslaughter 777 wrecks expectations on this destructive debut. Given the instrumental nature, one can only drool at how Cannibal Ox might sound over the serrated hop of "What Is Joke To You Is Dead To Me" or the comparative more austere "Do You Know Who Loves You."
ONY, Eternal Screw
DJ Screw's legacy transcends borders and genres, his chopped and screwed approach to music an inspiration to countless others. Go ahead and count London-based NTS Radio resident Thierry Phung among these ranks. A dual homage to Vietnam and Houston, his Eternal Screw mixtape draws upon the pan-Asian hip-hop/R&B diaspora to produce a syrupy ether for listeners to lose themselves in, one where Triad God meets Teengirl Fantasy meets Nelly. Marvelous and murky mixes of MiraiSenshi's "我要把这些都丢在昨天" and Bloodz Boi's "I Hope I Luv U Like How I Luv My Drugs" touch striking ambient passages like Ryuichi Sakamoto's solo piano performance "Opus," a beauteous contrast evoking something rare and unique broken out into individual tracks and, conveniently, as two seamless cassette sides.
---

Future Brown was a producer-centric quartet comprised of Fatima Al Qadiri, J-Cush, Asma Maroof, and Daniel Pineda. Their eponymous 2015 album for Warp Records offered a shared vision of bass music filtered through a global lens with a vocal preference for American and British hip-hop. For the opening track and single "Talkin Bandz," they recruited drill notable DJ Victoriouz and rapper Shawnna (of "Stand Up" fame), resulting in a rather riveting banger. It's hard to hear this nearly six years later and not think about the drill sounds coming out of Brooklyn and London these days. Prescient, perhaps…
---
I am now contractually obligated to mention this song at least once in every Cabbages newsletter, apparently.
Say, by the way, did Ye ever give Desiigner and the other G.O.O.D. alumni back that 50% share of their masters like he promised?
It's worth pointing out that the music videos for Cardi and Megan's latest respective singles and for "WAP" were directed by Colin Tilley, who also helmed Iggy clips including "Kream" and "Sally Walker."
Tyga's proximity to the superstars of reggaetón and Latin trap certainly helped with that endurance factor.