Joell Ortiz Embraces His 'Signature' Style
The Brooklyn native and Slaughterhouse alum discusses his L'Orange-produced album and growing as a mature artist.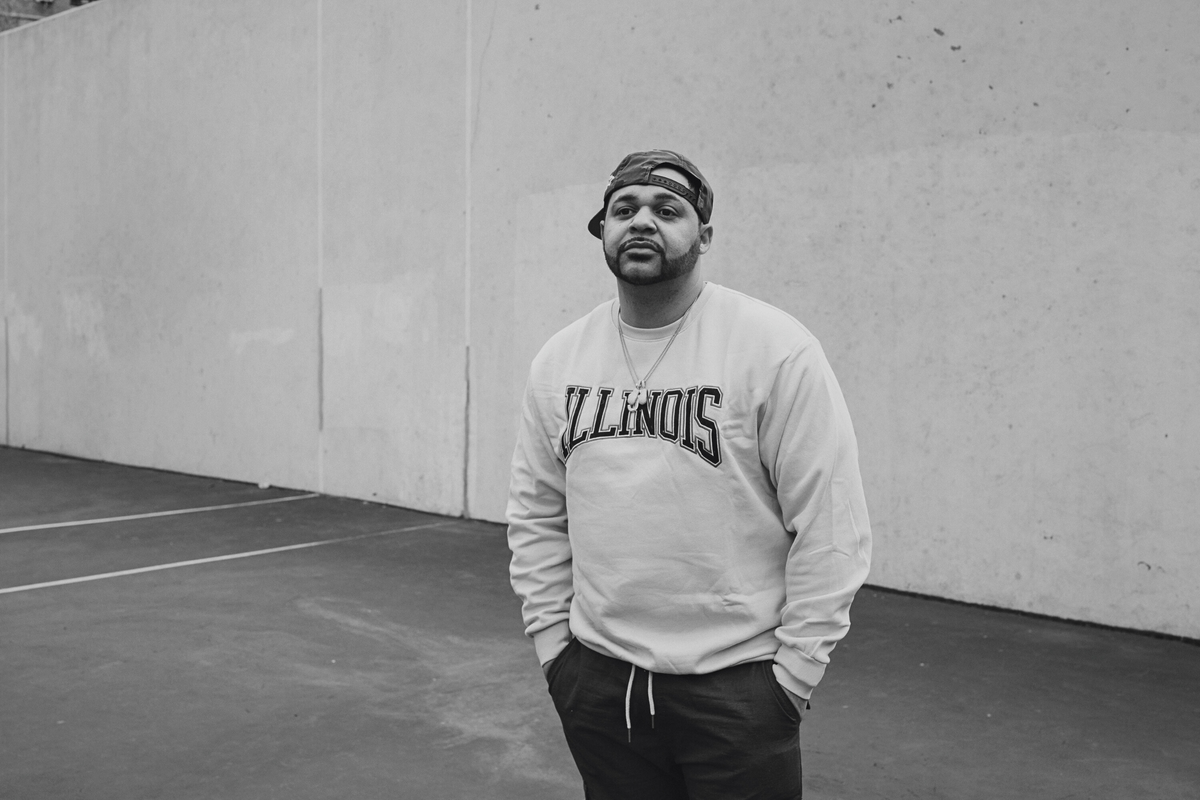 Joell Ortiz hasn't had a conventional career arc. Early recognition from both The Source and XXL Magazine at the height of those publications' powers primed the Brooklyn native for success, yet things stalled at Dr. Dre's Aftermath and Jermaine Dupri's So So Def. For many rappers, that would've been the end of the story. Yet the rise of lyrical supergroup Slaughterhouse and its place at Eminem's Interscope-affiliated Shady Records gave Ortiz a No. 2 charting album, 2012's Welcome To: Our House, on the Billboard 200. Still, after that combustible quartet split, he could very easily have slipped into the shadows or rested on his proverbial laurels.
But this is Joell Ortiz we're talking about, the man who once rapped, I wake up hip-hop / Go to sleep hip-hop / Dream about hip-hop / 'Cause I am hip-hop. "I could have shifted," he tells me over the phone. "I could've easily been like, fuck it. I'll do this trap shit. But when I would try to do that stuff–and it never really made it to the studio, it was just in my house–I didn't feel like me."
For nearly a decade now, Ortiz has been engaged in a prolific and authentic run of album releases, both solo and in collaboration with likeminded artists of note including Detroit producer Apollo Brown and Slaughterhouse alum KXNG Crooked. "I've been around long enough to watch hip-hop shift [and] a different energy take the forefront," he says of this independent streak amounting to roughly a dozen projects. "I watched the more traditional hip-hop stuff take a little bit of a backseat and fall to the underground side of things. And I still was like, but this is what I am."
Much of this output comes via Mello Music Group, beginning with 2018's Mona Lisa and continuing through the recently-released Signature with L'Orange, all the while making notable appearances on Eminem's Music To Be Murdered By, DJ Kay Slay projects, and The Hamilton Mixtape. But before Signature came Autograph, the late 2021 album that its 2023 successor both depends upon and departs from.
Autograph's production is largely credited to The Heatmakerz, the duo best known for their tracks with The Diplomats and on related solo efforts from Cam'ron, Jim Jones, and Juelz Santana. In recent years, however, Ortiz has been one of their most consistent patrons. He spat over their instrumentals on his other Mello Music releases like 2019's Monday and 2020's H.A.R.D. with KXNG Crooked, and even further back to 2014's House Slippers. "Rsonist is my fucking brother," he says, mentioning that the Heatmaker currently works out of the same studio. "His beats are so full of a lot of things; they're very, very layered."
Thus, it's understandable that Ortiz received with some amount of trepidation Mello Music CEO Michael Tolle's proposal of having producer L'Orange (then an employee of the label as well as one of its signees) redo the album. It wasn't their first collaboration, the rapper having appeared on last year's Marlowe 3 highlight "Royal" alongside Blu, but this was a rather radical reaction to the curiously overlooked Autograph. "I wasn't in love with the idea," Ortiz admits. "What I was worried about most was not if he'd be able to keep up musically, but that it wouldn't change the feeling of it too much."
To his credit, scarcely few hip-hop artists had ever pulled something like this off before, though Mello Music had actually done so once already. Back in 2013, the label put out The Brown Tape, a rugged reimagining of Ghostface Killah's giallo-meets-mafioso rap opera Twelve Reasons to Die by noneother than Apollo Brown. (A 2018 reissue followed, with artist Austin Hart–aka L'Orange–credited with its graphic design.) That version diverged sonically from Adrian Younge's cinematic original, but quickly proved a worthwhile addition to the Wu-Tang Clansman's discography.
It didn't take too long for Ortiz to get on board, albeit with reservations, and gave his blessing for L'Orange to take a crack at a couple of tracks. The first one that came back was "OG," reconstituted into an entirely new form from the Hesami-produced take on Autograph. "When I got 'OG' back, I was like, oh, I'm wrong. I want the feeling to change and I want it to change like this," he says.
Though their pairing was remote by necessity and unorthodox by nature, the rapper found himself more and more impressed with how these new Signature iterations of songs like "Masked Up" and "Uncle Chris Car" worked with his existing vocals. "I feel like L'Orange made this album fucking black-and-white," Ortiz says. "It went from high-def color to like, oh shit, tap the TV so you can see the shit." And compared with the Heatmakerz's maximalist style, there was something about the new renditions that, on some level, served his verses better. "It parts ways with the music in a way that lets the vocalist come forward."
To that end, L'Orange's seemingly ceding more space to Ortiz makes the lyrics most impactful the second time around. Though his pen is assuredly as sharp as ever, the 43-year-old displays a greater maturity as a lyricist as he moves into a new stage of his artistry. Signature showcases him as mindful of his biography while grounded in his current midlife reality, with storytelling as vivid as any rapper memoir. "It comes from humble energy," he says of his approach now. "It's making sure that I look around and I feel blessed and grateful."
On "In My Feelings," he takes listeners back to his actual mindstate circa 2007's The Brick: Bodega Chronicles and the years leading up to Slaughterhouse's debut while reminiscing on "One Day" about the time Stretch Armstrong gave him a shot. By contrast, "OG" begins in present day, detailing the literal aches, pains, and ailments of aging while speaking to the comforts of suburbia like backyard poolside lounging and having a nice dinner out with the wife. Yet even that takes a turn, with Ortiz reflecting on how fortunate he is to have made it to this place, how lucky he is to be alive to complain about back stiffness. "What's important to me is how to convey that message without sounding like you're fronting on anybody," he says, "Or you're acting bigger than [them], or you're accomplished and they're not."
Clearly, this isn't some greying curmudgeon grumbling about the state of hip-hop while glorifying the old days. Instead, Ortiz tells stories that he lived through, pondering how a simple choice like leaving a party a little early kept him from ending up a statistic. All the while, L'Orange's open-world beats platform these narratives in a way that elevates each bar. And for someone who kept grinding in hip-hop for as long as Ortiz has, Signature feels like a reward–for his fans as well as himself.
"I just put my head down for years, and this happened when I looked up," he says. "I feel like this is my look up moment in my career."
Joell Ortiz and L'Orange's Signature is out now via Mello Music Group. Purchase it here.
---

---

Kofi Flexxx, Flowers In The Dark
Given Shabaka Hutchings' propensity for subdivision and pseudonym, few in his fandom would hardly balk if Kofi Flexxx turned out to be one of his stage names. Regardless of any quantifiable level of involvement, the UK jazzman's presence is undeniably felt throughout the guest-laden sonically mysterious Flowers In The Dark, released on his Native Rebel Recordings. At times, it feels like threnody, as ELUCID shuffles through the muted atmospheres of "Show Me" and London's Confucius MC preaches amid the rhythmic fluidity of the title track. There is, unmistakably, the trauma of stifled and suppressed revolution on "By Now (Accused Of Magic)," the exasperated words of Anthony Joseph punctuated by upright bass intensity and percussive fervor. Earlier, on the exemplary "Apothecary," billy woods gets poetically entwined in the personal, political, and metaphysical. It all culminates in "Fire," an instrumental set to a smolderingly bluesy bap tempo that, hopefully, cleanses and creates more than it destroys.
Kuya, Tales From Ophir: Moros y Cristianos
Some theorize that Ophir, a Biblically-identified place of massive and mythic wealth, is what we now know as the Philippines. For Queens-raised hip-hop artist Kuya, that notion exists as but one part of a complicated and oft hidden history of his ancestors, something he tries to suss out on his latest project. Nowhere is his New York state of mind more apparent here than on the title track, a musical throwback to a certain era in the city that somehow still carries the considerable weight of the album's theme. "Get You Back!" catches up with the current drumless epoch, his lyricism going the opposite direction to look back on history with keen fascination. A hunger for more knowledge and a desire to honor tradition leads to several standout moments for Kuya, exceedingly proud on the jazzy "Hi-Fi," ultimately triumphant on the quavering "1996." Voices of his elders boom through "Prelude" and "…Unleash," while fellow Planet Locale denizen KAYA leaves 'em breathless on "2nd Wind."
Real Bad Man & Blu, Bad News
The past year-and-a-half has been real good for Real Bad Man. His run of one-off projects with Boldy James, Pink Siifu, Smoke DZA, and, most recently, Kool Keith made his talent and reach abundantly clear to hip-hop heads. His latest collaborative effort finds the producer paired up with fellow Angeleno Blu, a magnificent emcee with a formidable discography that includes no dearth of one-rapper-one-producer efforts. Over eight tracks clocking in at 23 minutes, Bad News broadcasts lyrical proficiency and groove prowess. The rugged "All Praise Due" gives Blu an optimal pulpit to rhyme from, while the decidedly funkier "The Hurt" details the work ethic needed to get to this level of skill and esteem. C.L. Smooth sounds downright timeless over "The Golden Rule," as does Planet Asia on the sanctified "Hebrews."
---

---